Pitfalls avoided, but some hurdles remain for top teams
Sizing Up What's Next
By Mark Schlabach, ESPN.com
College football's top three teams each avoided potential pitfalls Saturday, with two having much closer results than they probably wanted.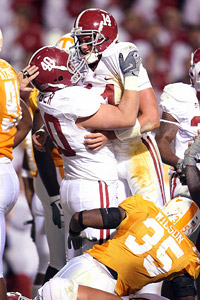 Andy Lyons/Getty Images
Alabama still has a ways to go before thinking about a BCS game.
While No. 1 Texas and No. 2 Alabama still face potential roadblocks during the regular season, No. 3 Penn State cleared what should have been its last major hurdle, winning 13-6 at No. 9 Ohio State on Saturday night.
The Nittany Lions, who rallied from a 6-3 deficit in the fourth quarter, have only three regular-season games left and, of course, don't have to play in a Big Ten championship game. Penn State plays at Iowa on Nov. 8, and then plays host to Indiana and Michigan State in its last two regular-season games.
Even if the Nittany Lions finish the regular season with an unblemished 12-0 record, they might still need Texas or Alabama to lose to guarantee themselves a spot in the Jan. 8 BCS Championship Game in Miami.
The Nittany Lions' nonconference schedule included victories over FCS opponent Coastal Carolina, Oregon State, Syracuse and Temple. Only one of Penn State's opponents -- the Buckeyes -- is currently ranked.
After beating Oklahoma State 28-24 in Austin on Saturday, the Longhorns still aren't out of the woods yet. Texas finishes a grueling stretch of four consecutive games against ranked opponents Saturday at Texas Tech.
At least the Longhorns showed they can win even when Heisman Trophy candidate Colt McCoy isn't perfect. McCoy threw an interception and lost a fumble in the second half, but Texas' defense limited the Cowboys to only a field goal in the fourth quarter.
Two of the Longhorns' last three games will be played at home -- against Baylor on Nov. 8 and against rival Texas A&M on Nov. 27. The home games are sandwiched around a road game at Kansas on Nov. 15.
If the Longhorns win the Big 12 South, they would probably face Missouri or Kansas in the Big 12 championship game in Kansas City. Texas routed the Tigers 56-31 in Austin on Oct. 18.
The Crimson Tide, the only unbeaten team left in the SEC, finally put together a complete game in their 29-9 victory at Tennessee on Saturday night. Alabama plays host to Arkansas State on Saturday, then plays at LSU on Nov. 8. The LSU game will be Nick Saban's first trip to Baton Rouge, La., as Alabama's coach.
The Crimson Tide finish the regular season with consecutive home games -- against Mississippi State on Nov. 15 and Auburn on Nov. 29. The Bulldogs upset Alabama in Saban's first season in 2007, and Auburn has won six games in a row against the Tide.
Alabama would probably face either Georgia or Florida in the SEC championship game in Atlanta's Georgia Dome.
Definitive Response
By Adam Rittenberg, ESPN.com
COLUMBUS, Ohio -- Despite the dominant victories, the emerging stars and the climb up the national rankings, No. 3 Penn State continued to generate a mixture of doubt and curiosity.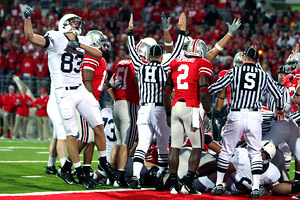 Matthew Emmons-US PRESSWIRE
The Nittany Lions' late surge in the fourth quarter wasn't the first time they've overcome adversity.
How would the Nittany Lions respond to adversity? Not first-half adversity against a significantly inferior Michigan team. Real adversity. The kind that comes on the road against a quality opponent with the clock winding down.
Head coach Joe Paterno was the most curious. He liked his team and its potential. But he couldn't get a true gauge on how good the squad could be until it was placed under extreme pressure.
A fourth-quarter deficit at Ohio Stadium certainly qualified, not to mention having starting quarterback Daryll Clark standing on the sidelines with a head injury.
"We've got a good football team," Paterno said definitively after Saturday night's 13-6 win against No. 9 Ohio State.
Defensive end Josh Gaines knew the truth about Penn State before the season began. And though the Lions didn't face adversity on the field until Saturday night, they had faced plenty off of it.
To read the rest of Adam Rittenberg's story, click here.
Blue-Collar Effort
By Chris Low, ESPN.com
KNOXVILLE, Tenn. -- Alabama coach Nick Saban says it with pride, and his players nod their heads confidently when they hear it.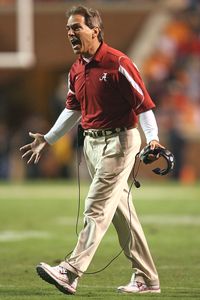 Andy Lyons/Getty Images
Nick Saban hasn't let his team lose its focus.
"We're a blue-collar team," Saban said. "We've got to play good defense. We've got to be able to run it. We've got to be able to throw it. We've got to have balance."
The Crimson Tide had all the above and more Saturday night in making the kind of statement all championship-caliber teams make this time of year in a 29-9 bludgeoning of Tennessee.
They're in this thing for the long haul.
With LSU losing Saturday, Alabama (8-0, 5-0) now has a two-game lead in the Western Division race. The Tide could lose their game at LSU on Nov. 8 and still get to the SEC championship game by winning their remaining two games against Mississippi State and Auburn.
But all anybody wanted to talk about outside the Alabama locker room on Saturday night was the here and now. Sophomore middle linebacker Rolando McClain huffed when somebody brought up the fact that LSU had lost earlier in the day.
"We don't really care about LSU," McClain said. "We'll get to them whenever we play them. Right now, we'll enjoy this for 24 hours and get ready for next week."
To read the rest of Chris Low's story, click here.
Is This The Year?
By Tim Griffin, ESPN.com
LAWRENCE, Kan. -- They are already breathlessly calling Texas Tech's game with Texas next week the biggest game in the history of the school.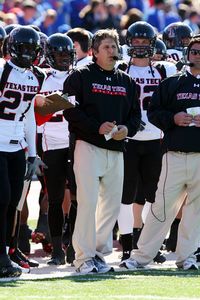 Douglas Jones/US Presswire
If there's an offense that can outscore Texas, it's Texas Tech.
First place in the Big 12 South will be up for grabs in the battle between two 8-0 teams. And still, Tech wide receiver Michael Crabtree isn't caught up in the excitement yet.
"I don't feel hype, I just see footballs," Crabtree said. "Whatever they say, I don't listen to it."
Crabtree's attitude, although rather simplistic, might be the reason why this Tech team is suited to slay the monster from Austin better than most of coach Mike Leach's recent teams.
The top-ranked Longhorns have beaten Tech six out of the seven times they have met under Leach. It almost seems like the Longhorns have gotten into the Red Raiders' heads with the way they have dominated Tech along both sides of the line of scrimmage during the recent run.
Texas has averaged nearly 46 points in the past seven games against Tech, including 59, 35, 52 and 51 points in the past four games.
But if Tech can follow the formula that marked its 63-21 victory over Kansas on Saturday, the Red Raiders are the team best suited to beat the Longhorns among Big 12 challengers.
To read the rest of Tim Griffin's story, click here.
Building Momentum
By Brian Bennett, ESPN.com
LOUISVILLE, Ky. -- One of the last things the Louisville football players see as they leave their locker room and head to the field is a sign that reads "Find a Way."
"Coach [Steve Kragthorpe] is big into that," defensive tackle Earl Heyman said. "Whether it's ugly or bad, just find a way to win. That's the only statistic that matters."
The motto might not carry the same inspirational tones as "Play Like a Champion Today," but it's appropriate for this team. Last year, the Cardinals hardly ever found a way to win big games, going 6-6 in Kragthorpe's first year and losing five of those games by nine points or fewer.
This year, they are looking like one of the Big East's most pleasant surprises. Saturday's 24-20 upset over No. 16 South Florida was probably the biggest win of Kragthorpe's two-year tenure, and it marks his first three-game winning streak at Louisville. At 5-2 and 1-1 in the conference, the Cardinals are in as good a spot as anybody in this wacky Big East race.
"This means we're a contender again," center Eric Wood said. "If we lost this one, it would have been really tough to win [the league]. We stayed in contention."
To read the rest of Brian Bennett's story, click here.
Close Doesn't Count
By Ted Miller, ESPN.com
TUCSON, Ariz. -- Arizona was close again against USC. And close felt like taking a horseshoe to the head.
The way tight end Rob Gronkowski saw it, the Wildcats came up an inch short -- as in that critical fourth-down play near midfield when a quarterback sneak from Willie Tuitama didn't gain bubkes.
But an inch felt like a mile as Gronkowski thought about Arizona's 17-10 defeat in front of a packed and frenzied crowd hoping for a breakthrough moment in Arizona Stadium.
"We have to be able to get an inch," he said.
Arizona entered the game with a flashy offense and a no-name but fairly effective defense. But the offense showed little flash, producing just one play over 14 yards while gaining a measly 188 for the game.
Meanwhile, the defense mostly held the Trojans in check. USC averages nearly 42 points per game.
"I think we left a good opportunity out there and I was shocked we couldn't play better offensively," coach Mike Stoops said.
To read the rest of Ted Miller's story, click here.
50 Sense
By Brett Edgerton, ESPN.com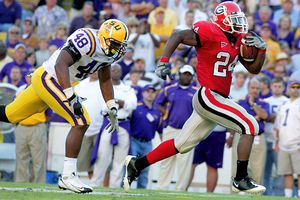 Derick Hingle/Icon SMI
Knowshon Moreno ran past LSU on Saturday.
Whatever happened to the LSU defense? In a 52-38 loss to Georgia, the Tigers gave up 50-plus points at home for the first time in 15 years, and combined with that 51-21 disaster at The Swamp a couple of weeks ago, they have now yielded 103 points to the two Beasts of the East. It's the first time in school history an LSU team has given up 50-plus twice in the same season, and also the first time a defending national champion has done so. But that's not the fun part. Get a hold of this: From the start of the AP Poll era in 1936 through last year, only two defending national champions ever gave up 50 or more points even once in a season. Both cases involved Notre Dame, and both should give plenty of hope to Florida and Georgia fans.
The only defending champs to give up 50-plus were the 1944 Notre Dame team, which lost 59-0 to Army, and the 1974 Notre Dame squad, which lost 55-24 to USC. Why is that good news for the Gators and Bulldogs? Army eventually won the 1944 national title and USC eventually won the 1974 national title. Florida and Georgia square off Saturday.
Three Weekend Observations
By Mark Schlabach, ESPN.com

1.
Has any team made more progress since the beginning of the season than Virginia? The Cavaliers were blown out by USC 52-7 at home and lost at Duke 31-3. But now Virginia has won four games in a row, including Saturday's 24-17 win at Georgia Tech, and moved into first place in the ACC's Coastal Division.

Teel
2.
Where has Mike Teel been all season? The Rutgers quarterback was booed often by his own fans earlier this year, but he threw a school-record six touchdown passes in a 54-34 rout of Pittsburgh. That is how coach Greg Schiano envisioned his offense playing all season.

3.
If Georgia's defense doesn't learn to tackle better, the Gators might hang 100 points on the Bulldogs in Saturday's game in Jacksonville, Fla. The game figures to be a track meet, anyhow, with both offenses finally hitting their strides.
GameDay Weekend Recap
GameDay Crew Final Thoughts
RECE DAVIS

Oklahoma State is a losing team from Saturday that shouldn't move down in the polls. I was really impressed with the Cowboys' showing in Austin. They went toe-to-toe with the unanimous No. 1 and proved they belong.
Helmet Stickers Go To:
• LB Navorro Bowman, Penn State
10 tackles, pass breakup, fumble rec vs. Ohio State
• QB
Graham Harrell
, Texas Tech
34-42, 386 yards, 5 TDs
---
LOU HOLTZ

I've been saying it for a month now: Look out for Florida State. The Seminoles are a very quiet 6-1. The key is they're starting to play physical football again.
Helmet Stickers Go To:
• WR
Jimmy Young
, TCU
5 rec, 226 yards, 3 TDs vs. Wyoming
• RB
Javon Ringer
, Michigan State
194 yards, 2 TDs vs. Michigan
---
MARK MAY

Penn State's defense might've been the story of the day. Tom Bradley had a terrific game plan and shut down the run game of Ohio State, holding the Buckeyes to 61 yards on the ground. What a performance.
Helmet Stickers Go To:
• LB Darryl Gamble, Georgia
13 tackles, 2 INT returns for TDs vs. LSU
• QB
Mike Teel
, Rutgers
361 yards, school-record 6 TDs vs. Pitt
Blog Network: Helmet Stickers
Every week, our bloggers will hand out helmet stickers to the week's top players, coaches, teams or anything else worth this honor.
Highlights: Penn State-Ohio State
Blog Network: What We Learned

Virginia's ascension from bottom to top is complete, but the Coastal is still confusing.
ACC

The Big 12 has tremendous receiver talent, and Mike Gundy proved he can coach.
Big 12

West Virginia is the team to beat (for now), and Pitt and USF haven't arrived yet.
Big East

Penn State can handle adversity and win with defense, and Michigan State can use emotion to its advantage.
Big Ten

Nobody plays better defense than USC, and California should stick with quarterback Kevin Riley the rest of the season.
Pac-10

The SEC race has essentially boiled down to two games: Florida-Georgia and Alabama-LSU.
SEC

Non-BCS:
Boise State and Ball State aren't showing that they're feeling pressure, and Navy proves you don't need a passing game.
Around the nation
Highlights: Oklahoma State-Texas
An Unlikely Source
By Brett Edgerton, ESPN.com
Didn't a combined 90 points in that Georgia-LSU game look a little strange for a Southeastern Conference matchup? Well, it was. Not only had no game involving an SEC team this season totaled more than 72 points, but the shootout in Baton Rouge was only the fifth conference game in the 76-year history of the SEC -- and first since 1995 -- to get to 90 points in regulation.
SEC games to reach 90 points in regulation
104
South Carolina 65, Mississippi St 39 (1995)
99
Florida 62, Tennessee 37 (1995)
97
Georgia 62, Vanderbilt 35 (1984)
94
Alabama 59, Ole Miss 35 (1980)
90
Georgia 52, LSU 38 (2008)
Highlights: Alabama-Tennessee
Who Needs Passes?
By Brett Edgerton, ESPN.com
In the division formerly known as I-A, 45 games were played Saturday. In those 45 games scattered all around the country, a grand total of 2,729 passes were thrown. Out of those 2,729 passes, a grand total of zero was thrown by Navy in its win over SMU.
Behind third-string quarterback Ricky Dobbs (224 rushing yards, 4 TDs), the Midshipmen ran the ball 77 times and rolled up 404 yards on the ground in a 33-7 victory. In rainy conditions, though, they decided to take a pass on passing, the first FBS team to do so since Ohio University in 1997. There are actually two other teams that haven't completed a pass in a game this season, and both are very familiar to the Middies: Army and Air Force. The Black Knights were 0-for-3 against Eastern Michigan and Air Force was 0-for-7 against Houston. All three teams won.