Top teams still have work to do
Blemishes Abound
By Mark Schlabach, ESPN.com
GAINESVILLE, Fla. -- If we learned anything during the first half of the 2009 college football season, it's that even the best teams in the country have visible flaws.
Even Florida, the defending BCS national champion, doesn't yet look like a finished product.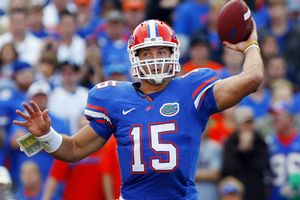 Kim Klement-US PRESSWIRE
Florida is ranked 67th in the nation in passing offense this season.
The Gators, who have won 16 games in a row, are having problems throwing the football down the field without departed receivers Percy Harvin and Louis Murphy. Truth be told, they don't run it particularly well, either -- unless quarterback Tim Tebow has the ball in his hands.
"We are what we need to be," Florida offensive coordinator Steve Addazio said Saturday night, after the Gators lost four fumbles and allowed six sacks in a 23-20 victory over Arkansas at Ben Hill Griffin Stadium.
The Gators will probably have to become more by season's end. Alabama, a 20-6 winner over South Carolina on Saturday night, looks like the most complete team in the country right now. Alabama and Florida played for the 2008 SEC championship and they seem to be on a collision course for Atlanta's Georgia Dome again.
"We're going to try to get better as an offense and try to capitalize in the red zone and not turn the ball over," Tebow said.
The Gators aren't alone in their apparent shortcomings. Texas is having problems running the ball, and Colt McCoy doesn't look comfortable standing in the pocket. Cincinnati might not have star quarterback Tony Pike for a while, and Iowa and USC seem to play to the level of their competition.
At least those teams remain in the BCS championship hunt. Virginia Tech's defense was exposed in its 28-23 loss at Georgia Tech, as the Yellow Jackets ran for 309 yards. And Ohio State was simply exposed in its 26-18 loss at Purdue, turning the ball over five times and running for only 66 yards.
While we might not yet know which team is college football's best in 2009, the second half of the season figures to be as exciting as the first seven weeks.
From Unknown To Heisman
By Chris Low, ESPN.com
TUSCALOOSA, Ala. -- He wasn't even the most ballyhooed member of Alabama's celebrated freshman class a year ago.
But early on, Alabama's Nick Saban knew what he had in Mark Ingram.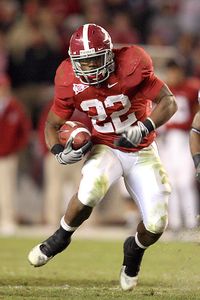 Marvin Gentry/US Presswire
Mark Ingram was a one-man show against South Carolina.
I remember asking Saban last August about freshmen who had caught his attention during the first part of preseason camp.
One of the first names out of his mouth was Ingram. I was surprised at the time. The only surprise now is how Ingram hasn't been a hotter commodity in the Heisman Trophy race.
That's about to change.
The 5-foot-10, 212-pound sophomore did everything but strike the pose Saturday night in No. 2-ranked Alabama's 20-6 win over No. 22-ranked South Carolina.
And really, Ingram didn't need to strike the pose. He was too busy running over, through and around South Carolina defenders on his way to a Bryant-Denny Stadium record 246 yards rushing on 24 carries.
If there's a better runner after contact in the country, I want to see him. So do his teammates after watching him grind out more than 100 of his yards after the initial hit.
For that matter, they're not sure there's a better runner -- period.
"I wouldn't trade him for anybody," Alabama quarterback Greg McElroy said. "I think he's the best running back in the country for what we ask him to do."
To read the rest of Chris Low's story, click here.
Can't Shoulder It
By Tim Griffin, ESPN.com
DALLAS -- Sam Bradford had wanted to play again in the favorite stadium of his youth, a place where he spent many idyllic fall afternoons with his father watching many previous Red River Rivalries.
But Bradford's return to the Cotton Bowl turned into a nightmare Saturday when he reinjured his right shoulder early in Texas' 16-13 victory over Oklahoma.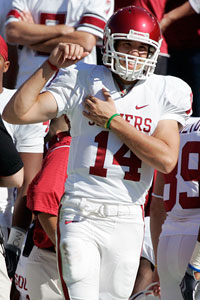 Tim Heitman/US Presswire
Sam Bradford's day was over early after reinjuring his shoulder.
It was an injury on the same shoulder that caused him to miss three games earlier this season with a sprained joint.
"It was the same shoulder as the one against BYU," Bradford said. "And it felt pretty much like it did against BYU."
Saturday's game turned for the Sooners on the first play of their second possession, when blitzing Texas cornerback Aaron Williams smashed into Bradford with a clean hit.
Bradford had not looked particularly sharp on his first drive, completing only 2 of 6 passes. But his confidence influenced how the Sooners played on the drive. And his 64-yard swing pass to DeMarco Murray -- the longest play of the game for either team -- was a result of the swagger the Oklahoma offense had when he was playing.
With leading receiver Ryan Broyles back and Bradford in control, it was the best offensive team the Sooners could play since before Bradford's injury.
But an unexpected blitz from Bradford's blind side changed all that.
It was a defense that Texas defensive coordinator Will Muschamp said he hasn't called all season. With the idea that most teams would roll their protection packages for Sergio Kindle, he sent Williams from the left side, where he had a clear shot at Bradford.
"Nobody had seen that before," Texas safety Earl Thomas said. "I don't know if they were ready for it."
The result was a clean hit on Bradford that left him writhing in pain for nearly a minute on the field.
To read the rest of Tim Griffin's story, click here.
Down And Nearly Out
By Brian Bennett, ESPN.com
SOUTH BEND, Ind. -- Notre Dame has made a habit of walking tightropes at the end of games. After Saturday's literal last-second loss to No. 6 USC, the Irish performed a balancing act with their emotions.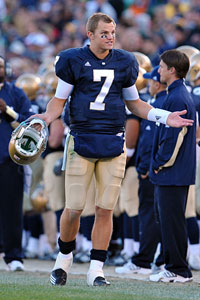 Matt Cashore/US Presswire
Jimmy Clausen and Notre Dame have an uphill climb to reach a BCS bowl game.
In one heartbeat, the players could say they finally moved into the same zip code as USC, which had beaten Notre Dame by a combined score of 76-3 the past two years. No Irish team had come this close to the Trojans since 2005.
One pulse later, they would realize that there are no moral victories in South Bend. It's still a disheartening loss for a program seeking a validating victory under Charlie Weis, one that had put so much emphasis the past two weeks on ending the seven-game losing streak in this now-one-sided rivalry.
"It's tough," center Eric Olsen said, describing that inner balancing act. "At least it wasn't 38-0 again or a blowout. But at the same time, we're not in a conference, so we can't look forward to a conference championship. It's BCS or bust for us."
Olsen then acknowledged the grim reality for the 4-2 Fighting Irish: They almost certainly will have to win their last six games to get into consideration for a BCS berth. And even then, they would need some help.
"Anything is possible," he said. "I saw some of the scores around college football today. We'll have to run the table, and then it will be up to the polls."
There's not a ranked team left on the schedule, though Pittsburgh could well move into the Top 25 this week. An optimist would say this team can play with anyone in the country if it can battle the No. 6 Trojans to the final tick of the clock.
To read the rest of Brian Bennett's story, click here.
Style Over Substance
By Adam Rittenberg, ESPN.com
MADISON, Wis. -- At some point down the line, Iowa will need to showcase some style points.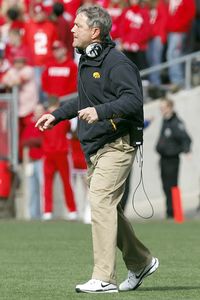 AP Photo/Andy Manis
Kirk Ferentz has his Hawkeyes in the driver's seat for a BCS bowl.
It's an unfortunate reality in a sport without a playoff. Winning simply isn't good enough. Teams are required to be flashy and dominant in victory, and as the Hawkeyes continue their path toward a possible undefeated season, they'll need to win pretty.
But Kirk Ferentz and his players don't care about that right now. They've developed a formula for both achieving success and handling it, and they're showing no signs of slowing down.
Iowa's latest example came in Saturday's 20-10 victory over Wisconsin at Camp Randall Stadium. For the sixth time in seven games, the Hawkeyes came from behind to win. For the second time in as many Big Ten road games, Iowa rallied from a 10-0 deficit in a hostile stadium.
They won Saturday with clutch third-and-long conversions and critical defensive stops.
They didn't show much leg, but they showed plenty of heart.
"We're certainly not the prettiest car in the lot," said Ferentz, whose team is off to its best start since 1985. "But that's OK. We're not going to be a big style-points team."
To read the rest of Adam Rittenberg's story, click here.
Three Weekend Observations
By Ivan Maisel, ESPN.com

1.
Minnesota wide receiver
Eric Decker
came into the game against Penn State averaging nearly eight catches for 115 yards per game. The Nittany Lions held him to one reception for 42 yards. Blame the snow and the rain in State College. And the defense really did a number on Decker -- his own defense, that is, which couldn't get Penn State off the field. The Nittany Lions held the ball for 41:59 and, because of penalties, actually gained 101 yards on one of their two touchdown drives.

2.
Three views of the friendship between quarterbacks
Jimmy Clausen
of Notre Dame and
Matt Barkley
of USC: 1. Barkley ran to Clausen to console him -- before the officials put :01 back on the clock. 2. Clausen's dad Jim told Trojans coach Pete Carroll after the game, "Tell Matt we're proud of him." 3. Barkley's vision of 2005 late in the game. "I actually thought, 'Is Jimmy going to be the next [Matt] Leinart with that fourth-quarter drive?'" Barkley said.

3.
It's been five years since Ohio State lost to a team with a losing record (Northwestern). It's been 22 years since Ohio State lost to a team four games under .500 (2-6 Wisconsin). Yes, Purdue had played better than 1-5. Still, the Buckeyes' loss, coupled with Iowa's dominance at Wisconsin, is one more indicator of a power shift in the Big Ten. And the need for a power boost to the Ohio State offense.
GameDay Crew Recap
GameDay Crew Final Thoughts
RECE DAVIS

The resilience of teams in college football is remarkable. Kansas State lost 66-14 last week to Texas Tech and bounced back to win 62-14 this week. A 1-4 Colorado team could've packed it in after losing to Colorado State and Toledo but it knocked off an undefeated Kansas team. And Purdue lost a heartbreaker to Notre Dame a few weeks back, lost to Northern Illinois at home, but bounced back to beat seventh-ranked Ohio State. It speaks well to the coaching staffs and the players and it's good to see the players' hard work pay off.
Helmet Stickers Go To:
• RB
Montel Harris
, Boston College
27 rushes, 264 rush yards, 5 TDs in 52-20 win vs. NC State
• RB
Mark Ingram
, Alabama
24 rushes, 246 rush yards, TD in 20-6 win vs. South Carolina
---
LOU HOLTZ

Foles
Even though teams at the top of the college football landscape didn't play well, they still found ways to win. It was a good learning experience for those teams. Now they can refocus, get prepared for the rest of the season, and continue their drive for the national championship.
Helmet Stickers Go To:
• QB
Nick Foles
, Arizona
40-52, 416 passing yards, 3 TDs in 43-38 win vs. Stanford
• DE Ryan Kerrigan, Purdue
9 tackles, 4 TFLs, 3 sacks, 2 forced fumbles, fumble recovery in 26-18 win vs. Ohio State
---
MARK MAY

Barkley
It was a gut-check weekend for Florida, Alabama and Texas, but they survived and advanced and ultimately, that's the name of the game. I was really impressed with Alabama running back
Mark Ingram
. He has vaulted to the top of my Heisman list after his performance against a good South Carolina defense. Also, congratulations to Robb Akey for the great job he's done at Idaho. The Vandals are now 6-1 and are bowl eligible.
Helmet Stickers Go To:
• QB
Matt Barkley
, USC
19-29, 380 passing yards, 2 TDs in 34-27 win at Notre Dame
• RB
DeMaundray Woolridge
- Idaho
17 rushes, 81 rush yards, 4 TDs in 35-23 win vs. Hawaii
Highlights: Oklahoma-Texas
Blog Network: What We Learned

Good luck trying to figure out Boston College, or who's going to actually win this conference.
ACC

Oklahoma State is the last team standing in the South that can challenge Texas.
Big 12

Cincinnati is still a BCS contender but Pittsburgh might be the Bearcats' spoiler.
Big East

The Hawkeyes are well-positioned on the path to Pasadena after another come-from-behind victory on the road.
Big Ten

Four Pac-10 quarterbacks passed for more than 300 yards on Saturday and two for more than 400.
Pac-10

Alabama and Florida both remained unbeaten, although it's obvious that nobody in this league is going to make it easy for them.
SEC

Non-AQ:
While Central Michigan seemingly has the Mid-American Conference West all but sewn up, the battle in the MAC East continues to rage.
Around the nation
Highlights: Virginia Tech-Georgia Tech
Blog Network: Helmet Stickers
Every week our bloggers will hand out helmet stickers to the week's top players, coaches, teams or anything else worth this honor.
Highlights: Arkansas-Florida