Weeks: Preseason | 1 | 2 | 3 | 4 | 5 | 6 | 7 | 8 | 9 | 10 | 11 | 12 | 13
The Bottom 10 inspirational thought of the week: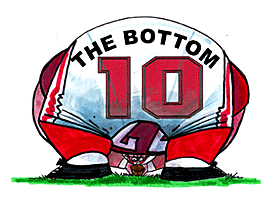 I want my MTV
Now look at them yo-yo's that's the way you do it
You play the guitar on the MTV
That ain't workin' that's the way you do it
Money for nothin' and chicks for free
Now that ain't workin' that's the way you do it
Lemme tell ya them guys ain't dumb
Maybe get a blister on your little finger
Maybe get a blister on your thumb

-- Dire Straits, "Money for Nothing"
What do The Buggles and Duke have in common? Both scored historic firsts. "Video Killed the Radio Star" was the first video played on MTV. The Blue Devils were the first team to hit the charts at No. 1 on ESPN.com's Bottom 10. Yeah, it's a stretch, but stay with us for a minute.
MTV celebrated its 25th anniversary on Aug. 1. The Bottom 10 is starting its fifth year. Since the Bottom 10 usually weaves music into the presentation, it's about time MTV was used to guide the readers through college football's discount rack.
But there's a problem. While Duke is still dancing around the Bottom 10, videos aren't exactly what MTV does anymore. No worries. It could be argued that football isn't what the members of the Bottom 10 do.
MTV does do reality shows. And it has produced some classic game shows. The Bottom 10 teams are all too familiar with the Real World and get Singled Out each week.
Some have even been Punk'd. None more often than Bottom 10 regulars Temple and Buffalo. The Owls and Bulls enter 2006 ranked No. 1 and No. 2, setting up a Week 1 Pillow Fight for the ages on Thursday. New Mexico State, which finished 0-12 in 2005 and No. 1 in the Bottom 10, opens 2006 ranked third.
The highly coveted No. 5 spot, which you remember is reserved for high-profile programs taking a hit, goes to Syracuse.
Have a comment about the Bottom 10 ranking? Send us your thoughts.
So, with apologies to Steve Harvey, here's the 2006 preseason Bottom 10:
Waiting list: Alabama's nonconference schedule, Duke (1-10), Illinois (2-9), Kentucky (3-8), North Texas (2-9), Oregon's uniforms, San Jose State (3-8), UNLV (2-9), Utah State (3-8) and Wisconsin's nonconference schedule.
David Duffey is the college football editor at ESPN.com.