GEOGRAPHY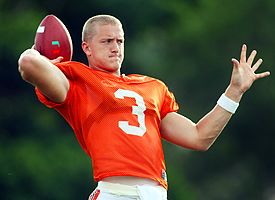 APKyle Wright can make folks forget about an offseason of trouble.
There's no better way to kick off the season than with two in-state powers going head-to-head. Miami and Florida State meet for the 31st time on Monday (ESPN Full Circle, 8 p.m. ET). Last year, both teams had questions at quarterback and relied on their defenses to keep them in ball games. Quarterbacks Kyle Wright (Miami) and Drew Weatherford (Florida State) proved themselves in their first seasons at the helm. Expect to see the coaches take the gloves off in this go-around.
Miami is coming off an offseason full of off-field issues. The Canes have six new coaches and a handful of suspended players, but the fact that they are playing in front of a national audience against a conference rival could be a rallying point for the team. The coaches will reinforce that they're happy with the team and the changes they've made.
Even though Wright will miss his best receiver (suspended senior Ryan Moore), Miami has the best returning defense in the country. If the Canes can get some juice from the offense -- look for new offensive coordinator Rich Olson to get his talented group of tight ends involved -- they'll be tough to match up with.
In 2005, Florida State had so many injuries to its offensive line that it lacked the necessary cohesiveness. Weatherford had a great year throwing the ball but should be even better this year with an improved running game. The Seminoles need to move the ball on the ground to take pressure off the passing game. Look for Florida State to get back to the offensive balance it was known for in its heyday.
PSYCH CLASS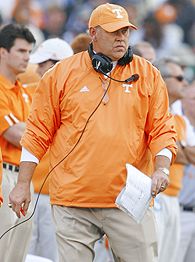 Andy Altenburger/Icon SMIPhil Fulmer can make a fresh start with a win against Cal.
Saturday night's Cal-Tennessee matchup (ESPN, 5:30 p.m. ET) might be the most interesting game this weekend. After a rocky 2005, which included coach Phil Fulmer's first losing season at Rocky Top, Tennessee enters the season with a very talented squad. The Volunteers could get a much-needed confidence boost with a win against the Golden Bears.
A loss, however, would test Tennessee's collective psyche. Like most SEC schools, Tennessee's rabid fan base gives it a huge home-field advantage. After an offseason of criticism and calls for Fulmer's job, a loss might overwhelm Volunteer Nation. If the crowd turns against them, it could be tough for Tennessee to bounce back.
UT opens the season against an outstanding team. But Cal, which boasts Heisman Trophy candidate Marshawn Lynch, is also under pressure. The Bears spent most of last season on the West Coast and don't have experience playing in the raucous SEC.
This game will answer important questions for both teams. Will Tennessee deal with adversity? Can Cal handle the atmosphere? The team that does will start the season with a huge advantage.
FRESHMAN ORIENTATION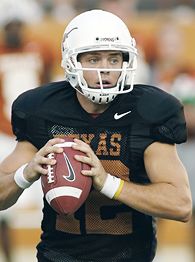 AP Photo/Harry CabluckColt McCoy brings many intangibles to the Horns.
Texas coach Mack Brown announced Tuesday that the Longhorns' starting quarterback job would go to redshirt freshman Colt McCoy. I applaud Coach Brown's decision. Even if McCoy and freshman Jevon Snead were even in the preseason workouts, McCoy brings something important to the equation: experience. McCoy spent all of last season attending meetings, competing in practice and watching Vince Young lead the team to a national championship.
You can't measure how much last year helped McCoy. He has invaluable experience with aspects of the game that few people are aware of -- like road games and halftime adjustments. He also has a talented supporting cast that has been to the dance and knows what it takes to get there. He won't be asked to win games by himself, which is also an advantage. It will be important for McCoy to build confidence quickly and make sure there aren't question marks about who should be leading the Horns at the end of the game.
POP QUIZ: Notre Dame vs. Georgia Tech


Notre Dame opens the season against a very talented Yellow Jackets squad. The defense, which was the Achilles' heel for the Irish last season, will be tested immediately. The secondary was weak in '05, and the linebackers are the most inexperienced part of the team. Will the pass-rush improve? Can Notre Dame's coverage underneath be successful?
Against a strong route runner like Calvin Johnson and a mobile quarterback like Reggie Ball, the Irish will want to blitz. In 2005, Notre Dame gave up a lot of big plays. I'm not looking for Notre Dame to blanket the offense, but the Irish need to do a better job of cutting down on runs after the catch.
Notre Dame's defense also does not have the luxury of being able to anticipate Georgia Tech's play calling. For the first time in his career, head coach Chan Gailey will turn over that responsibility to offensive coordinator Patrick Nix. This is a significant change for the Yellow Jackets and might affect the flow of the game. How quickly they will be able to get plays in and how smooth the sideline communications will be are looming questions. The change also introduces the element of surprise, as Notre Dame won't be able to study Nix's established tendencies.
Jim Donnan was the head coach at Georgia and Marshall and is an ESPN college football analyst.

Fitzgerald

A number of new coaches take the field this season. The two I'm most interested in seeing are Northwestern's Pat Fitzgerald and Colorado's Dan Hawkins. Fitzgerald obviously enters a very, very difficult situation after the death of head coach Randy Walker. It's obvious, though, from Fitzgerald's college success that he has the leadership skills to take on this awesome task. I've been impressed with his work so far.
Hawkins had success as a coach at Willamette University and Boise State, and it will be interesting to see how he does at Colorado. In his five years with the Broncos, he compiled a 53-11 record. Only Walter Camp, George Woodruff and Bob Pruett were able to compile more total wins in their first five years of coaching. Hawkins inherits a troubled program, and it will be interesting to see how well his approach works in the Big 12. He brings a lot of energy to the position as well as an offensive approach to the game.
FILM STUDIES
Breaking down the SEC
HISTORY

Carr

Who would have ever thought that Larry Coker, Lloyd Carr and Phil Fulmer -- three of the winningest college football coaches -- would have their ability questioned to such a degree? They're great coaches, and it's amazing that I even have to talk about this. People should look at their records over the long haul, and not just after one season.
COMMUNICATIONS

When I was coaching at Marshall in 1992, I was approached by an up-and-coming politician named Joe Manchin. He asked me to set up a meeting with a number of Marshall boosters. I didn't know him, but I introduced him to our supporters. During his visit, he said he planned to run for governor, and if he won, he would facilitate a game between Marshall and West Virginia.

Fast-forward more than two decades. Manchin is now the governor, and he kept his word: Marshall and West Virginia recently signed a seven-year deal to play each other. It's a dangerous game for West Virginia because of the team's high expectations. The coaches have done all they can to prep the team because they know how much this game means to Marshall. Going in, it looks like WVU shouldn't have any trouble, but I think if Marshall gets off to a good start and plays emotionally, the Herd could be tough. If they don't, they could get steamrolled.
WATCH LIST
BRENT SCHAEFFER, QB, OLE MISS
The Tennessee transfer spent the summer finishing class work so he would be eligible to play for the Rebels this season. Ole Miss' offense was woefully bad last year, and Schaeffer could have an immediate impact.
OHIO STATE'S DEFENSE
With nine new starters, the Buckeyes boast talent but not much experience. Is that defense going to be good enough to carry them to the national title?
NEW COACHING STAFFS
Michigan and Miami both replaced a chunk of their coordinators and position coaches. While both programs brought in good coaches, people take for granted how long it takes to communicate effectively.
ANXIETY
Players have spent months going up against their teammates. The first game of the season always makes players a little anxious. The younger players often play too aggressively; there are always an inordinate amount of penalties. In the first game, it's not always about what the players do well; it's often about what they do wrong.
ADRIAN PETERSON, RB, OKLAHOMA
After losing starting QB Rhett Bomar, the Sooners must adjust to what they have -- which is a lot. Peterson has a rare combination of power and speed. Quarterback Paul Thompson has been around the program a long time and knows the system. As long as Peterson stays healthy and Thompson doesn't make any big mistakes, the Sooners will be good. Whether they'll be at the level to beat Texas, however, is a big question.
ARCHEOLOGY

Looking to unearth an under-the-radar team? Look no further than Arkansas, which has everything in place to have a big year. But like every team, the Razorbacks need to answer the all-important question: Who will step up at quarterback? The team has been largely inconsistent in the past and needs a true leader to succeed.