The Bottom 10 inspirational thought of the week: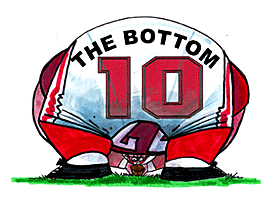 Because I'm bad, I'm bad -- come on
(Bad bad -- really, really bad)
You know I'm bad, I'm bad -- you know it
(Bad bad -- really, really bad)
You know I'm bad, I'm bad -- come on, you know
(Bad bad -- really, really bad)
And the whole world has to answer right now
Just to tell you once again,
Who's bad …

-- Michael Jackson, "Bad"
As far as the Bottom 10 is concerned, bad is good. Our annual fall celebration of all things bad extends from the gridiron to music (see above), television and films. With a movie titled "Superbad" at the top of the box office, summer movies seemed like the perfect vehicle to drive us through the preseason Bottom 10.
So sit back, grab some popcorn and enjoy the Bottom 10's trailer for 2007.
Longtime Bottom 10 favorites Buffalo, Utah State and Temple made the final cut. So did Duke, which is mired in a 20-game losing streak. But the Blue Devils didn't land in the top spot. Florida International, which finished No. 1 in the Bottom 10 last season, has the most buzz heading into 2007.
The highly coveted No. 5 spot, which usually is reserved for high-profile programs taking a hit, goes to all the offseason allegations and arrests.
Have a comment about the Bottom 10 ranking? Send us your thoughts.
So, with apologies to Steve Harvey, here's the 2007 preseason Bottom 10:
Waiting list: Illinois (2-10), Louisiana-Monroe (4-8), Memphis (2-10), Miami (Ohio) (2-10), most nonconference schedules, San Diego State (3-9) and UNLV (2-10).
David Duffey is the college football editor at ESPN.com.