The Bottom 10 inspirational thoughts of the week: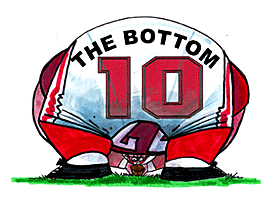 Get yourself together
Let the light pour in
Pour yourself a hot bath, pour yourself a drink
Nothing's gonna happen without a warning
Down is the new up
What is up, buttercup
Down is the new up, is the new up
Your services are not required
Your future's bleak, you're so last week
-- "Down Is The New Up," Radiohead
Lollapalooza, the largest alternative music festival, sold out three straight days last weekend. Kanye West, Nine Inch Nails, Radiohead, Rage Against the Machine and Wilco delighted audiences in Chicago's Grant Park.
Things are different over in the Bottom 10 mosh pit, where the audience delights in pushing our alternative bands around.
Welcome to Lollapaloozers, ESPN.com's fall festival celebrating alternative college football, where the hits keep coming. Appearing on the main stage are Bottom 10 regulars Idaho, Florida International and Utah State. Crowd favorite UL-U-Pick 'em is back together and ready for its special appearance.
Former headliners Duke, North Texas and SMU can be found outside the fence in the waiting area. However, the Blue Devils, Mean Green and Ponies shouldn't be concerned about the extra security around this edition of the Bottom 10. The precautionary move was not made with them in mind.
An offseason marred by multiple off-the-field incidents at programs across the country created the safety concerns -- and a fierce competition for the highly coveted No. 5 spot. Alabama, Iowa, Penn State and Virginia were considered, but the honor went to the team also occupying the No. 1 spot in ESPN.com's preseason power rankings. With five players suspended for the opener, Georgia's a perfect match for the Bottom 10's No. 5 spot. Hunker down you hairy Dawgs or you could spend more time locked up in the Bottom 10's pound.
We'll let the artists from Lollapalooza guide us through the preseason Bottom 10 for 2008.
Have a comment about the Bottom 10 ranking? Send us your thoughts.
So, with apologies to Steve Harvey, here's the Bottom 10:
Waiting list: Akron (4-8), Baylor (3-9), Colorado State (3-9), Duke (1-11), Kent State (3-9), Marshall (3-9), North Texas (2-10), Ole Miss (3-9), Rice (3-9) and SMU (1-11).
David Duffey is the college football editor at ESPN.com.