The Bottom 10 inspirational thought of the week: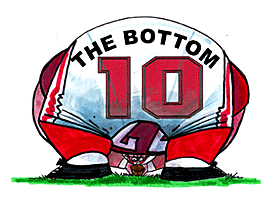 Because I'm bad, I'm bad -- come on
(Bad bad -- really, really bad)
You know I'm bad, I'm bad -- come on, you know
(Bad bad -- really, really bad)
And the whole world has to
Answer right now
Just to tell you once again
Who's bad …
-- "Bad," Michael Jackson
Who's bad? The Bottom 10 tries to answer that question each week during the college football season. Michael Jackson might be gone, but his work and words won't be forgotten in our world. The King of Pop's music will provide the beat for our preseason ranking of teams moonwalking to the bottom of the college football barrel.
When we last visited the Bottom 10 world, Washington was bad -- really, really bad. The Huskies were the only winless Football Bowl Subdivision team in 2008. Bottom 10 law requires a team to win before it can beat it from the list. So, the Bottom 10 will continue to rock with U-Dub, but the Huskies are not starting the season at No. 1.
North Texas edged out Western Kentucky for that honor. The race between the new Sun Belt rivals is sure to be a season-long thriller.
The buildup for any SEC game involving Tennessee also will be a thriller. Wanna be startin' somethin'? P.Y.T. Tennessee coach Lane Kiffin sure seemed to during the offseason, landing the Vols on multiple SEC target lists and in the highly coveted No. 5 spot.
The Bottom 10 is glad to be back and is ready to rock with you through the preseason edition.
So, with apologies to Steve Harvey, here's the 2009 preseason Bottom 10:
Waiting list: Army (3-9), Indiana (3-9), Louisiana-Monroe (4-8), Miami (Ohio) (2-10), San Diego State (2-10), Syracuse (3-9), Toledo (3-9), UAB (4-8), Washington State (2-11).
David Duffey is the college football editor at ESPN.com.