The Bottom 10 inspirational thought of the week: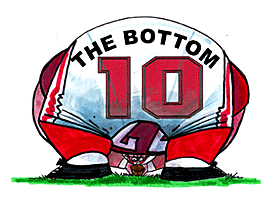 Rah-rah-ah-ah-ah!
Roma-ro-ma-mah!
Ga-ga-ooh-la-la!
Want your bad romance
I want your ugly
I want your disease
I want your everything
As long as it's free
I want your love
(Love-love-love I want your love)
-- "Bad Romance," Lady Gaga
Lady Gaga pushes pop music's buttons. People wonder what she will do, wear, say and sing next. Well, the Gaga has nothing on The Bottom 10. There's no telling what the band of teams at the bottom of the college football barrel will deliver on the Saturday stage.
Western Kentucky and Eastern Michigan's matching 0-12 records in 2009 were ooh-la-la-worthy. The Bottom 10 figures to go gaga for the Hilltoppers and Eagles again in 2010, so it shouldn't be a surprise to see the divine duo atop our preseason rankings.
Speaking of dynamite duos, welcome back longtime Bottom 10 favorites U-L U-Pick 'em and F_U to the rankings. It's obvious that we want your love and love-love-love everything about the Ragin' Cajuns and Warhawks and Owls and Panthers.
However, there's no bad romance that The Bottom 10 loves more than the highly coveted No. 5 spot. Rah-rah-ah-ah-ah! to the men of Troy. From Pete Carroll's departure to Lane Kiffin's hiring to the NCAA sanctions to the returning of Reggie Bush's Heisman, the Trojans have been a college football paparazzi's dream. (Bottom 10 reminder: The No. 5 spot is reserved for the high-profile team that had the worst week -- or in this case, the worst offseason.)
Time to get off the telephone with Alejandro, Fernando, Roberto or whomever you might be talking to and just dance your way through our fame monster preseason edition.
So, with apologies to Steve Harvey, here's the 2010 preseason Bottom 10:
Waiting list: Colorado State (3-9), Illinois (2-10), Maryland (2-10), Memphis (2-10), Rice (2-10), Vanderbilt (2-10) and Washington State (1-11).
David Duffey is the college football editor at ESPN.com.