Editor's note: Kirk Herbstreit is back for his 13th annual Herbie Awards. Check out how he ranked the best of this upcoming college football season and then make your own selections to see how America voted.
Due to the uncertainty surrounding Johnny Manziel this season, he was not included in these categories.
Be sure to watch "The Herbie Awards" airing on ESPN2 at 10 p.m. ET Wednesday.
Select A CategoryUltimateMost ExcitingUltimate Game ChangerDo-It-All QBBest Kept SecretsThrowbacksAhead Of The CurveFresh FacesLooks The PartTaking It To The Next LevelBackyard FootballAnkle BreakerFoxhole PlayersTop Pass RushersLockdown CornersTop DefensesTop QuarterbacksTop Running BacksTop Wide ReceiversTeams On The RiseMost Intriguing Storylines
---
Ultimate Herbie
Tajh Boyd led Clemson to its first 10-win season since their national title in 1981.
---
Most Exciting Player
De'Anthony Thomas cleared 700 rushing, 400 receiving and 600 return yards in 2012.
---
Ultimate Game Changer
Amari Cooper's 105 receiving yards and two TD catches led Bama in the 2012 BCS title game.
---
Do-It-All QB
Though only a sophomore, Oregon's Marcus Mariota is the Pac-12's top Heisman candidate.
---
Best Kept Secrets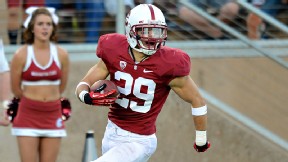 Ed Reynolds won the 2012 Jack Tatum Trophy as the top defensive back.
---
Throwbacks
Georgia true freshmen to rush for 1,000-plus yards: Herschel Walker and Todd Gurley.
---
Ahead Of The Curve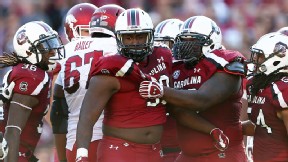 Chaz Sutton, one of four scholarship seniors, will start opposite Jadeveon Clowney.
---
Fresh Faces
Jameis Winston also plays outfield and pitches for the Seminoles baseball team.
---
Looks The Part
Jadeveon Clowney has 21 sacks over the past two seasons and is nine away from SC's record.
---
Taking It To The Next Level
Shaq Thompson, a 2012 pick of the Boston Red Sox, left baseball behind this summer.
---
Backyard Football
Jared Abbrederis leads all active FBS players with a career 16.6 yards per catch.
---
Ankle Breaker
Venric Mark's selection to the 2012 All-American team was Northwestern's first since 2005.
---
Foxhole Players
Stanford's 2012 Pac-12 championship was the Cardinal's first title since 1999.
---
Top Pass Rushers
Jadeveon Clowney will try to become the first defense-only player to win the Heisman.
---
Lockdown Corners
Bradley Roby led the nation with 19 passes defended, including 17 break-ups.
---
Top Defenses
The Crimson Tide led the nation in yards allowed and scoring defense in 2012.
---
Top Quarterbacks
Louisville's Teddy Bridgewater threw for more than 300 yards six times in 2012.
---
Top Running Backs
Todd Gurley was the only true freshman to be named to the 2012 All-SEC First Team.
---
Top Wide Receivers
As a junior, Marqise Lee already owns or shares 22 Southern California records.
---
Teams On The Rise
Washington will go for a fourth straight winning season for the first time since 1999-2002.
---
Most Intriguing Storylines
En route to winning winning three of four BCS titles, the Crimson Tide compiled a 49-5 record.