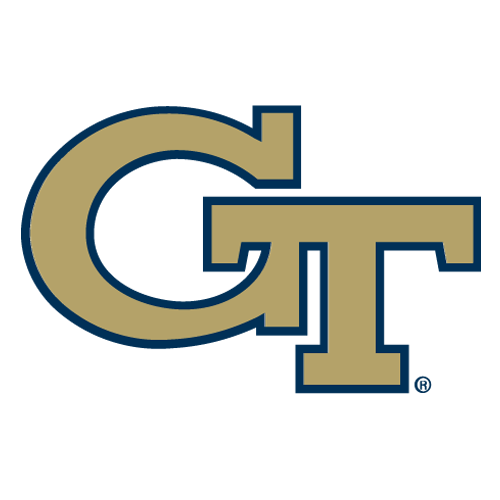 | | 1 | 2 | 3 | 4 | T |
| --- | --- | --- | --- | --- | --- |
| GT | 0 | 7 | 3 | 0 | 10 |
| UTAH | 13 | 7 | 3 | 15 | 38 |

Ratliff, LaTendresse bewilder GaTech, set Utah marks
SAN FRANCISCO (AP) -- Travis LaTendresse felt all alone at times
during the Emerald Bowl, catching pass after pass without a Georgia
Tech defender anywhere near him.
The sixth-year Utah senior wasn't lonely afterward. He got a
ride on his fans' shoulders following another blowout bowl victory
for the Utes and their phenomenal offense.
LaTendresse caught 16 passes for 214 yards and an NCAA bowl
record-tying four touchdowns, Brett Ratliff passed for 381 yards
and Utah rolled up 550 total yards in a 38-10 victory over No. 24
Georgia Tech on Thursday.
Quinton Ganther ran for 120 yards and added a 41-yard TD romp in
the fourth quarter for the Utes (7-5), who finished their follow-up
season to their 12-0 run through the Bowl Championship Series in
2004 with an offensive performance more than worthy of former coach
Urban Meyer's sublime team.
Though the prize was smaller and the stars have changed, the
result was the same as last year's Fiesta Bowl win over Pittsburgh:
a comfortable victory and countless style points for the exciting
Utes.
"I don't think the ACC has seen a passing attack like the ones
in the Mountain West," said LaTendresse, a Northern California
native with 100 friends and relatives in the stands. "We came out
with a chip on our shoulders. That was an ACC team which said they
didn't belong here. We took it personally that they don't respect
us."
Reggie Ball passed for 258 yards for the Yellow Jackets, who
were disappointed to be so far from Atlanta for the postseason --
and it showed. Georgia Tech's vaunted defense, ranked among the
nation's leaders entering the game, was shredded and stomped by a
backup quarterback and his speedy receivers for its season-high in
yards allowed.
"They quit on themselves," said LaTendresse, the game's
offensive MVP. "Slowly but surely, they gave up. That first
quarter, they had a lot of fight, and they were talking. But slowly
their talk diminished, and their heads went down. That's what you
have to do: make them quit."
LaTendresse, who missed three late-season games with an ankle
injury, seemed to be open all day while the Utes ruined the favored
Yellow Jackets' (7-5) ninth straight bowl appearance. Each of his
four TD catches of 14, 23, 25 and 16 yards came on simple post
patterns down the middle.
Ratliff, who went 30-of-41 in his second career start, and
LaTendresse both set Utah bowl records with a superb afternoon of
pitch-and-catch against the Yellow Jackets' bewildered secondary.
"They didn't do anything fancy or unusual that we haven't
worked on, but when you play them, you have to get ready for a ton
of stuff," Georgia Tech coach Chan Gailey said. "When you haven't
spent a ton of time on something, sometimes they get you, and they
got us good."
First-year head coach Kyle Whittingham, Meyer's defensive
coordinator, easily won his bowl debut -- Utah's fifth straight
postseason victory.
"We had so many guys making plays today, it was unbelievable,"
Whittingham said. "[Georgia Tech] was a quality football team, and
not only did we beat them, we dominated them."
Cornerback Eric Weddle, the Mountain West Conference's top
defensive player and the Emerald Bowl's defensive MVP, did a bit of
everything for the Utes -- running the ball, engineering a fake
field goal as a holder, even throwing a terrible interception.
But Weddle was most valuable in his day job, limiting star
Georgia Tech receiver Calvin Johnson to two catches for 19 yards.
"You could just tell they didn't want to be here," Weddle
said. "When we hung around them [earlier in the week], you just
couldn't see the fire that we had in our eyes."
Despite the injury absences of quarterback Brian Johnson and top
receiver John Madsen, the Utah offense was mostly flawless. Brian
Hernandez, a junior who began his college career at Georgia Tech in
2002, added eight catches for 75 yards for the Utes.
"Their whole offense didn't allow us to get into a rhythm,"
Georgia Tech safety Chris Reis said. "We didn't come out to play,
we came out flat, we didn't catch back up. ... It isn't
embarrassing as much as it is disappointing."
LaTendresse scored Utah's first three touchdowns, opening a 20-0
lead early in the second quarter. Ball threw two interceptions in
the first half, though he hit tight end George Cooper for a 31-yard
score after Weddle, who occasionally runs the ball on direct snaps
for Utah's offense, threw an interception on a gadget play.
But the defense held Georgia Tech scoreless in the second half,
and the Utes put it out of reach early in the fourth quarter.
LaTendresse caught his fourth TD pass over the middle and ran
headfirst into a picture of Willie Mays on the left-field wall at
SBC Park, home of the San Francisco Giants.
Utah made it 31-10 with a 2-point conversion -- Ratliff to
LaTendresse, of course.