| | 1 | 2 | 3 | 4 | T |
| --- | --- | --- | --- | --- | --- |
| MSU | 0 | 7 | 7 | 13 | 27 |
| MICH | 0 | 10 | 10 | 3 | 23 |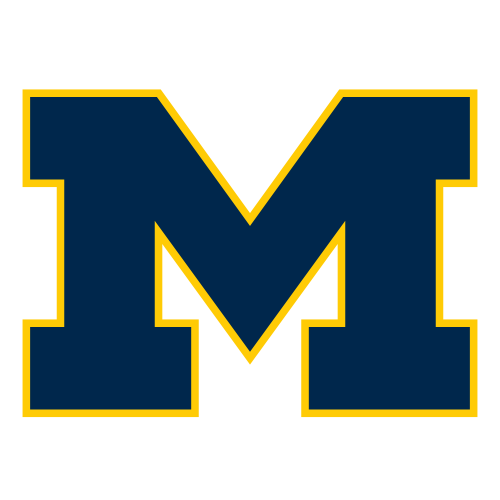 Michigan State stuns Michigan with final-play fumble return
Michigan State stuns Michigan as time expires
SportsCenter Highlight of the Night: On the final play of the game with 10 seconds remaining, Michigan's punter fumbles the snap, and the ball is recovered by Michigan State CB Jalen Watts-Jackson, who takes it in for a touchdown and a 27-23 victory.
---
ANN ARBOR, Mich. -- The snap was flubbed, and the football went flying. Jalen Watts-Jackson grabbed it with his right hand, cradled it to his body and ran a ball into the end zone that was supposed to be punted the other way.
In the 10 seconds it took for the clock to tick down, Watts-Jackson went from total obscurity to pulling off one of the most unlikely endings in college football as No. 7 Michigan State beat No. 12 Michigan 27-23.
"That's why football is loved so much in America," Michigan State coach Mark Dantonio said. "It's because things like this happen. Every now and then, they happen."
He could take it in for only a moment. As Watts-Jackson lay on a maize "M" in the end zone, his teammates piled above him, he dislocated his hip in the ruckus. He was later carted off the field and taken to a hospital, barely getting a glimpse of the scene he set off.
No one will soon forget it.
A fan at Michigan Stadium had a heart attack on the final play of the game. Paramedics told ESPN that they transported the man to the hospital in stable condition.
Following the loss, University of Michigan police reported several small fires burning on off-campus streets. Police said the fires were extinguished without injuries or serious damage.
The game was seemingly over when Watts-Jackson found himself in perfect position to make the unbelievable play.
With the Wolverines up 23-21 and 10 seconds left, Michigan punter Blake O'Neill bobbled a low snap. As O'Neill spun around to try and make the kick, he was swarmed by Spartans, and the ball popped free.
Watts-Jackson caught it and raced 38 yards toward the end zone, taking advantage of Jermaine Edmondson's blocking and powering through Jake Butt's hit just before the goal line.
The last time an FBS game ended with a defensive or special-teams game-winning score with no time left was Nov. 30, 2013, when Auburn beat Alabama after returning a missed field goal, according to Stats LLC.
"You go from 10 seconds, a guy punting the ball, you're thinking OK this is done," Dantonio said. "And then all of a sudden, life gets flipped upside down."
Famous alums Magic Johnson, whose statue at the Breslin Center in East Lansing was defaced by vandals painting a maize "M" on it earlier this week, and Pittsburgh Steelers running back Le'Veon Bell also got the last laugh on Twitter.
Michigan coach Jim Harbaugh lamented that O'Neill didn't simply handle the ball after bobbling it and fall to the ground, probably leaving the Spartans with a heave into the end zone.
"A mistake was made," Harbaugh said somberly. "Mistakes were made. It's very unfortunate circumstances."
The fan who sufferd the heart attack was sitting in a section above the opposite corner of the end zone where Watts-Jackson scored the touchdown. Fans in the section started yelling for medical help, and someone performed CPR on the man, according to Kevin Zonca from Flint, Michigan, who was nearby.
"It was honestly a very sobering experience," Zonca said. "At the end of the day, it's a game. And I'm glad that people could come together to save a life."
Michigan spokeswoman Diane Brown says she didn't know if the fan had the heart attack before or after Watts-Jackson's return. The spokeswoman also didn't know if the fan was rooting for the Wolverines or the Spartans.
The Wolverines played their first game at Michigan Stadium in 1927, and there haven't been many that have ended this dramatically. In 1994, Michael Westbrook caught a deflection for a 64-yard touchdown on the final play to give Colorado a 27-26 win over Michigan. A loss to Appalachian State came in 2007, when Michigan's attempt at a winning field goal was blocked.
Michigan State (7-0, 3-0 Big Ten) has won seven of eight in the series. Michigan (5-2, 2-1) lost for the first time since opening the season with a setback at Utah.
"We could hang our heads, but I think we'll respond great because that's the kind of team we are," kicker Kenny Allen said.
Michigan was seconds or a first down away from sealing the momentum-building win after Sione Houma ran for two touchdowns, Allen kicked three field goals, and the Wolverines forced the Spartans to turn the ball over on downs with 1:47 left at its 45.
The Spartans had only one timeout left and used it after the next snap. Michigan had two, and Harbaugh used both, including one with 10 seconds left to set up the final punt and discuss all options.
"If you go for it, you leave them with a Hail Mary opportunity," Harbaugh said. "We could protect and throw a long pass. We ran through the scenarios and felt like the best decision was to punt. They didn't have any returners. It was a matter of punting it. We messed up."
Michigan State moved the ball up and down the field against a team that had shut out three straight opponents, picking up 386 yards, mostly through the air, and 20 first downs.
Connor Cook was 18-of-39 for 328 yards and a touchdown against the nation's top-rated defense, improving his record to 30-3 as a starter and perhaps helping him get mentioned more in the Heisman Trophy race. Aaron Burbridge had nine receptions for 132 yards for the Spartans.
Michigan's Jake Rudock was 15-of-25 and 168 yards and avoided turning the ball over.
In fact, both teams took good care of the football until the final snap.
Before the dramatic finish, it looked like a trick play was going to lead to a setback for the Spartans.
Dantonio, known for having the guts to call trick plays, called for a fake punt when no one was expecting it. Punter and backup quarterback Tyler O'Connor ran 7 yards on a fourth-and-8 from the Michigan State 31, turning the ball over on downs. Michigan took advantage, moving to a 17-7 lead early in the third quarter on Houma's 1-yard run.
The Spartans, though, made the most of an improbable opportunity to win in the end.
"Football is a crazy, crazy game," Dantonio said. "You can't really hardly explain it."
The Associated Press and ESPN staff writer Dan Murphy contributed to this report.