---
No. 17: Arizona State
Last Season: 10-3 (6-3 Pac-12)
---
ASU just posted back-to-back 10-win seasons. When's that last time that happened? Google the name Frank Kush. When he led the Sun Devils to four straight double-digit campaigns, current head coach Todd Graham was in elementary school. Now Graham will pursue the school's first conference title in nearly a decade by sticking to his elementary football principles: attack the quarterback (Graham also oversees defense) and using the running game to load up the cannon for deep shots downfield. You do remember the Jael Mary that vanquished USC, right? The Jael end of that legendary play is gone, but quarterback Mike Bercovici threw it. He made three impactful relief starts last season and fellow senior D.J Foster, the team's leading rusher in 2014, is moving out to wide receiver. "I like that long ball to always hang out in the back of their minds," says Graham, now in his fourth year, a relative eternity for the once-notoriously nomadic coach. "The longer they don't see it, the more they have to worry." -- Ryan McGee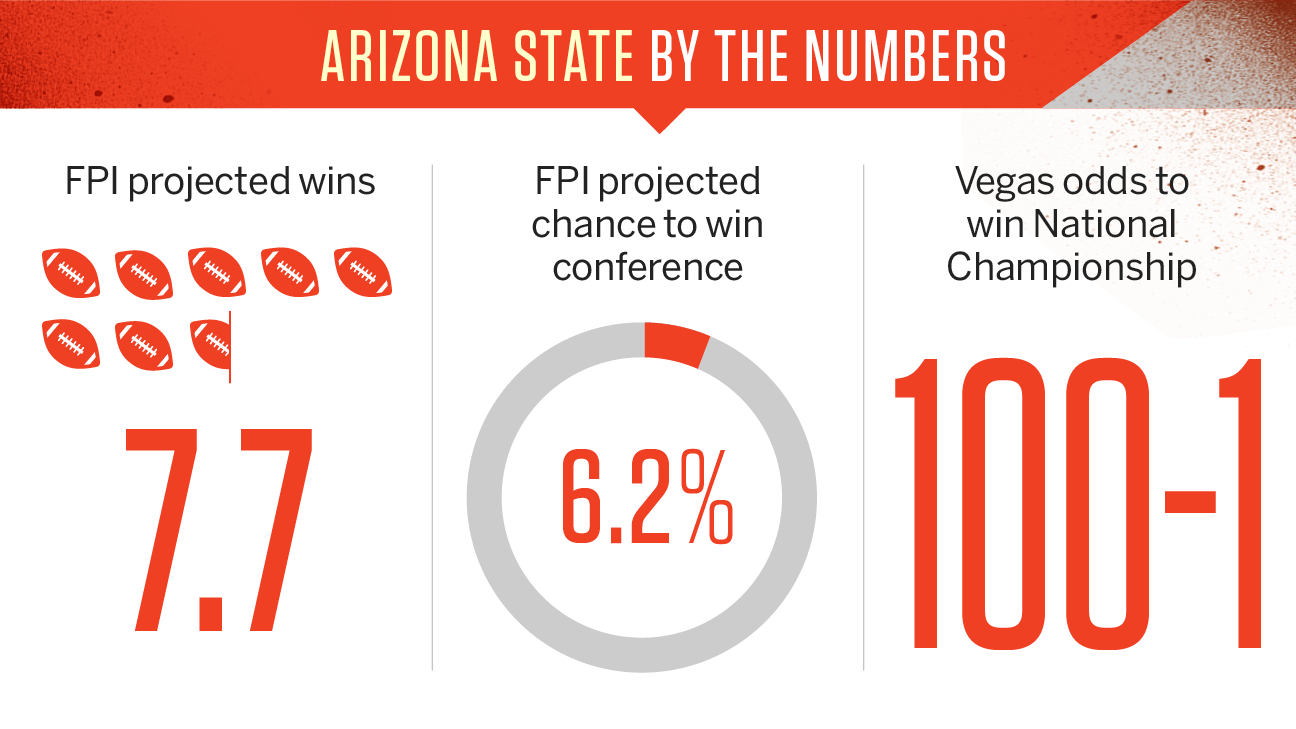 Todd Graham has done a tremendous job in his three years at Arizona State, notching back-to-back seasons of double-digit wins and keeping last year's green Sun Devils in playoff contention into November. This team is far more experienced, with 16 starters back, and it should be well-stocked on offense thanks to QB Mike Bercovici (61.8 completion rate last year) and several explosive skill players, including speedy WRs D.J. Foster (12 combined receiving and rushing TDs) and Gump Hayes, a redshirt junior in his first year with ASU. The Pac-12 South schedule will be daunting, particularly back-to-back games with USC and UCLA, but if Graham has proved anything, it's that he's up for a challenge.

Arizona State's chances to win each game
09.05 vs. Texas A&M (Houston): 34.6%
09.12 vs. Cal Poly: 99.6%
09.18 vs. New Mexico: 95.8%
09.26 vs. USC: 45.0%
10.03 @ UCLA: 30.2%*
10.10 vs. Colorado: 86.7%
10.17 @ Utah: 55.2%
10.29 vs. Oregon: 41.3%
11.07 @ Washington State: 72.9%
11.14 vs. Washington: 81.5%
11.21 vs. Arizona: 65.2%
11.28 @ Cal: 54.6%
*BROCK HUARD: Bercovici, one of the best pure passers in the game, threw for nearly 500 yards in a 62-37 loss to UCLA a season ago, but he still couldn't prevent ASU's worst home loss of the Graham era. Speed, size, experience and the bitter memory of last year make this closer to a coin toss.
SHARON KATZ: FPI expects the UCLA offense that dominated ASU last year to rank even higher in 2015 -- eighth in the FBS. Add in UCLA's home-field advantage (worth 3.07 ppg) and the Sun Devils' D is in for a challenge.

Despite some shuffling -- which includes D.J. Foster's move from running back to wide receiver and the promotion of Mike Bercovici to starting quarterback -- the offense should continue to be explosive. No team blitzes more than the Sun Devils, who pride themselves on their attacking mentality. The opener against Texas A&M will be a tone-setter, but having Oregon back on the schedule adds to an already brutal Pac-12 South slate. It's entirely possible they could go 10-2 and still lose the division. -- Kevin Gemmell
The Sun Devils will follow the lead of gunslinging Mike Bercovici in 2015 and put up a good fight in every game. But eventually they'll fall just short of a trip to the Pac-12 title game with an 10-2 regular season record. -- Chantel Jennings
Arizona State is the only Pac-12 team that returns an experienced quarterback (Mike Bercovici) and almost all of its defense (9 of 11 starters come back). The Sun Devils face questions at receiver, but they also have weapons aplenty on the offensive end to answer them. Five teams have a legitimate shot at the Pac-12 South title, but the Sun Devils may just have the best chance. A 10-2 record seems possible, but 9-3 may be good enough to win the division given the parity there. -- David Lombardi
Arizona State has a ready-made strong-armed replacement for Taylor Kelly at quarterback with Mike Bercovici, and the defense should be much better than it was a year ago. Questions at receiver and on the defensive front might be issues, though a 9-3 finish seems possible. -- Ted Miller
---