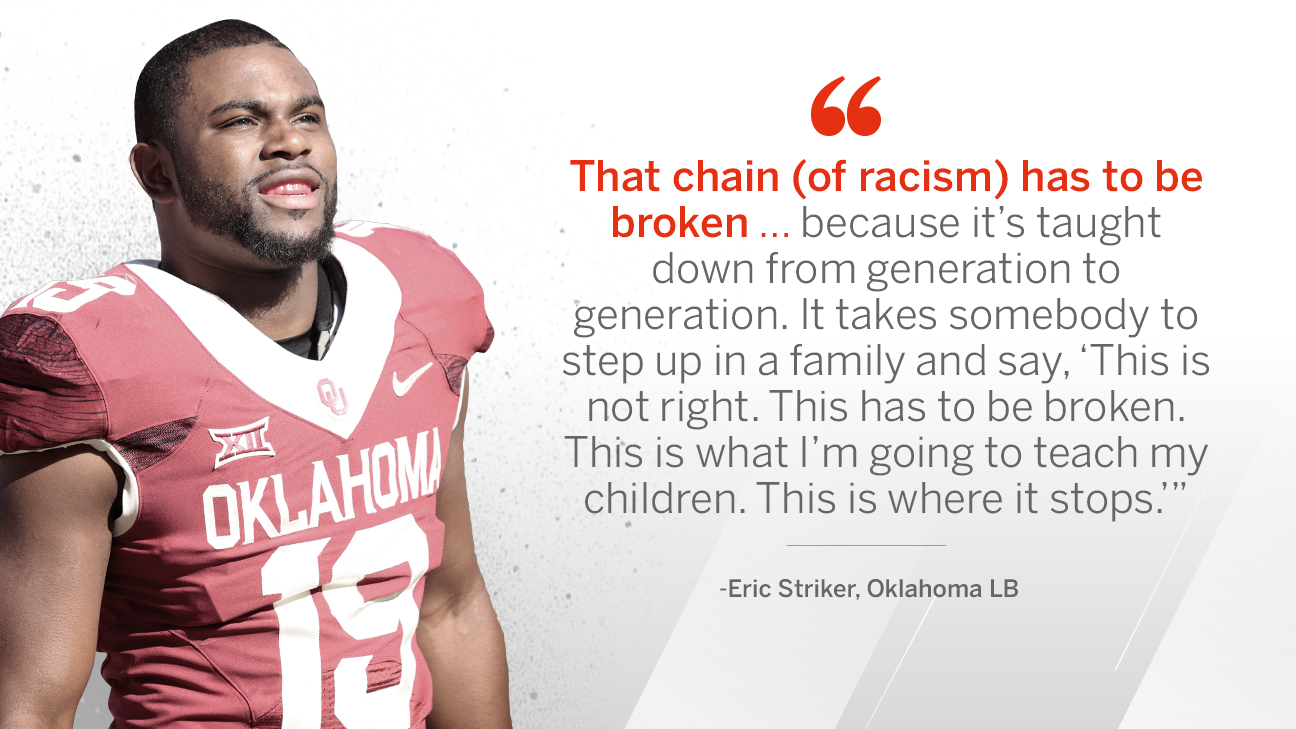 This spring, Eric Striker's viral reaction to a racist frat video set off a national conversation about race on college campuses across the country. The Oklahoma linebacker's initial SnapChat made headlines inside and outside the college football world, and inspired a public show of anti-racism involving the entire Sooners team and coaching staff soon after. In dozens of interviews with players and coaches from across the country, ESPN.com found Striker's comments have sparked an open dialogue in many places. Here are 12 quotes gathered during that reporting, on a broad range of topics around race on college campuses and its interaction with the sport.
---
Oklahoma athletic director Joe Castiglione
"People understood [Striker's] initial reaction. It came within a couple hours, an hour, and it did go viral. Social media being what it is, there are times people express their immediate thoughts unvarnished. After some of the emotions settled down, [Striker] went and chose to express himself differently, but one should not lose the deeper meaning of his concern because that was what he felt. That's what he needed to say."
---
Oklahoma coach Bob Stoops
"A regular student has the right to demonstrate or express their feelings. Why wouldn't an athlete? This is America. It's what it's all about."
---
"I was sitting on the fourth floor, doing my homework with one of the guys on the team [Leon Jacobs] and he was like, 'Did you hear about Oklahoma?' He showed me the video and the first thing that I thought was, 'Wow, we've come a long way from where we have been in the past, and then here's something that lets me know we still have a long way to go.'"
---
"It's important for athletes to have a voice. A lot of people just see us out there as tackling dummies. We go out there and play, work out and practice every day, and on Saturdays, they just see a helmet, they don't see a person under it."
---
Notre Dame defensive lineman Romeo Okwara
"Race is such a huge topic in America especially, and voicing your opinions, especially at that point, is very important. All these kids in this frat, they go to the football games. The majority of the football players are African-American. These are the same people you're cheering for. As a player, how can students who watch you play and cheer for you not know they have those feelings? It's crazy to think about."
---
Ole Miss coach Hugh Freeze
"When those issues occur we have to let them know again that there are people that behave poorly, that make bad choices, that are going to be on the wrong side of arguments at every university in America. And it's wrong, in my opinion, those things at every university, but you're not escaping this world. "We're not going to stick our head in the sand and not battle against it and not be on the right side of things. We'll continue to do that, but it won't go away."
---
"Like Striker said, everybody loves you on game day. Everybody loves you after you win. ... But behind closed doors, who are you, what are you?"
---
"You're stereotyped as a football player because you're black. ... That's where the racism on this campus shows up. I'm a finance major, so when we're put in groups and we have to put all these financial models together, I'm not necessarily the first one to be looked at. I'm not someone people will walk up to and say, 'Hey, do you want to be in our group?' I always end up in the athletes' group. I use it somewhat as motivation. It's like, 'You don't want me in the group?' I'll do better on the project."
---
"When I go out with my football guys and we all walk in at the same time, everybody knows you play a sport and they automatically think, 'football.' You're big, you're black and you're athletic, so it's either football or basketball on this campus. The way they would talk to us, it's kind of indirect. 'Oh, was that scooter given to you?' If you go out to a bar, 'Is that drink paid for you? I didn't see you pay for that, so you must have the good life.' If they understood the way we carry ourselves the way we do, it's because we work for it."
---
"You're wary of people's intentions. If I wasn't playing football, would they still want to hang around me? That always crosses your mind. You have to deal with that. This is still America, and racism isn't that far away."
---
"It sickens me when I see [a Confederate flag] on people's cars on campus. If you have the Confederate flag on your vehicle, you have a problem. And I don't care if it's socially what you believe in or it's morally what you believe in or you're just doing it for s---s and giggles. It's just the fact of what it stands for. It's almost like you might as well put a tag on the front of your car that says 'n-----.' That's really what it boils down to. You might as well just put a big tag on the front of your car or hang a big flag on the back of your car and just say the N-word."
---
Vanderbilt coach Derek Mason
"When you're talking about African-American athletes, there have been guys who have never stepped outside of talking to black people -- period. And that's the only way they've made it through."
---
"Let's be honest here, when we see the regular student body we might see them as just faces in the stands and then they just see us as jersey numbers. If we stay in our corner and they stay in their corner, then it's both of us who should build [the bridge]."