MIDDLETON, Wis. -- Meet Kate and Brandon. They're both Michigan football fans and Michigan alumni. They got married Saturday on a date strategically timed with a Wolverines bye week. Brandon's best man is named Tom Brady.
Really.
They're not the first couple brought together by college football. But their love story is unlike any other. When Rihanna belts out, We found love in a hopeless place, she's singing about Kate and Brandon. When they first crossed paths in 2012, they weren't Kate and Brandon to each other. They were bleu_girl_04 and AAWolv, regulars in the comment section of ESPN's Big Ten blog.
For those who forget, the blog's pre-Facebook comments section allowed users to post anonymously, identified only by handles of their choosing. Like most online forums, it was humanity's digital septic tank, a playground for the obnoxious, the juvenile and the fakest of tough guys (and, occasionally, gals). Insults flew like paper airplanes in detention. If commenters weren't putting down rival schools, they were trolling one another. Intelligent football discussions would occasionally initiate, but most threads turned ugly in a hurry.
The thought that true love could sprout from this crass corner of the Internet seemed implausible, like Michigan hiring Jim Harbaugh. We were shocked at Kate's story when she told us back in April, much like most of the blog regulars who assumed she was simply catfishing Brandon. But Kate and Brandon are not only both real, but after spending time with them during their wedding weekend, we can report that they seem quite normal.
Their story, however, is anything but normal. So we're not going to tell it in a normal way. Kate and Brandon and some of their closest family and friends recently joined us in an online forum -- with usernames, of course -- to recap their unlikely journey from message board to marital bliss. Or, as the less-famous Tom Brady put it in his best-man speech, "It was love at first chat."
Your starting lineup ...
Kate Queram (bride): bleu_girl_04
Brandon Wagoner (groom): AAWolv
Ryan Wagoner (Brandon's brother -- and Michigan State fan): VictoryForMSU
Tom Brady (best man): TheRealTomBrady
Jess Ryckman (maid of honor): gingerblue
Kate Spalding (matron of honor): KateBornToHateOhioState
Adrienne Brady (Tom's wife): mrstombrady
Samir da Costa (friend): WolvinMadison
Chris Queram (Kate's dad): FatheroftheBride
Bonnie J. Reinke (Kate's mom): Badgermom
Robert Wagoner (Brandon's dad): GroomPapa
The Beginning
Brandon is a lifelong Michigan fan who started visiting the Big Ten blog comments section as a way to defend former coach Rich Rodriguez. Kate grew up outside of Madison, Wisconsin, with parents who both earned Wisconsin degrees, but she wasn't a college football fan until she went to Michigan, where she became a Wolverines addict. She decided to join the online forum's foray as a way to kill time at work while living in North Carolina in November 2012.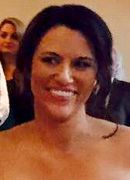 bleu_girl_04: if I recall correctly Brandon was the only one who didn't accuse me of being a middle-aged man in a basement somewhere. so you know, that's a good first impression
---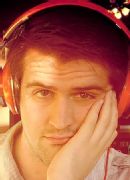 AAWolv: all I remember is wondering why she had this weird obsession with Bo Pelini
---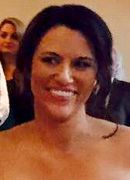 bleu_girl_04: AHHH KING PELINI I miss him so much! He's just very yelly. It was mostly because of Faux Pelini who I was pretty sure was Real Pelini for a long time. actually, still not totally convinced they are different people. I actually have a big picture of Pelini above my desk at work. He looks mad. As he does.
---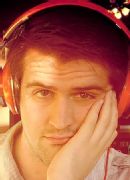 AAWolv: we talked in the comments for at least 6 months or so. The flirting kind of came along with everyone joking that we were a blog couple, since we were two of the only Michigan fans there
---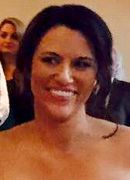 bleu_girl_04: it was Brady Hoke year 2. so I don't know, general malaise and sadness with a slow slide into despair. the Michigan fan club was really sad for many years, guys. we had to stick together.
---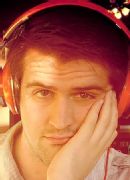 AAWolv: If she was a middle-aged man, she was a middle-aged man with a weird obsession with Bo Pelini who could make me laugh all the time. I figured I'd take my chances.
---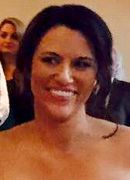 bleu_girl_04: I was in Wilmington on the NC coast and Brandon was in Ann Arbor
---

WolvInMadison: a basement
---

mrstombrady: HE LOVES BASEMENTS
---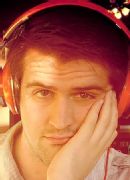 AAWolv: so Kate literally took a chance on a guy on a blog living in a basement. good on you, Kate
---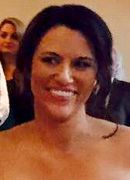 bleu_girl_04: thanks. my mom is really proud of me.
---
Act 2: They Meet
The anonymous chatting and flirting continued, and at one point, Brandon even "blog proposed" to Kate by posting a picture of the 1997 Michigan championship ring. But they might have stayed unknown to each other in real life if not for a surreal story that broke in January 2013: Notre Dame star linebacker Manti Te'o and his "dead" fake girlfriend Lennay Kekua.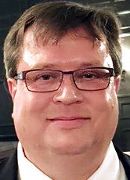 GroomPapa: I was telling him emphatically to make sure he knew who he was talking to because that Manti Te'o thing was really in the news. I said, "Are you sure it's a girl you're talking to?"
---
Brandon started getting nervous about being catfished, so Kate proved her existence by sending him a link to her Twitter page. He responded by sending her his Google-plus profile, which allowed them to chat offline. Soon, they exchanged cell numbers.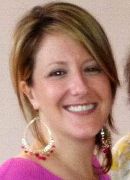 KateBornToHateOhioState: She came to visit me for her birthday weekend and she spent the entire weekend texting him... i was like " HI I AM HERE" and she giggled. like A LOT.
---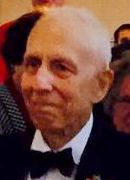 FatherofTheBride: It was one of the more unusual methods of connecting on social media I had ever experienced up to that point. But when I learned it was a Michigan football thing, it made all the sense in the world.
---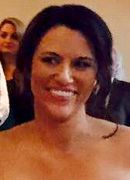 bleu_girl_04: he called me for the first time on my birthday. and he did it right before he got to work so he would have a reason to hang up if it was terrible.
---

VictoryForMSU: the first conversation Kate and I ever had was about football. I believe it was the next year, but Kate and Brandon were watching U of M be... well, Brady Hoke U of M, and she got Brandon to call me so we could commiserate about how badly that was going.
---

TheRealTomBrady: I remember Brandon had booked a flight to go visit Kate for the first time on some weekend, but he couldn't wait to see her (I assume he was anxious to find out if she was indeed not a middle-aged man), so he actually decided to drive all the way from Ann Arbor.
---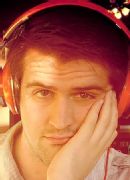 AAWolv: 12 hours
---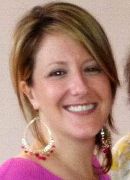 KateBornToHateOhioState: He showed up on her doorstep visibly shaking
---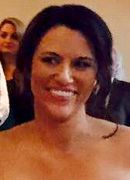 bleu_girl_04: IT WAS VERY CUTE THE SHAKING
---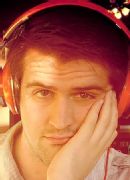 AAWolv: she's better looking than Lennay Kekua, and real, so it turned out pretty well. drove back Sunday at 7 pm, got home just in time to shower and go to work. not a good plan, but definitely worth it.
---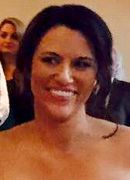 bleu_girl_04: it was pretty serious right away. I think because we felt like we'd spent so much time getting to know each other already
---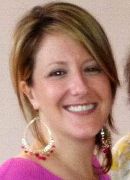 KateBornToHateOhioState: She mentioned early on she thought she might marry him and it was WAY different than anyone before.
---

mrstombrady: Brandon was obsessed!!! In an adorable, non-creepy sort of way...
---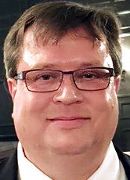 GroomPapa: We knew right away that things were different with her, that he was pretty serious about her. We could tell. She was the real deal.
---
Now that their family and friends knew, it was time to break the news to the Big Ten blog community.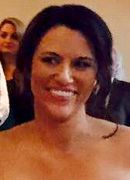 bleu_girl_04: I'm not sure they believed us
---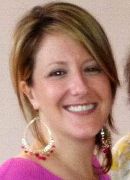 KateBornToHateOhioState: How exactly did you phrase that? "hello internet we are together"
---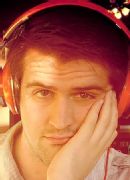 AAWolv: we were a very tight-knit group of people bored at our jobs. they would always joke about us being together on the blog so it wasn't hard
---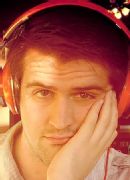 AAWolv: we got pretty serious pretty quick after the first time we met. throughout the summer, we probably ended up seeing each other on average once every 3-4 weeks
---

VictoryForMSU: Well, one other thing that was probably important is that Brandon found a job in North Carolina not too long after they started getting serious. It was "good for his career," but I'm pretty sure that's code for "closer to Kate"
---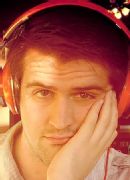 AAWolv: I run crash tests with aircraft seats
---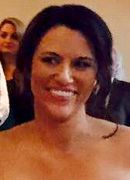 bleu_girl_04: and then talks to me about them in detail, usually when we are on a plane. It's very soothing
---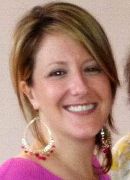 KateBornToHateOhioState: I met Brandon AT the [Michigan-Nebraska] game. But we had talked many, many times before that. He was adorable and fed me many drinks
---

Gingerbleu: I flew to meet Brandon in NC once I realized this was it for Kate and I needed to go meet him. We both got food poisoning. Kate was fine.
---

TheRealTomBrady: First impression: "Man, these two must really like each other, because they won't stop touching each other! And -- why does Brandon have a combover now?"
---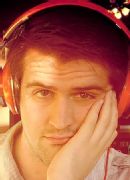 AAWolv: combover=Kate "readjusting" my style
---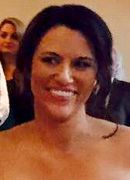 bleu_girl_04: did you also notice that he stopped wearing light jeans. and cargo shorts. you're welcome, America
---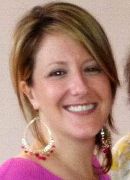 KateBornToHateOhioState: nothing good comes from cargo shorts
---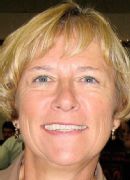 Badgermom: Their story is so funny and phenomenal. You hear of online dating, but you don't hear about ESPN blog dating.
---

gingerbleu: love at first type!
---
Act 3: Happily Ever After
Exactly one week before their wedding, Michigan lost to Michigan State on a miraculous blocked punt returned for a touchdown. Brandon broke his iPhone during the final play while Kate hid in the kitchen. But better days were ahead.
The couple got married Saturday at First Lutheran Church, a small 149-year-old white chapel in Kate's hometown of Middleton, Wisconsin. The cover of their wedding program noted that they first talked on ESPN.com. The Rev. Joan Pape, who officiated the ceremony, told the story of how they met and how she had never heard anything like it before. The wedding was offbeat, including a reading from "William's Shakespeare's Star Wars." But the bridal party didn't wear khakis and the couple didn't walk down the aisle to "The Victors."

VictoryForMSU: IS NOTHING SACRED? Saturdays are for FOOTBALL ;)
---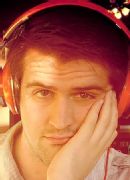 AAWolv: Kate wanted a fall wedding and I was a little nervous about asking if it could be a bye week because, like, I can't have weddings interrupting one of the 12 days I get to watch Michigan play, but I didn't think that that attitude would go too smoothly. Luckily, she pointed out the bye week first thing.
---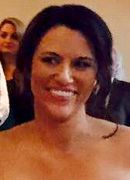 bleu_girl_04: that was for my own sanity, there was a legitimate chance Brandon would have checked scores at the reception and we would have had to call the whole thing off.
---

VictoryForMSU: I don't get to see Brandon very often, and have only met Kate in person a couple times, but they really do make each other happy. Even if that happiness comes from U of M sports.
---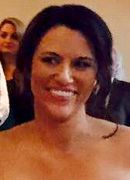 bleu_girl_04: I usually tell the short version so I don't have to mention Manti Teo. not that I don't love having Teo as an integral part of my engagement story, but ... RIP Lennay. Glad my life turned out better than yours.
---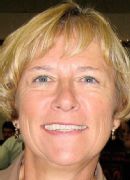 Badgermom: Both sets of parents independently and uniformly say they've brought out the best in each other. Everyone knows their story by now, and when they heard it, they were all like, "Really?"
---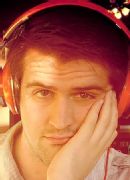 AAWolv: most people I talk to think it's awesome. why would you want to lie about the best story of how anyone met?