Nearly three decades later, former Michigan quarterback Jim Harbaugh's teammates, coaches and opponents still aren't surprised he had the guts to say what he said on Nov. 17, 1986.
Five days before Michigan played Ohio State in "The Game" in Columbus, Ohio, Harbaugh guaranteed the Wolverines would beat the Buckeyes and win a Big Ten championship and a trip to the Rose Bowl.
"I think we're smart enough to know that there's too much at stake right now," Harbaugh told reporters. "Everything's still out there for us. We can still win the Big Ten championship, we can go to the Rose Bowl, and we will.
"I guarantee you we'll beat Ohio State and be in Pasadena."
Late Michigan coach Bo Schembechler would have expected nothing less from his senior captain.
"Quarterbacks are a special breed," Schembechler wrote in his 1989 autobiography, "Bo." "They need to be cocky, and the cockiest I ever had was probably Jim Harbaugh."
Now, as Harbaugh prepares to face defending national champion Ohio State for the first time as Michigan's coach at the Big House, his guarantee still touches a nerve.
"When he was playing in the pros and coaching at other colleges, I enjoyed watching Harbaugh. I was like, 'Give 'em, hell, Jim,'" said Mike Kee, an Ohio State linebacker from 1983-86. "As soon as he went back to Michigan, I can't stand him. Now I see him as, 'I guarantee it.' I'm already envisioning him throwing his hat down and having a little tantrum on the sideline. He's got a little Bo in him."
Late Saturday night, after Michigan beat Penn State to get to 9-2 heading into Saturday's game against 10-1 Ohio State (noon ET, ABC), Harbaugh again sidestepped the discussion of his guarantee, or the question of if he could ever see himself making such a bold promise again.
"That was a long time ago," he said, pausing and smiling. "In my youth... in my youth."
More than a dozen of his former teammates, coaches, opponents and others remembered his famous words from one of the most memorable games in college football's greatest rivalry.
---
The beginning: Born to be a Wolverine
Harbaugh seemed destined to play for -- and perhaps even coach -- the Wolverines one day. His father, Jack, was Schembechler's defensive backs coach from 1973 to '79. Harbaugh and his brother, John, grew up attending Michigan's practices and games. He played junior league football for the Ann Arbor Packers and spent two seasons at Pioneer High School there.
When his father was hired as Stanford's defensive coordinator in 1980, Harbaugh transferred to Palo Alto High School in northern California. Harbaugh developed into a highly recruited quarterback, but Schembechler waited until the very end to recruit him.
Schembechler, who died from heart disease in November 2006, recalled Harbaugh's recruitment in his autobiography.
"When we finally recruited him out of high school, we waited until the last minute," Schembechler wrote. "He came into my office, sat down, and I said, 'Jim, I want you here.' He nodded. That was that."

Bo Schembechler, late Michigan coach, 1969-1989, (from his 1989 autobiography, "Bo," with Mitch Albom): Jack was one of my assistants in the '70s. Even then, his son was a devil, running on the field when he shouldn't, playing with his friends. One time he did that, I screamed "Get that kid out of here, now!" I think he was 10 years old. So, for the record, that is the youngest I ever yelled at one of my quarterbacks.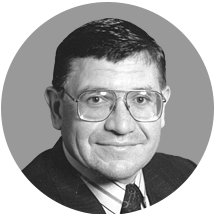 Jon Falk, Michigan equipment manager, 1974-2013: I had dinner at the Harbaugh house quite a bit, and that's how I got to know the boys. After Jim's dad left for Stanford, I asked Bo, "Have you heard about Jim Harbaugh going to Miami, Ohio, to play?" Bo said: "Listen here, Falk. Jim Harbaugh is coming to Michigan. He just doesn't know it yet."

Jack Harbaugh, Michigan secondary coach, 1973-79, and former head coach at Western Michigan and Western Kentucky: I had no idea Jim would end up back at Michigan. In December of Jim's senior year, Bo called and talked to his mom, Jackie. ... When Jim visited Michigan, he told Bo that he wanted him to look him in the eye and tell him that he could be the quarterback one day.
---
An early setback
After redshirting during Michigan's Big Ten championship season in 1982, Harbaugh spent the next year as a backup. In 1984, Harbaugh won the starting job as a sophomore and played well before breaking his arm in a 19-7 loss to Michigan State. He missed the rest of the season.
Without Harbaugh, the Wolverines finished 6-6 in 1984, their worst finish in Schembechler's 21 seasons at the school. The Buckeyes beat the Wolverines 21-6 at the Horseshoe and won a Big Ten championship.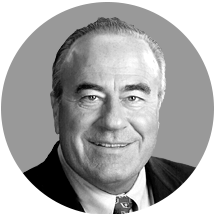 Frank Beckmann, Michigan radio play-by-play announcer, 1981-2013: When Jim broke his arm he was diving for a fumble. He was not going to let that fumble get away, and he put his arm into a pile with a bunch of big guys. That's how he was -- he was tough.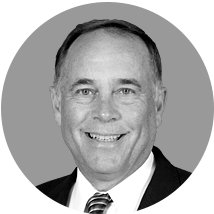 Bruce Madej, Michigan sports information director, 1982-2010: After we lost Jim, Bo was getting ripped all year, and people were saying he was over the hill and needed to get out of coaching.
Falk: In the spring of 1984 ... there was a ruckus at one of the dorms, and Bo booted Jim off the team. During spring break, I asked Jimmy to ride to Indiana with me to watch the basketball team play. Bob Knight is a friend of mine, and I introduced him to Jim. I told Bob he was going to be our starting quarterback, but that Bo had kicked him off the team. Bobby said: "Harbaugh, Coach Schembechler is teaching you a lesson. Learn from that lesson."
I went into Bo's office a couple of days later, and told him that Jim had learned his lesson and was ready to come back on the team. Bo looked at me and said, "Bo decides when a man comes back to this team. Bo will make that decision and nobody else." Three days later, Jim was back on the team.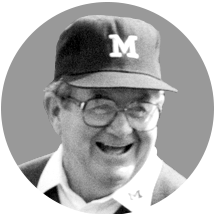 Jerry Hanlon, Michigan assistant coach, 1969-91: The thing I always said about Jimmy is he was the easiest kid I ever coached and the hardest kid I ever coached. He would work and do everything he possibly could to learn about football. But he also was so hard on himself that when he made a mistake, it was hard for him to let it go. It was also hard for him to see other guys make mistakes and not say something about it.
Schembechler: The consensus on Harbaugh was that he was too temperamental to play quarterback. At a freshman practice, after a teammate hit him late, Jim got up and threw the ball in the guy's face. Still, while he was cocky on the outside, deep down he was like the rest of us.
---
The bomb
After missing the '84 Ohio State game due to the injury, Harbaugh finally got his chance against the Buckeyes at the Big House on Nov. 23, 1985.
After the score was tied at 10 at the half, Michigan controlled the ball for more than 11½ minutes of the third quarter to take a 20-10 lead. After OSU pulled to within 20-17, Harbaugh threw a 77-yard bomb to John Kolesar to put the Buckeyes away for good in a 27-17 victory.
Michigan finished 10-1-1 and defeated Nebraska 27-23 in the Fiesta Bowl. The Buckeyes finished 9-3 and beat BYU 10-7 in the Citrus Bowl.
Schembechler: Just prior to kickoff, [Harbaugh] had come up to me on the sidelines. "Bo," he said, "Whenever you need a play today, whenever this game gets critical, just make sure the ball is in my hands, OK?"
On a corner stunt, their strong safety came blitzing in, untouched, and headed straight for Harbaugh. I mean he was just barreling in! And Harbaugh saw him coming -- and he ignored him. He let go a bomb to John Kolesar a split second before that safety crunched him, head on, an awful collision, and they both went down. ... A lot of people talk about Kolesar's catch, but Jim Harbaugh made that play. If you only saw that pass alone, you would know this kid was something special.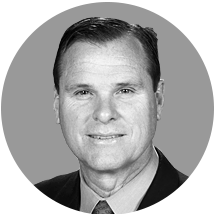 Chuck Heater, Ohio State secondary coach, 1985-87, and current Marshall defensive coordinator: Sonny [Gordon] hit him square. It was a blind shot, and Harbaugh threw a perfect pass to Kolesar and hit him stride for stride. As the secondary coach, I definitely remember [Ohio State coach Earle Bruce's] reaction to it. I had the cornerback in a bad technique. It's easy to say it 30 years later. There was no help behind him.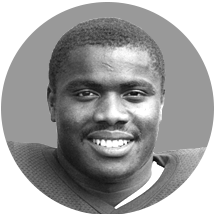 Jamie Morris, Michigan running back, 1984-87: You remember the blitz? I missed it going out for a pass. Everybody in the stadium was going crazy about the touchdown -- except for Bo Schembechler and me. He was chewing me out for missing the blitz.

Sonny Gordon, Ohio State safety, 1983-86: I thought I had a sack, to be honest with you. Then I looked down the field and saw Kolesar running for a touchdown. I think we all knew Jim was a competitor. I wouldn't have expected him to squirm out of there. He's a tough guy. I did get a good lick on him, though.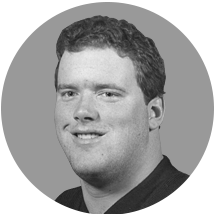 Jumbo Elliott, Michigan offensive tackle, 1984-87: Jimmy was our leader, no doubt about it. ... He was "Captain Comeback" before he went to the Indianapolis Colts. He was already pulling stuff out of his hat for us.
---
The guarantee
After winning their first nine games in Harbaugh's senior season in 1986, the Wolverines were in the thick of the national championship race.
Then the unimaginable happened: No. 2 Michigan lost to unranked Minnesota 20-17 at home on Nov. 15, 1986. The loss not only knocked the Wolverines out of the national championship hunt, but it also put them one game behind the Buckeyes in the Big Ten standings.
Two days after the devastating loss, Harbaugh met with reporters in Ann Arbor, Michigan. When Harbaugh was asked how the Minnesota loss would affect the Wolverines as they prepared for their final game against Ohio State, he delivered a stunning answer:
"I guarantee you we'll beat Ohio State and be in Pasadena."
Falk: Bo was set to become the winningest coach in Michigan history. The week before we played Minnesota, Jim went around and collected money from the players to present Bo with a plaque to commemorate the win. I made the mistake of getting a plaque with Minnesota and the date of the game on it. Of course, Minnesota beat us and I had to get the plaque changed. The week of the Ohio State game, I teased Jimmy all week, saying, "Jimmy, you've got to win the game. We've got a $500 plaque we have to give to Bo."
Madej: Jim Harbaugh was probably the last player who talked at the press conference, and he was the last guy you would think would do anything out of the ordinary. He always said what you would expect him to say. All of a sudden, he comes out and guarantees a victory. My neck could have had whiplash I jumped up so quick.
After Jim said it I knew that Bo had to know about what was going on. I literally caught him coming through the room where the service employees were. I was really scared to tell Bo what Harbaugh said. I looked at Bo and said, "I better tell you something right now. Jimmy guaranteed a victory over Ohio State." I expected him to explode or get a little testy, but he didn't. He walked up to the podium and didn't say anything about it until a question was asked. The only thing he said was, "I'm glad he said it. What else would you expect your quarterback to say?"
Schembechler: I said to him, "Jim, are you crazy? Did you really guarantee a win to the press?" He said, "Yeah, I believe it." I said, "Well, damn it, you better be right."
Hanlon: Whom do you think Bo chewed out because he couldn't control his players? Bo was ticked off and cussing. He looked at me and realized there was probably one guy you couldn't control. I thought I was going to lose my job because Jimmy said it. Bo fired me so many times you couldn't count.
Falk: I saw Bo later that day while he was getting dressed for practice in the locker room. I asked him, "Did you hear what Jimmy said?" Bo looked at me and said, "That's my boy, Falk. You know what? That's the attitude I love. That's a man who shows enthusiasm."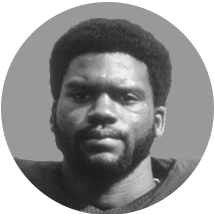 Tony Gant, Michigan safety, 1983-86: Bo didn't really put up or stand for that kind of talk. He wanted our actions to speak louder than our words. I think we were grateful that Jim said it. We all felt that way. We always talked about winning and always felt like we were the better team, but to come out and say it to the media was surprising.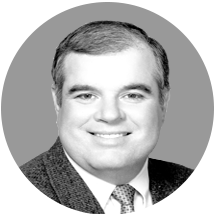 Jim Brandstatter, Michigan offensive lineman, 1969-71, and current radio play-by-play announcer for UM football: Bo's public reaction was probably the most surprising. Everybody thought Bo was going to be upset, but he said, "Let's go back him up."
Jack Harbaugh,who found out he was fired as a head coach on the same day of his son's guarantee: I spent five years at Western Michigan, and I got the word that day that they were moving in a different direction without me. It was disappointing. ... To hear Jim express himself made me proud. He laid it on the line. I think it's who he was then and who he is now. He expresses himself. He isn't one to shy away. The fact he thinks like that makes his mother and me very proud.
Elliott: It was an early demonstration of Jimmy's leadership skills ... of what you've seen from him as a coach. He has a great feel for teams and players. The great coaches have a feel for the pulse of their teams. There's no blueprint for it. If they feel like something needs to be done, they go ahead and do it.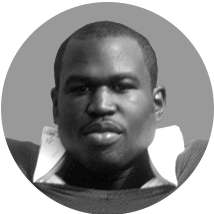 Michael Dames, Michigan guard, 1984-87: Once Jim made such a bold statement we as teammates told him we had his back. We knew we had to get it done to get back to the Rose Bowl. Bo was very upset about the loss to Minnesota, and I'm sure he thought it was a good thing to get us refocused on Ohio State.
Morris: Bo told us at practice that night, "Our quarterback shot his mouth off, and now we've got to go down there and prove it."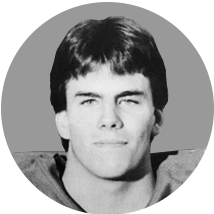 Matt Frantz, Ohio State kicker, 1984-87: His quote was all over our locker room. I mean it was posted everywhere. [Buckeyes coach] Earle Bruce addressed the team and literally had tears in his eyes because he was so emotional. He was trying to explain that nobody comes into Ohio State and guarantees a victory.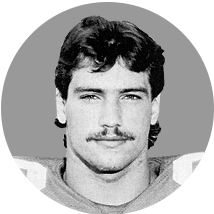 Chris Spielman, Ohio State linebacker, 1984-87, and current ESPN college football analyst: I thought about it like I do all guarantees. Anybody can guarantee anything and what are the consequences? Nothing. It really didn't bother me, to be honest with you. I think everybody else made a big deal out of it.

Jim Karsatos, Ohio State quarterback, 1983-86: I'd known Jim from our days in California, so I wasn't surprised. I wouldn't say he was cocky, but he was always confident in his abilities and his leadership. He oozed confidence.

Mike Kee: The rivalry was enough for me. You had Bo Schembechler on the other sideline, and we were playing for the Rose Bowl. Harbaugh's guarantee was like a sideshow for me. I couldn't believe he had the nerve to say it. It was more of a cocky statement to me. Of course, there was part of us that wanted him to make him eat his words.
Falk: We were pulling into Columbus the day before the game and the brakes went out on our equipment truck. We hit a semi in the side at an intersection. A Columbus policeman asked me what I had in the truck. I told him it was Michigan's football equipment. He asked me, "Is Jim Harbaugh's bag on the truck?" I told him it was. The policeman said, "Well, I'm going to have to impound this truck for 48 hours then." I asked him if he was serious and he said, "I should impound it after he spouted off."
Gordon: I don't want to call him arrogant because I don't know him personally. I will say he was a very confident fella.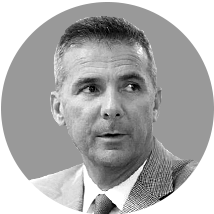 Urban Meyer, Ohio State graduate assistant, 1986-87, and current OSU head coach: I'll never forget what Schembechler said about Harbaugh's guarantee. He said that Harbaugh only said what the rest of us wanted to say, but he had the guts to say it. That told me how much Schembechler respected the guy.
---
The game
When the No. 6 Wolverines and No. 7 Buckeyes prepared to play at the Horseshoe on Nov. 22, 1986, many fans in the capacity crowd of 90,674 fans were chanting, "Harbaugh sucks! Harbaugh sucks!"
Early on, it looked like Harbaugh might indeed eat his words. The Buckeyes took an early 14-3 lead and Kee intercepted a Harbaugh pass at the goal line late in the first half.
Then the Wolverines took control in the second half, scoring on each of their first three possessions.
"One of our coaches saw something from the press box, and he told Bo at halftime that we could run right at them," said Morris, who ran for 210 yards with two touchdowns. "I'll never forget Bo slapping the blackboard and saying, 'We're going to run it right down their throats!' He looked at me and said, 'Your little ass better get going!' I wanted to smile, but I could only say, 'Yes, sir.'"
Harbaugh orchestrated much of the second-half offense on "check-with-me" calls where he called the direction of Morris' run plays at the line.
"Jim knew exactly where we were going," Morris said. "You just had to be able to listen to what he was calling out. He was completely in charge."
Trailing 26-24 in the final minutes, the Buckeyes reached Michigan's 36-yard line. Karsatos threw into the end zone for star receiver Cris Carter, but Wolverines defensive back Ivan Hicks knocked away the pass at the last moment. On third-and-10, Karsatos threw an eight-yard pass to Carter.
When the Buckeyes called timeout with 1:06 to go, Bruce faced a difficult decision: let Frantz try a 45-yard field goal or run another play to get a first down and get him closer.
Bruce sent Frantz onto the field to try to win the game. Kicking into a 10-mph wind, Frantz's kick was long enough, but tailed to the left at the last moment. Michigan took possession, and then Harbaugh took a knee on three straight plays to win the game.
Harbaugh followed through on his guarantee. The Wolverines were going to the Rose Bowl.
Jack Harbaugh: It was the only game I ever saw in person that Jim played at Michigan. I don't think it was about Jim backing it up. It was about a team rallying behind a cause.
Karsatos: I was arguing the case to go for it at the end. I really felt the offensive line had worn them down and we could get two yards. To be honest, I didn't have confidence in our kicker, especially going into what was the open end of the stadium. Sometimes, the wind gets tricky down there. I had to go with coach's decision, but I wasn't as confident as he was.
Spielman: I had all the confidence in the world that our kicker was going to make it. I knew he had a strong enough leg. I remember thinking to myself: We're going to the Rose Bowl. Back then, winning the Big Ten and going to the Rose Bowl was a big deal. I thought there was no way he would miss it.
Karsatos: Once the decision was made, I walked down by the band. I didn't want to watch. The distance was good. He had a pretty good leg, but accuracy was sometimes an issue with him. I just didn't want it to come down to a kick. I was the kind of player who wanted the ball in my hands when the game was on the line.
Frantz: In my mind, if I make that field goal, I'm the governor of Ohio. That's how big it would have been. When I was teaching myself to kick in the backyard, my father would literally say, "This is to win the Michigan game." I had no doubt in my mind that I wanted a chance to make the field goal.
I trotted out on the field, set my tee on the ground and looked at my holder, Scott Powell. Then I heard the referee blow his whistle for a timeout. It was a TV timeout, which meant it was an extended timeout. I looked around and saw a hundred thousand people and realized they were focused on me.
Just before the timeout was over, I looked over and saw Bo Schembechler about three-quarters of the way out on the field. He was screaming, "Frantz, you little s---, you're going to miss this kick!" He was going nuts, and his coaches were trying to hold him back. People ask me all the time if icing the kicker works. I tell them, "Well, in my case it did." It was a perfect snap and a perfect hold, but I hooked it a couple of feet left. There's no explanation and no excuse.
Kee: Even to this day, my mother still says, "Yeah, I was all set to go to California." When the field goal was wide left, I started thinking about the kicker and how bad he felt. Then you started thinking about how you let the fans down and let down your family. There were a lot of emotions going through your head.
Gordon: You don't want a game to come down to one play, but sometimes it happens. It was like everything was on Matt's shoulders. I felt for him at the time. It shouldn't have been like that.
Spielman, who set an OSU single-game record with 29 tackles in the game: Jamie Morris gained [210] yards rushing, which was not acceptable. For me, that's the reason we lost the game. On defense, we didn't do a good enough job of containing Jamie.
Frantz: After the game, I literally had to hide in a stall in the bathroom. When I finally got out of the locker room, it was like I was literally walking to the death chamber to go do media interviews. It was like a scene out of "Dead Man Walking." A tradition for my parents and me was going out for pizza after games. One of the restaurants changed its marquee to say: "Matt Frantz Does Not Eat Here."
The next year was brutal. At picture day the next summer, a kid came up to me and asked me for my autograph. His dad came up and asked him what he was doing. The guy told his kid, "Do you know who this is? This is the guy that made you cry last year. He lost the Michigan game." The kid scattered away.
I was the guy who made Jim Harbaugh look like a prophet.
---
The aftermath
Harbaugh finished his Michigan career with a school-record 5,449 passing yards, and, more importantly, he had a 2-0 record in games he started against the Buckeyes.
On Nov. 16, 1987, two days after the Buckeyes lost to Iowa 29-27 at home, OSU president Edward H. Jennings fired Bruce. Five days later, the Buckeyes defeated Michigan 23-20 in Bruce's last game as coach of his alma mater.
Frantz, who had missed the game-winning kick in 1986, made a 26-yard field goal in the fourth quarter to seal the victory.
Meyer: [Bruce] got fired right here in my office. It used to be the staff meeting room and there was a big table right in the middle. [OSU athletics director] Rick Bay was an impeccable dresser, but when I walked into the room, his tie was off to the side and his hair was messed up. I was the last one to walk into the room. I looked around and said, "Oh, s---."
I saw a couple of the coaches had tears in their eyes. I sat down at the table, and Rick Bay said to me, "I just want you to know this will be Coach Bruce's final game as coach at Ohio State, and I've resigned as the athletics director." A couple of the coaches put their heads down and were crying a little bit.
Kee: I remember the players wearing headbands [with Earle written on them] to honor Coach Bruce, and they were playing for Earle in the last game against Michigan.
Spielman: The coolest thing for me that week was the "Senior Tackle," an Ohio State tradition in which the seniors get one more hit on the blocking sled before the Michigan game. When Coach Bruce was a player at Ohio State, he hurt his knee and never got to participate in the Senior Tackle. So when it was my turn, I told the team, "Hey, we've got another senior, and it's Coach Bruce." I thought it was pretty cool for the team to give him something that he missed out on as a player.
After the game, I stood by the brick wall right before the tunnel. I didn't participate in carrying Coach Bruce off the field. I kind of wanted to watch it from afar. It was a fitting tribute to a guy for whom a lot of people respected.
Falk: Bo went into Ohio State's locker room after the game and shook every one of the coaches' hands. Later, he told me, "Falk, I hate to lose to Ohio State. But if I have to lose to Earle Bruce in his last game, I can live with that." That shows you the respect Michigan and Ohio State have for each other.
Meyer: Bo Schembechler called me when I got the Bowling Green job. He told me, "I know you're one of Earle's guys. It's good to see one of his guys doing well."
Frantz: To make the kick in 1987, it was completion of the journey. I do comedy now, and I even put the missed field goal in my act. I tell the crowd that I spent my college days at Ohio State University, playing football as a kicker.
I tell them the good news is that I made more kicks than I missed, but the one I missed ... oh, s---.