Last week's college football headlines were dominated by expansion chatter emanating from the Big 12, which has been a 10-team league since 2012, when it went from being a 14-team league to an eight-team league to the current dime roster.
If you are surprised to hear the Big 12 kicking around the idea of adding a pair of new schools, thus adding a conference championship game, its first since 2010, and getting back in line with its other four Power 5 brethren, then ... why in the world are you surprised?
If you were surprised at this, then you'll probably also be surprised at the next inevitable step for all five of those conferences: one more round of expansion and realignment across the board. This will be the final great tectonic shift that forever breaks the Power 5 away on their own, becoming some sort of self-governed alliance of 16-team conferences.
To those folks, that's a perfect world. To a lot of other folks, it's not, particularly those schools within the Group of 5 busy trying to build a program that might become the next TCU, Boise State or Utah.
But if that's where this is indeed all headed, what would that perfect Power 5 membership scenario look like? For the sake of dreaming, let's forget about the money-grubbing insanity that leads to moves like Maryland in the Big Ten or West Virginia in the Big 12. Instead, let's imagine what would work best from a purely regional, purely football point of view. A world where conferences worry more about dominating their corner of the map instead of invading others, giving us true regional representatives in their conference championship games and then the College Football Playoff (which, by the way, should stay at four -- my feelings on this are well-documented -- though I know it won't).
Here's my version of that 16-team Power 5 Utopia.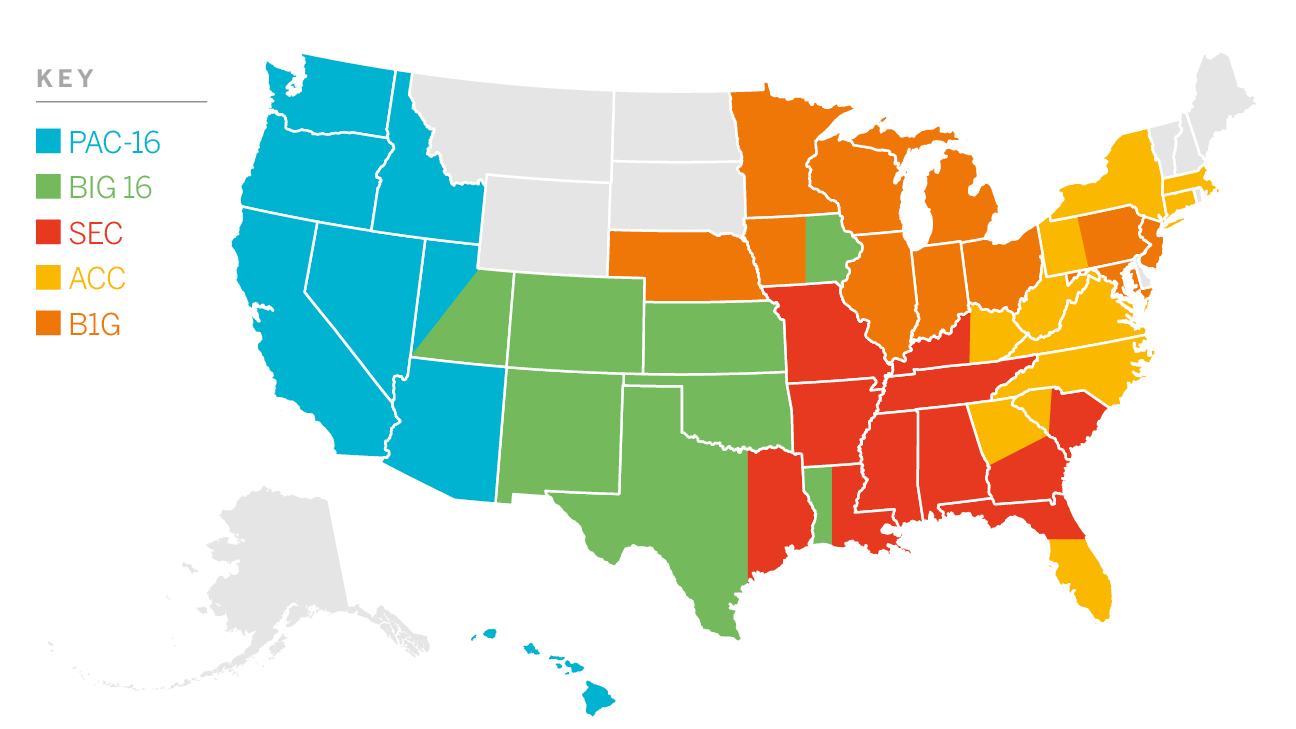 Note: New members are in italics, while those switching divisions are denoted with an asterisk.
Big 16
North
Air Force
BYU
Iowa State
Kansas
Kansas State
Oklahoma
Oklahoma State
Texas Tech
South
Baylor
Texas
TCU
SMU
Tulane
New Mexico
Houston
Rice
We start in the Big 12 because it has the most work to do, finding six schools to add, and those moves will alter what everyone else ultimately does. The Big 12 North heads for the Rockies to add BYU and Air Force. That brings two new states into the fold, adds the prestige of a service academy and a pair of good football schools with history between them (never bring up 1984 and BYU to a true Air Force fan).
The Big 12 South is an Art Briles dream, a nearly all-Texas division (sorry, Texas Tech, but you were too far north) that adds newbies Houston, SMU and Rice. This is the mentality that conferences should have -- lock down the homeland! It creates old-school regional pride, revives some old-school regional rivalries, and just might help shore up defenses against the growing recruiting invasion from outside conferences (read: SEC). But what about adding new TV markets and new states? That's why we go get New Mexico and Tulane. Yeah, I said it, New Mexico and Tulane.
But I hear you out there. "What about Memphis?" Funny you should bring that up ...
SEC
East
Auburn*
Charlotte (ECU/UCF?)
Florida
Georgia
Kentucky
South Carolina
Tennessee
Vanderbilt
West
Alabama
Arkansas
LSU
Memphis
Mississippi State
Missouri*
Ole Miss
Texas A&M
The Tigers are now in their natural habitat, the SEC West. It's a good media market, surrounded by natural rivals in Ole Miss, Vandy, Tennessee, Arkansas and Kentucky, and adding them to the conference locks down all three chunks of the Volunteer State for the SEC, forever and ever, amen. Joining them in the West will be Missouri as we ship Auburn off to the East.
So, who does the SEC add in the East? This is tricky. Rumors persist that it covets North Carolina and/or Virginia, and UCF keeps coming up as big market in Florida. But none of the Tobacco Road schools are leaving, and neither is Virginia Tech. Even if they did, the post-Maryland defection escape fee is way too steep. And the SEC already owns central Florida via the Gators. So, would it consider rolling the dice on a fledgling like Charlotte? It's a big media market located just up the road from South Carolina, a school the ACC wants nothing to do with, and the home of SEC Network HQ. Just saying ...
Speaking of the ACC ...
ACC
Southern Division
Clemson
Duke
Florida State
Georgia Tech
Miami
North Carolina
NC State
Wake Forest
Northern Division
Boston College
Connecticut
Louisville
Pitt
Syracuse
Virginia
Virginia Tech
West Virginia (Navy?)
The perpetually confusing Atlantic and Coastal divisions are gone, replaced with the Southern, which is a Tobacco Road lineup sure to make jilted old-school ACC fans happy, and the Northern, which is sure to make jilted old-school Big East fans happy. The Northern division adds UConn and West Virginia. Yes, I said West Virginia. Show of hands: Who thinks the Mountaineers are a great fit in the Big 12? Oliver Luck, put your hand down, you don't even work there anymore. The addition of WVU and Connecticut fill in the missing pieces that would now allow the ACC map to truly cover the entire coast in its name.
But wait, isn't Notre Dame supposed to be in the ACC?
Big Ten
East Division
Cincinnati
Indiana
Maryland
Michigan
Michigan State
Ohio State
Penn State
Rutgers
West Division
Illinois
Iowa
Minnesota
Nebraska
Northwestern
Notre Dame
Purdue
Wisconsin
Yes, per Notre Dame's contract with the ACC, should they ever join a conference football-wise, that's where they would end up. But this is our Power 5 Utopia, where we can do whatever feels right. And the Irish feel right in the Big Ten. They just do. Remember our regionalism mantra!
In that spirit, we're also recruiting Cincinnati to lock down Ohio. Get over it, Ohio State. This would lead to some awesome in-state squawking, and you know it. And as much I want to move Maryland back to the ACC or do the same with Rutgers, that's never happening. Maryland and the ACC are like your aunt and uncle who were last seen throwing Thanksgiving dinner at each other. It doesn't matter how pretty their wedding pictures are. Those photos are old and crusty now. They're never getting back together, not even in our Utopia.
Pac-16
North
Boise State
Cal
Oregon
Oregon State
Stanford
Utah*
Washington
Washington State
South
Arizona
Arizona State
Colorado
Colorado State (Air Force?)
Hawaii
UCLA
UNLV (Nevada?)
USC
The Pac-12, er, Pac-16, has the chance to paint the most beautifully solid corner of our fancy map, a virtual Louisiana Purchase of football. They're adding another school in Colorado, locking Idaho to join Utah, whom we're moving to the North division, and even going out into the ocean to add Hawaii as well. But who joins them in the South? With big schools throughout the region, especially in California, there are a lot of options, including San Diego State (TV market!). However, if we're serious about adding states and media markets, then doesn't UNLV make sense? And this is where I tell you to spare me on the academics argument. I'm still waiting on the part of the College Football Playoff selection committee Q&A when the chairman says, "Well, we really wanted to put them in the field, but honestly, their chemistry department really isn't up to our standards."
Well, my markers are dried out after all that map coloring. So, let's get on with flipping this field.
The other guys: The last piece to this puzzle would be the pile of schools that have been left out. Many within the industry foresee the former Group of 5 becoming the new FCS. I hate that. So why not create regions for these schools, too? Think of East and West divisions that play an ever-shifting schedule. Any school that survives that bunkhouse stampede plus a crossover game against a Power 5 program would certainly be worthy of a big postseason bid. Is that totally fair? No, but that's as close as we're getting to it after 16-team expansion. Even in Utopia. No one knows this better than the administrators at those schools, many of whom have talked to me over the past year about their panic over the last expansion/realignment train pulling out of the station. "I love how people say, you really need to be making some phone calls to the Big 12," one Group of 5 athletic director told me last week. "Yeah, thanks for the tip, like we haven't been doing that already. You will be told otherwise, but the lobbying has never stopped, and not just to the Big 12."
The Tommy West coach's news conference of the week: Nick Saban, Alabama. Saban did some media rounds late last week prior to presumably going into the same summer hiding that all coaches slip into by the end of the month. One of those stops was by the Paul Finebaum Show, during which he declared that college football needs a czar. "I think we need a commissioner of college football. I think we need somebody who, whether it's just the five major conferences or whatever, who can be unbiased about how decisions are getting made about what can and can't be done. And, you know, have the best interests of college football, just like the NFL has a commissioner that [makes] a lot of tough decisions. Sometimes they affect players adversely, but sometimes they, they definitely always are about the integrity of the game and what's best for the game." He mentioned satellite camps, recruiting, and said "unbiased" again. He was very careful to say he wasn't criticizing the NCAA, but added: "It's difficult for an organization of that size to take one sport that has gotten so large like college football and had got great fan interest and is very important in a lot of ways to a lot of people ... um ... and not have somebody who just sort of has that as their center of attention." Finebaum's question that led to those remarks included that Saban had once told him that he would like that job once he's done coaching. Can you imagine those weekly news conferences? That Coca-Cola bottle might finally boil over. Like every week.
Drop it in, then: Last month I visited Stanford and Cal during their spring practices and sneaked down to San Jose State, but the team had the day off. Still, I strolled around empty Spartan Stadium. I liked it. But I did think to myself, man, the top of that home side is a long way up there. And that makes this trick shot from quarterback Kenny Potter even more ridonculous.
Drop it in then 😎 pic.twitter.com/nXYsdFyHaH

— Kenny Potter (@kpot_5) May 5, 2016
But not as ridonculous as ... Prep defensive end/tight end Logan Rudolph, who says you can take your "choose a ball cap" high school gym announcement and shove it. Because a man who can rock shirtless Daisy Dukes while swinging an ax, all set to the "Top Gun" soundtrack, is more American than a bald eagle eating a hot dog at a monster truck rally.
"Oh, I didn't see you there."
Three-star DE recruit pauses chopping down a tree to verbally commit to Clemson. https://t.co/n7U9i1dDul

— SportsCenter (@SportsCenter) May 7, 2016
Paging Taylor Swift ... No, Ms. Swift, Tennessee running back Jalen Hurd does not hate cardio, does not listen to Drake, and here, he somehow does not allow himself to get launched across the gym floor, though I have no earthly idea how.
12Mph resistance incline running pic.twitter.com/aBkA0IPPNj

— Jalen Hurd (@MrHurd_1) May 3, 2016
The offseason blues: You have to figure this happens all the time at Boise State, right?
For the millionth time, it's not a lake, dude pic.twitter.com/vcA19kNsec

— Boise State Football (@BroncoSportsFB) May 2, 2016
Extra point: As mentioned earlier, UCF is a name that keeps coming up when it comes to expansion and realignment movement, thanks to a nice media market, a location in the center of the Florida recruiting paradise, and, though it might be hard to recall after last year's Bottom 10 title, its BCS bowl berth just three years ago. Well, the Knights' uniform game already feels like a Power 5 school, as evidenced by last week's Twitter tease.
Can't wait to get our hands on these! Just the beginning...

⚔ https://t.co/RBy3siJU8m#UCFast #ChargeOn pic.twitter.com/8MIgIlEDW1

— UCF_Equipment (@UCF_Equipment) May 5, 2016