---
No. 2: Clemson
Last Season: 14-1 (8-0 ACC)
---
All's quiet in Clemson
Despite nearly winning the College Football Playoff, coach Dabo Swinney can feel the blowback coming: gripes from fans that the likable coach and his pulpit sideline speeches are becoming bigger than the program he's built. That's why we haven't heard much out of Swinney in the months leading up to his eighth full season as chief Tiger. But don't expect it to last. "Coach, quiet? C'mon, man," says a chuckling Deshaun Watson, the quarterback who will be on every Heisman short list. "He might try, but you know that isn't going to last." In fact, neither Swinney nor his record-breaking QB-the first in FBS history to throw for 4,000 yards and rush for 1,000 in the same season-will be able to stay under the radar for long. Even if the lid manages to stay on through September, it will pop off by Halloween, when Clemson travels to Tallahassee to face FSU in what might very well be a play-in for the playoff. -- Ryan McGee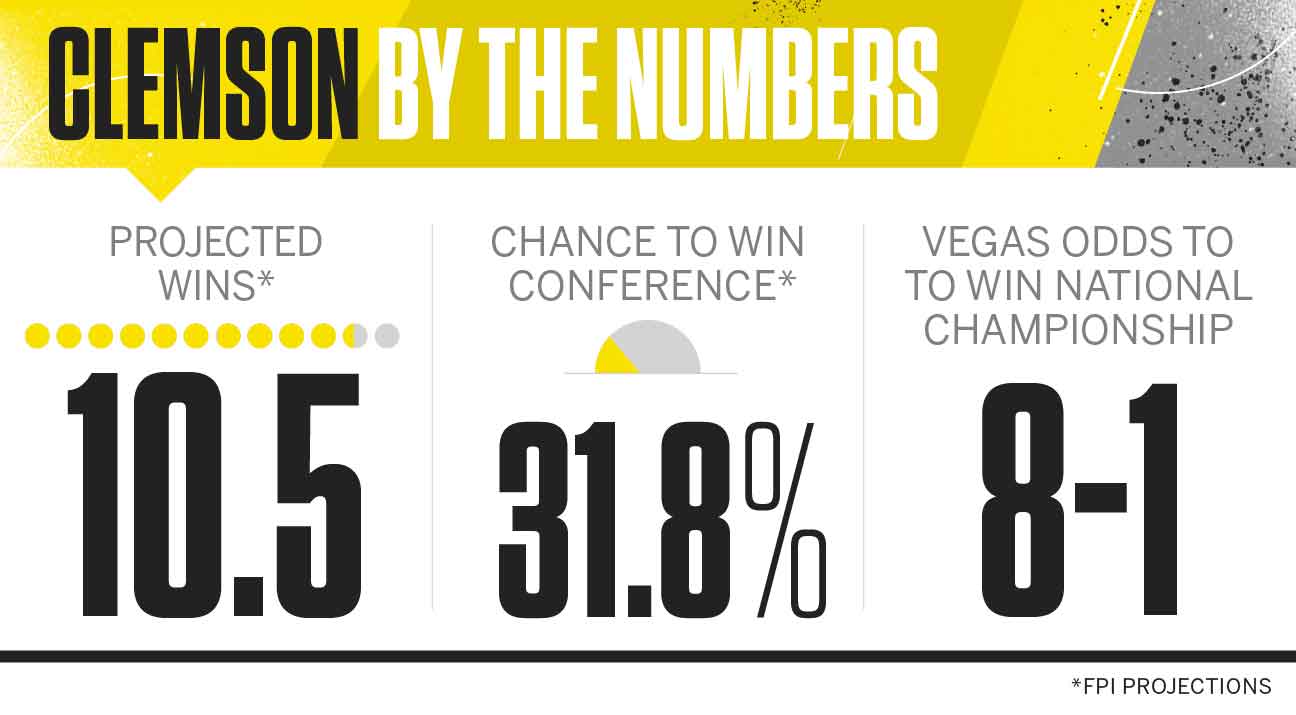 The Tigers put up 550 yards on Alabama's third-best defense last year, the most by any Tide opponent. Of course, 478 of them came from one man, who returns to a stacked Tigers offense: QB Watson (47 total TDs last year), my pick to win the Heisman. The run game, led by Wayne Gallman (1,527 yards in '15), is stellar, but it might actually take a back seat to the pass game, which returns four of the top five pass catchers plus WR Mike Williams (1,030 yards in '14), who missed last season with a broken neck bone. The Tigers' toughest games are on the road against Auburn and Florida State, but that FSU game is Clemson's only one as a 'dog (+3).

IN IF...
The Tigers can win in Tallahassee. Drawing Louisville at home helps, and the rest of their schedule is about as friendly as possible for a team with Clemson's talent.
OUT IF...
Watson gets hurt. Last year the O-line protected him well (15 sacks in 15 games, third fewest among full-time starters in the ACC), but with the amount he runs (207 carries in 2015, second most among FBS QBs), health is always a concern. FSU, with DE DeMarcus Walker (10.5 sacks), won't be the only losable game if Watson isn't at 100 percent.

Clemson's chances to win each game
09.03 @ Auburn: 70.0%
09.10 vs. vs. Troy: 98.6%
09.17 vs. South Carolina State: 99.8%
09.22 @ Georgia Tech: 87.7%
10.01 vs. Louisville: 81.4%
10.07 @ Boston College: 88.2%
10.15 vs. NC State: 92.1%
10.29 @ Florida State: 36.5%
11.05 vs. Syracuse: 94.7%
11.12 vs. Pittsburgh: 86.0%
11.19 vs. Wake Forest: 91.2%
11.26 vs. South Carolina: 94.1%

Deshaun Watson will be even better for the Tigers this season, and that should make up for a rebuilt defense that might not be as strong as it was a year ago. Behind the best player in the country, Clemson has an opportunity to go 12-0 and make the College Football Playoff again. -- Andrea Adelson
Clemson has the best QB in the country, the best offense in the country and more than enough talent on defense to help the Tigers be the best overall team in the country. The perennial overachievers won't be sneaking up on anyone anymore, but they're the front runners to run the regular-season table at 12-0 and make a repeat Playoff berth. -- Matt Fortuna
Deshaun Watson's biggest problem on offense might be the fact that he has just one football to distribute to the wealth of playmakers surrounding him. The question is whether Clemson can replace myriad departed talent on D, but the Tigers still look like a safe bet for 11-1 and a playoff berth. -- David Hale
It's hard to see the defense falling that far, especially when the country's best offense can compensate for defensive youth. It's difficult to string consecutive undefeated regular seasons, but they have the schedule to go 12-0 and get back to the playoff. -- Jared Shanker
---