Ara Parseghian, who died Wednesday at 94, restored Notre Dame football to glory from the mid-1960s to the mid-'70s. Parseghian went 95-17-4 in 11 years in South Bend and led the Fighting Irish to national titles in 1966 and 1973.
He coached in the most infamous tie in college football history, the 1966 "Game of the Century" against Michigan State. It was the biggest AP No. 1 vs. No. 2 matchup in 20 years and served as the de facto national title game (MSU didn't play a bowl game and Notre Dame didn't participate in bowls at the time). The game ended in a 10-10 deadlock after Parseghian chose to run out the final 1:10 rather than try to move the ball 40 yards into field-goal range. The (un)gamble paid off -- Notre Dame finished first in the AP and UPI polls over Michigan State and undefeated, untied Alabama.
Below is an overview of the rapid transformation Parseghian engineered in South Bend, and how dominant the Irish remained throughout his 11 seasons.

Instant impact
Notre Dame hired Parseghian from Northwestern after his Wildcats not only beat the Irish four times, but reached No. 1 in 1962. Parseghian delivered in his first season beyond anyone's dreams. He took over a team that had gone 2-7 in 1963 and privately hoped for a 6-4 record. Instead, the Irish started 9-0, climbed to No. 1 and came within 1:34 of defeating archrival USC in the season finale to win the national championship. Despite the disappointment, it remains the biggest year-to-year improvement in school history. A few numbers to illustrate the change under Parseghian: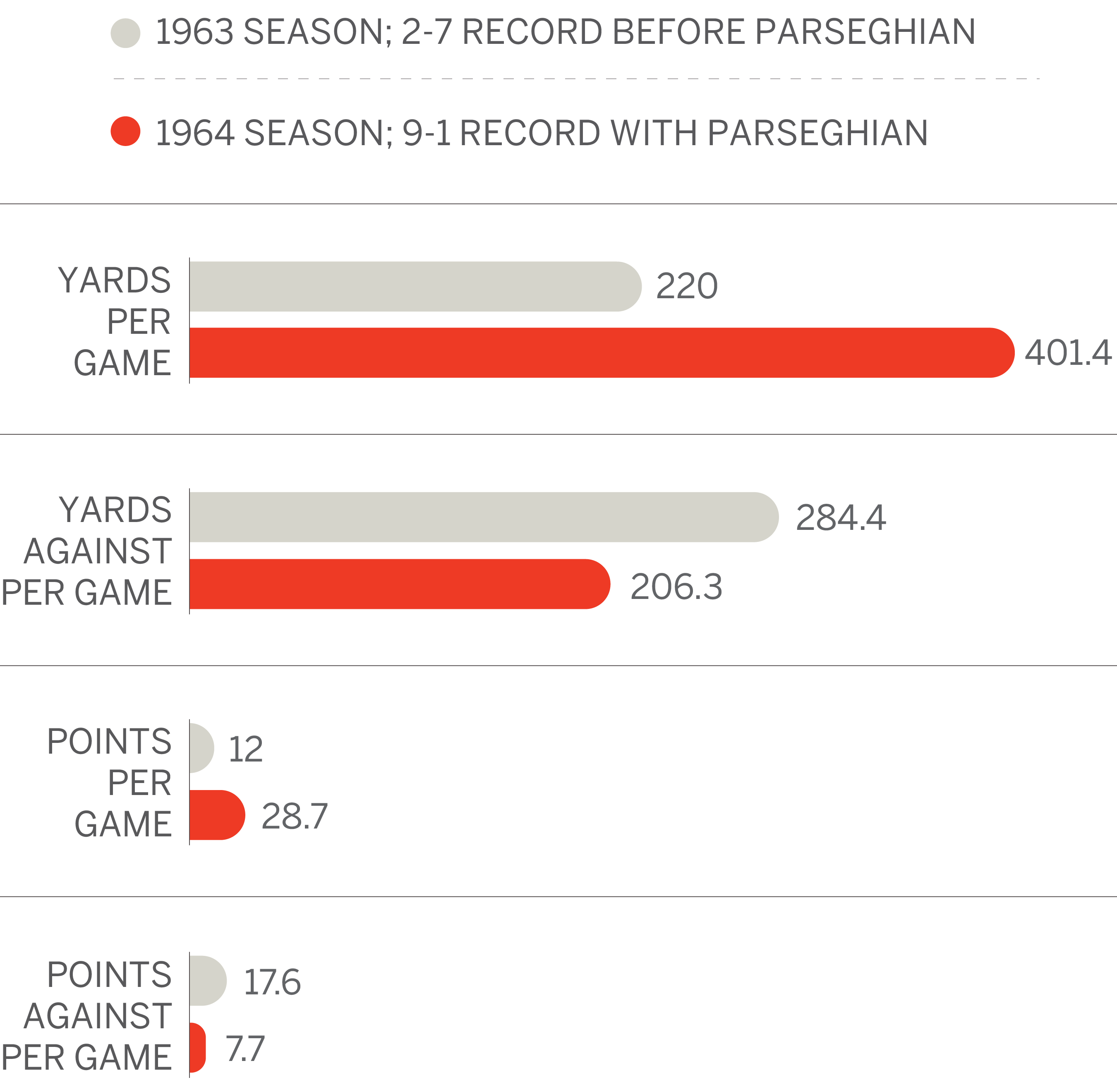 Poll positions
The Irish ascended to the top of the AP poll a staggering eight times in Parseghian's 11-year tenure. They had achieved that feat just twice in the 10 years prior to his arrival. Here's a look at the highest and lowest ranks for each of his teams, and where they finished: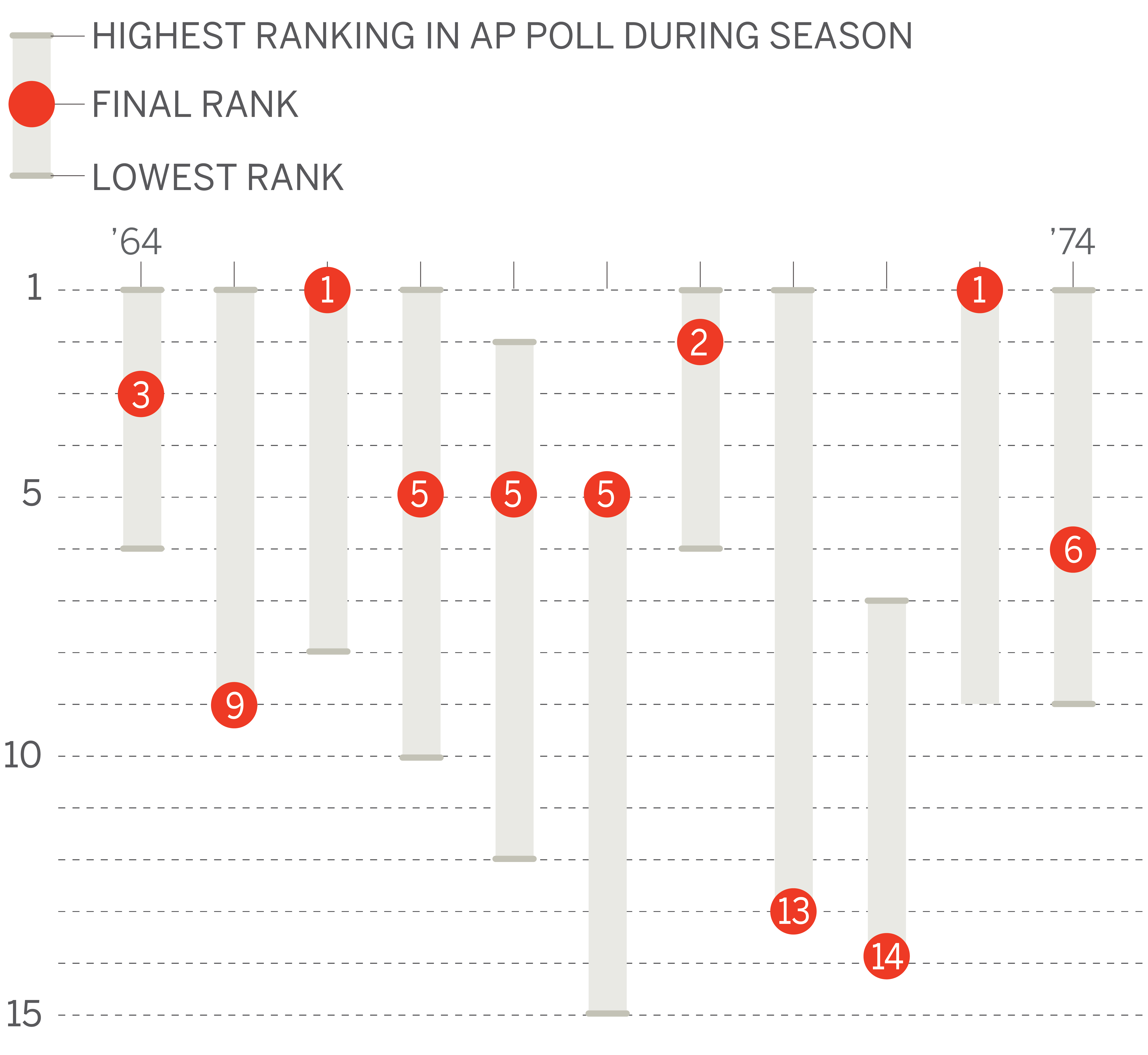 All-Americans
Parseghian coached 21 consensus first-team All-Americans during his time in South Bend, highlighted by his lone Heisman winner, quarterback John Huarte ('64). Parseghian ranks second in that category among Notre Dame's 23 total coaches.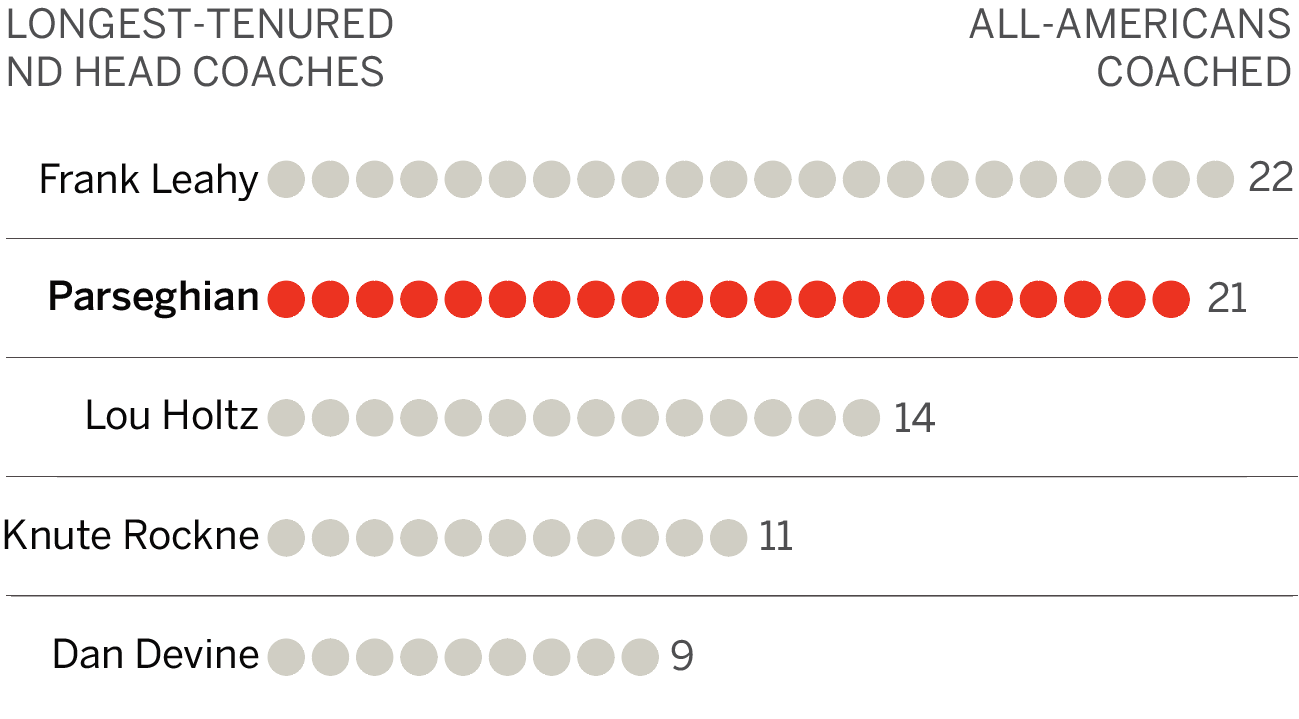 Records vs. rivals
The Notre Dame-USC rivalry regained its position among the sport's top rivalries during Parseghian's tenure, but the Trojans and their head coach John McKay proved to be one of the few riddles Parseghian could rarely solve. Notre Dame went just 3-6-2 vs. USC in his 11 years, bookended by the USC's 1964 upset and the Trojans' 55-24 rout of the Irish in 1974, Parseghian's last regular-season game. USC spotted the Irish a 24-0 lead, then scored 55 points in 17 minutes. Parseghian's records against teams he faced at least five times: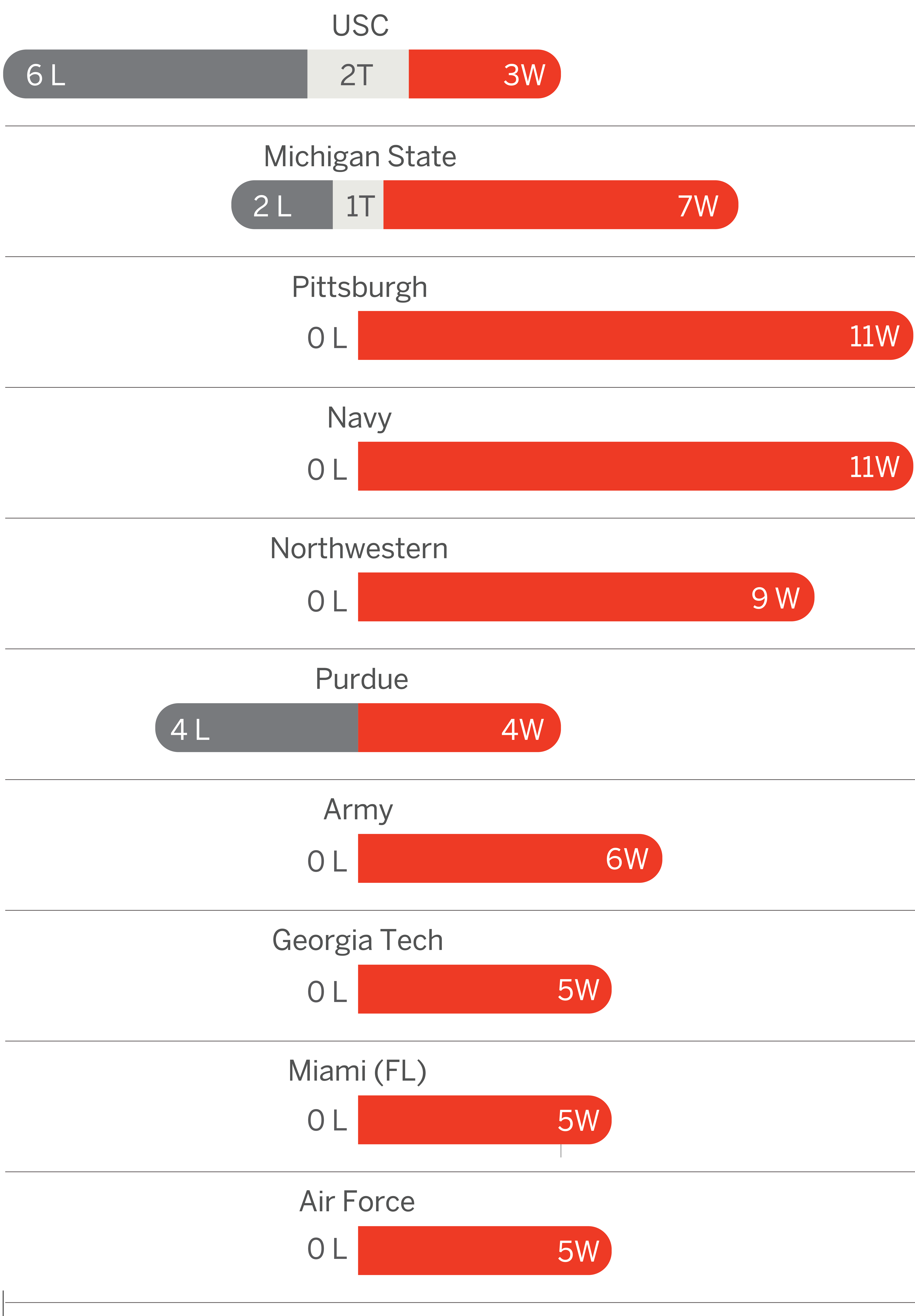 Starting QBs at Notre Dame
Parseghian had six starting quarterbacks in his 11 seasons in South Bend, including a pair of All-Americans (Huarte in 1964 and Terry Hanratty in 1968) and a Heisman winner (Huarte). The most prolific passer? Future NFL starter Joe Theismann (pictured above with Parseghian), who piled up 2,429 yards in 1970. A rundown of Parseghian's quarterbacks:

Key numbers

Parseghian's winning percentage (95-17-4). Since 1964, only two major college football coaches have a higher percentage with at least 10 years at one school: Alabama's Nick Saban is .857 in his 10 seasons from 2007 through 2016, and Oklahoma's Barry Switzer was .8368 from 1973 through 1988.
---

The number of times Parseghian's teams lost consecutive regular-season games during his 11-year tenure. He's the only Irish coach to avoid that fate since Knute Rockne's hiring in 1918.
---

The number of wins Notre Dame improved by in Parseghian's first season -- the best margin in school history.
---

The number of NFL first-round picks to play for Parseghian, the most in Notre Dame history.
---

Yards yielded per season by the Notre Dame defense under Parseghian. During his tenure, the Irish defense never finished below 15th nationally.
---

Yards rushing per game averaged by the 1973 national championship team -- a school record.
---

Points per game averaged by Parseghian's 1968 team -- a school record. The second-highest total was Lou Holtz's 1992 team (37.2).
---

The number of wins Parseghian had against Notre Dame as the coach of Northwestern. Parseghian and University of Chicago's Amos Alonzo Stagg each went 4-0 against the Irish.
---

Number of consecutive games No. 1 Texas had won before losing to Parseghian and Notre Dame in the 1971 Cotton Bowl.