This story appears in ESPN The Magazine's Sept. 4 College Football Preview Issue. Subscribe today!
OK, so here's the rub. Uh, check that: The play that won the national championship was just that, a rub. Not a pick. Not a screen. Not offensive pass interference. Not even defensive pass interference. It was a rub. A rub that, eight months later, continues to chafe those who dress in crimson and houndstooth, and one that continues to rub raw the nerves of those who make their living on the defensive side of the football. The play is controversial, running a route directly into the gray area of the rulebook. But it's also effective. That makes it more than a pass play. It's a think piece, and these days a lot of football people are giving it a lot of thought.
For the record, it appears in nearly every playbook as "sprint right pick" ... or, wait, is it "sprint right rub"? On Clemson's hard drive, it's titled Orange Crush. Even if, right after it was called, the quarterback who executed it said on live TV, "All we needed was a good pick ..."
"If you walk into a football coaches' conference and throw that play up on the big screen, half the room is gonna yell 'rub!' and the other half is gonna yell 'pick!' and it's going to be the offensive guys yelling rub and the defensive guys yelling pick," Clemson head coach Dabo Swinney says. "It was a dang touchdown is what it was."
In case you've forgotten, the rub, er, excuse us again, the play, was executed by Swinney's Tigers with six seconds remaining in January's College Football Playoff National Championship in Tampa, Florida. It was first-and-goal at the 2-yard line, and Clemson was down 31-28 to Alabama. QB Deshaun Watson stood in the shotgun, 5 yards behind scrimmage, at the 7. Watson was joined by running back Wayne Gallman, who jogged over in motion and took his place by the quarterback's right side. That overloaded the wide half of the field, with legendarily diminutive receiver Hunter Renfrow in the slot and not-much-bigger teammate Artavis Scott split to the outside. Lined up across from Scott was defensive back Marlon Humphrey. Face to face with Renfrow was Tony Brown.
Before the snapped football had reached his hands, Watson was already moving toward that side of the field. At the same instant, Renfrow ran straight ahead toward the goal line and shifted his feet into a stutter step. That move signaled to Brown that the receiver would be popping outside once he got to the end zone. "He's a good player, so he knew where I was going and when I was going there," Renfrow says now of the play. "And he was right. He knew where I was going. What he didn't know was where Artavis was going."
Scott was in Hammerhead Corvette mode. He'd sold a slant left but then turned directly into Humphrey and started driving him into the black paint of the end zone. Humphrey was backward, awkward and -- most important -- totally and completely in the way. "He wasn't in my way," Renfrow remembers, watching the play on an iPhone with a grin as he sees himself throw his arms right, sidestep block-locked Scott and Humphrey, and use the goal line as a tightrope. When Renfrow swiveled his torso to look back, the football was already floating from Watson's hands into his. Not until he had tucked the ball under his right arm, covered it with his left and looked up to see whether Brown was anywhere nearby did the defensive back arrive to lay him out. Renfrow rolled by the feet of the head linesman, who was standing at the pylon, signaling touchdown and nothing else.
---
Clemson's Orange Crush Pick Play vs. Alabama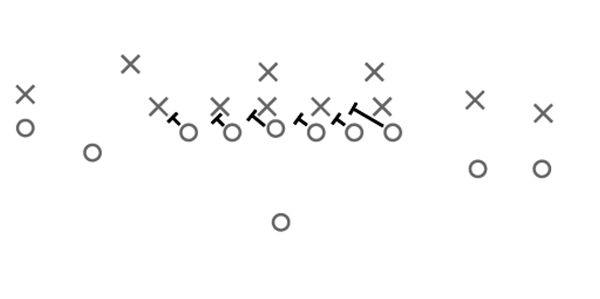 1. In an empty set, Deshaun Watson motions his RB to sniff out Bama's man coverage -- exactly what he wants. 2. Artavis Scott (inside slant) and Hunter Renfrow (underneath) time their releases, tangling DBs and leaving Renfrow open.
---
"Now, when you watched this live, you immediately thought, 'C'mon, ref, that was clearly a pick, and picks are illegal and everybody knows it,'" says Tommy Tuberville, scrolling the play back and forth on a laptop. Before he was head coach at Ole Miss, Auburn, Texas Tech or Cincinnati, and long before he was an ESPN analyst, Tubs was a career defensive coach and a free safety at Southern Arkansas. So one might excuse the reflexive grimace as he continues his analysis, using his finger to trace Brown's stumble, left turn, near miss of backpedaling Humphrey and unwitting circle route that takes him a full 5 yards deep into the end zone while Renfrow never leaves the goal line. "This kid here, he wasn't picked out of the play. He was roadblocked. And a roadblock, it doesn't touch you. It makes you drive the long way around. And driving the long way around will always make you late for dinner."
Wait just a dadgum minute here. By letter of the rule, a wide receiver can't initiate contact when a forward pass is thrown. Can he block downfield if the ball is in someone else's hands coming out of the backfield on a run? Yes. But he can't do it on a passing play. We've already established that Scott was pushing his man like a Tampa Bay tugboat. So in a goal-line situation, that's got to be offensive pass interference or holding or something, right?
"Watch closely. He didn't initiate that contact," says Rogers Redding, the NCAA national coordinator of football officials. During his three decades on the field, Redding was happily known as the king of the rules geeks. Though best known as a midfield "white hat" referee, his career started as a downfield official, the guy charged with watching for the difference between rubs and picks. "You can say that the defender initiated contact or that it was initiated mutually, but the offensive player did not initiate it."
It sounds complicated. Like a moment that might eat an official alive, especially in that big of a game. But any official who's earned the right to be in that moment isn't likely to be rattled, even less so than the players they're watching.
"Making that call isn't any more difficult than others, but it might feel that way because it's always happening in a crucial situation," says Dr. Jerry McGee, a retired downfield official who worked three decades and three bowls that helped determine the national title (and who happens to be the father of a certain sports writer whose work you are currently admiring). "You're talking about points either on or off the scoreboard, a lot of times in a game-deciding situation. But by the time an official sees that play, he's already seen it on film hundreds of times. When he sees the formation, he knows what's coming. He knows to watch those receivers."
But can't we all agree that the receiver's intent was to create some sort of contact? That he was forcing his defender to make contact? The kind of contact that would create just enough chaos to take a defender out of the play? You know, kind of like a pick?
"There's a big difference between 'intent' and 'initiate', just as there's a difference between a pick and 'kind of like a pick.' It's a big difference, but it's also a fine line," says Lou Holtz, who was on the ESPN set on Oct. 18, 2014. That's the night Florida State escaped a top-five matchup with Notre Dame, thanks in large part to an offensive pass interference penalty, a goal-line pick that erased a would-be game-winning TD with 13 seconds remaining. "Notre Dame had scored earlier in the game on what was essentially the same play. So what was different?" Holtz asks. "On the first play the receiver blocked but then rolled out and threw his hands up and did a very nice acting job to remind everyone in Tallahassee that, 'Oh, look, I'm a receiver!' On the last play, the kid just put his head down and looked like an offensive guard. That's how subtle it is. It's really a cerebral thing."
Cerebral, as in psychology. While everyone remembers Renfrow's touchdown, they've likely forgotten the previous play. It was also first-and-goal but this time from the 9-yard line, with Watson taking the snap back at the 15. A DPI call against Alabama -- and there was nothing subtle about it -- placed the ball at the 2 for the final play. When Clemson huddled to discuss what that play would be, Watson and Swinney were ready to run the ball. Co-offensive coordinator Jeff Scott disagreed. He was screaming Orange Crush. "Coach Scott ran in there and was really, really passionate about throwing the ball and running the play we ran," Watson recalls now. "We knew it was a low-risk pass because of the route. We knew even if we didn't complete it, we'd have time for the field goal. And Coach knew they wouldn't be as aggressive on defense because of what had just happened. That DPI was going to be in their heads."
Not only that, but Brown, the player being, um, picked on, had gotten away with a hard helmet-to-helmet hit earlier in the game. He knew he'd gotten away with it because Nick Saban's staff had angrily said as much to the defender, who already had a bit of an ejection problem. "Anyone watching that game knew that kid was playing super aggressively," says NC State head coach Dave Doeren, a longtime defensive coach who was watching the CFP finale with five other head coaches during Coaches Film Room, part of ESPN's MegaCast of the game. "They've given up 400-something yards, they've had to defend nearly 100 plays, their back is against the wall and they're playing man-to-man defense. He's so focused on his guy and so on edge, anything thrown at him that's unexpected is going to throw him off balance. In this case, literally."
See? Cerebral. You know who is super cerebral? The New England Patriots, who famously sniffed out a pick play that felt an awful lot like Clemson's outside toss to Renfrow to win the college title, except this was the Seattle Seahawks' inside toss to Ricardo Lockette to win Super Bowl XLIX. At least, it was supposed to be. Instead, it was defended so well by corners Brandon Browner and Malcolm Butler that coaches on all levels of football still study the film to, you know, pick Bill Belichick's brain. Or the brains behind his brain.
In the weeks leading up to Super Bowl XLIX, Ernie Adams, New England's football research director, had noticed how much Seattle head coach Pete Carroll and quarterback Russell Wilson loved to run the rub in goal-line situations. Carroll had used it successfully at USC with his battalion of humongous Trojan receivers, and Wilson had fallen in love with the scheme, which he likes to call "mesh routes," playing in the tractor-pull offenses of Tom O'Brien at NC State and Bret Bielema at Wisconsin. Besides, if anyone has ever understood the effectiveness of the rub, it's the team in Foxborough. (See: Wes Welker, aka, the NFL's Hunter Renfrow.)
Adams had been adamant with Belichick that the pick would be Seattle's go-to in the red zone, so the coach had the Pats' scout team run the play against Browner and Butler over and over in pre-Super Bowl practice. Browner picked it up quickly; Butler did not. Time and time again, he found himself forced to circle the roadblock and being late for dinner. "The solution they came up with was pretty simple," Adams recalls now.
"We decided we'd be the ones who did the initiating of contact," Butler explains, chuckling. When Browner recognized the play coming, he tipped Butler and then lined up as close to the inside receiver, Jermaine Kearse, as the rules would allow. At the snap, Browner jammed Kearse so hard he made sure they stayed on the green side of the goal line. With no roadblock to get around, Butler built a head of unimpeded speed toward Lockette, who was slanting inside to meet Wilson's pass. Butler not only blasted the receiver to the ground but snatched the ball out of the air.
---
Seattle's Gun Double Left Scat Rub vs. New England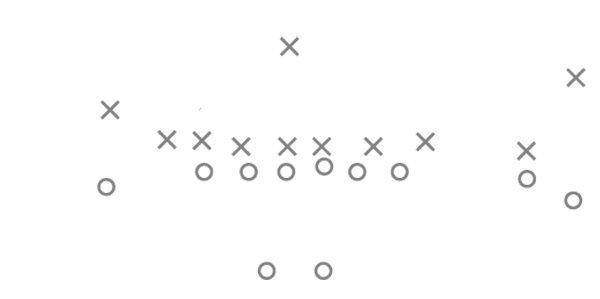 1. Patriots sell out to stop run, straight man-to-man with no help. 2. Unlike Clemson's receiver, Jermaine Kearse (slot) fails to create congestion, leaving CB Malcolm Butler free to beat outside WR Ricardo Lockette to the ball. Interception. Worst. Call. Ever.
---
"I think ever since that play, in that big of a game, there's been a little bit of nervousness among quarterbacks to run it," says Oklahoma State head coach Mike Gundy, who threw TDs via rubs in the 1980s and lives in a rub/pick crossfire in the video game offenses of the Big 12. "But I can tell you who wasn't nervous to run it: freaking Deshaun Watson. What's crazy is that the coach who defended it best is buds with the coach who needed to defend it last January."
He's speaking of Saban. Yes, Saban is tight with Belichick. Yes, the respective greatest coaches of their profession talk on a regular basis. Yes, they have discussed The Play. Both of them, actually. The one who won a ring and the one who lost a ring.
"Bill calls it a pick. We call it a rub," Saban growls. He points out that he's plenty familiar with the concept. In 2014, Bama ran a textbook rub to defeat LSU in OT. Then he echoes another bud, Dabo Swinney: "I don't care what you want to call it. It was a damn touchdown is what it was."