This story appears in ESPN The Magazine's September 18 NFL Preview Issue. Subscribe today!
Since 2005, the winningest teams at home -- Boise State and Ohio State, Oklahoma and Alabama -- win the most on the road too. So how's a 12th man supposed to know that he makes a difference?
Forget win-loss results. The real measure of home-field advantage lies in performance, so we examined how every FBS team fared, scoreboard-wise, in every home game in the past 12 seasons. Then we compared those numbers to the Football Power Index* expected margin of victory in those contests. Take last year's Week 5 Stanford-Washington clash in Seattle. According to FPI, the Huskies were expected to win by 14.7 points but won in a stunning 44-6 romp. U-Dub's 23.3-point swing -- or points above expectation (PAE) -- is our metric proxy for home-field performance. Win by more than anticipated? Lose by less? PAE's got you covered, telling you the tale of just how much your team exceeds (or falls short of) expectations.
So take heed, Mississippi State. Let your guard down in Week 2 at Louisiana Tech (No. 1 in PAE) and you might just find yourselves in the doghouse. Here's what else we learned.
*FPI is a predictive measure of team strength that represents how many points a team is above or below an average FBS team. For the purposes of this exercise, we use end-of-season FPI.
---
The few, the loud, the Bulldogs
In its 54 home games against FBS opponents since 2005, Louisiana Tech has performed 3.6 points per game better than expected -- making the Bulldogs the biggest overachievers at home in the nation. But where are the bluebloods, you ask? Wisconsin checks in at No. 7 (2.4 points above expectation) and Oklahoma at No. 13 (1.8), but largely, the top 25 teams in PAE are not your perennial powerhouses. Case in point: Among last season's four playoff punchers, only Clemson cracks the top 30. Florida State? At No. 96, the Noles' minus-1.3 points above expectation is right on par with noted in-state rival ... Florida Atlantic.
So apologies to the Big House (and all the other big houses); for an edge at home, it's not the size of the crowd in the fight. Since 2005, LaTech has averaged just 19,312 fans, and the crowds for the top five teams in PAE currently average 45,000. Meanwhile, Michigan (No. 43 in PAE) packed in 110,468 last season.
Top teams, PAE at home vs. FBS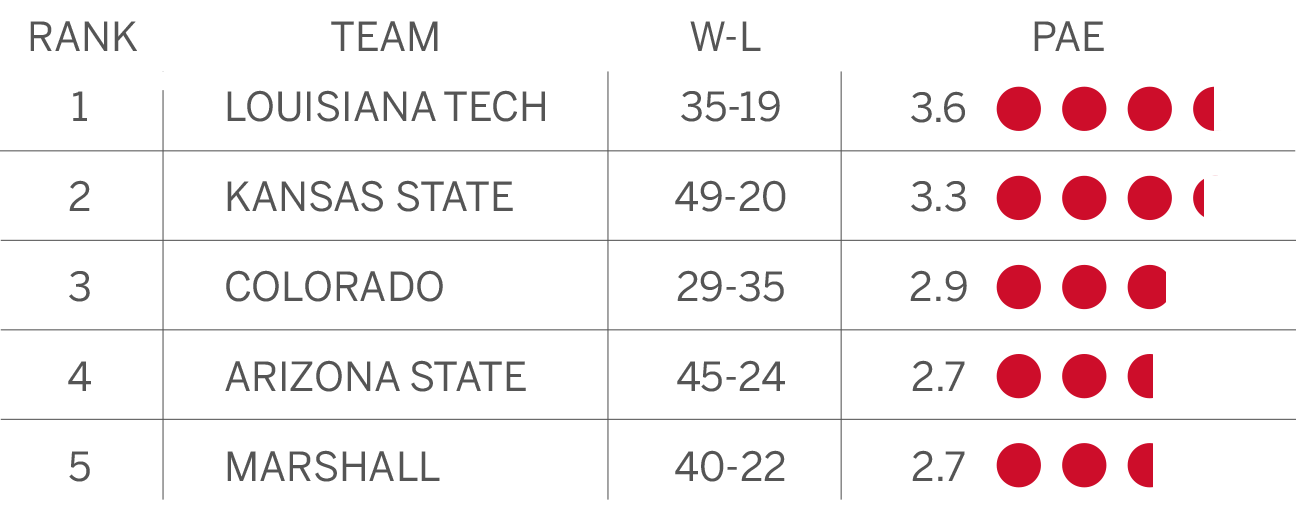 Worst teams in each Power 5 conference, PAE at home vs. FBS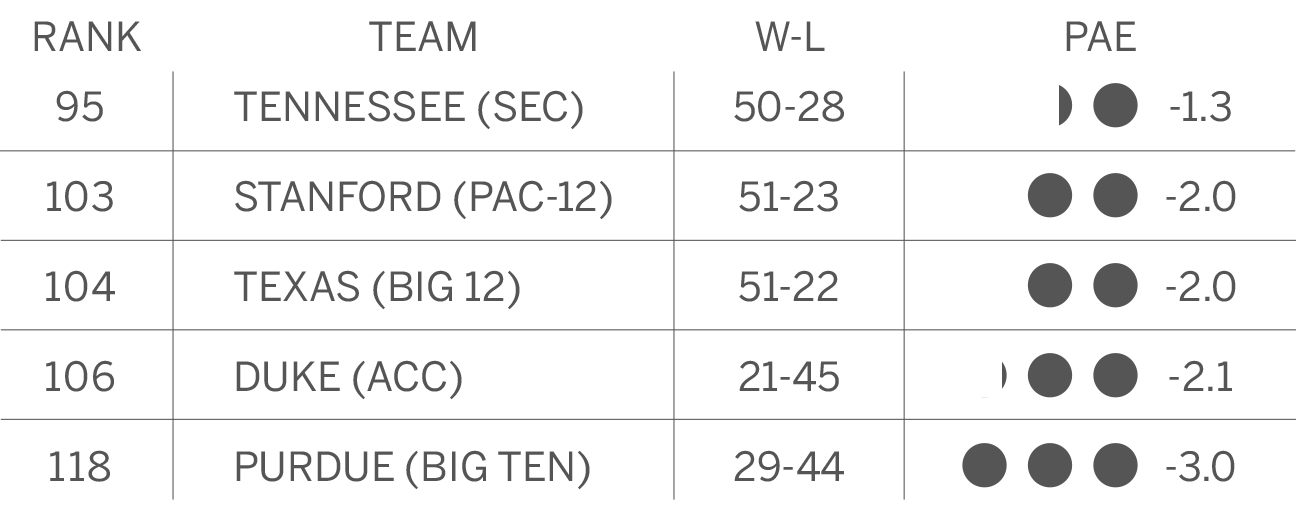 Don't see your team? Scroll down to check out the full PAE rankings.
---
A rising tide
When the going gets tough, Alabama gets tougher. The Crimson Tide rank a lowly 101st in points above expectation when factoring in all home games. Weed out FCS foes, though, and they inch up to No. 77. Narrow that down even further, to just in-conference competition? Nick Saban's crew leaps to 11th best in the country. In other words, as the competition gets better in Tuscaloosa, so does the Tide's edge. Sweet home Alabama, indeed.
The Tide don't roll alone, though. Like Alabama, Wisconsin ranks outside the top 10 in PAE at home against all competition -- though well ahead of Bama at No. 16. Still, the Badgers improve to No. 7 against FBS teams and climb all the way to No. 1 in conference play.
A few that don't rise to the occasion? Once-proud programs Nebraska and Miami, which rank 36th and 75th overall, plummet 47 and 29 spots, respectively, in conference outings at home.
---
Stars come out at night
Reports of Death Valley have been greatly exaggerated.* LSU's Tiger Stadium, where former head coach Les Miles said opponents' dreams come to die, is actually downright hospitable! The Tigers have performed 0.5 points below expectation against FBS foes since 2005 (No. 72 nationally) and plunge even further into a home-field abyss against conference opponents: minus-2.1 PAE, No. 101. Among Power 5 teams, only notable home-field lame ducks Boston College, Miami, Purdue, Duke and Illinois fare worse against conference foes. Consider, in contrast, Baylor. In the Bears' final five seasons at Floyd Casey Stadium -- their home before McLane -- they performed 6.1 points above expectation vs. the FBS. Now, that's a graveyard of opponent dreams.
*With one major caveat. Turns out, day and night games in Death Valley are as different as ... night and day. In home tilts kicking off at 6 p.m. or later, the Tigers have performed 0.9 points above expectation against FBS opponents since 2005 -- a 1.4-point swing compared with its full slate.
---
Pass, happy
The adage that "defense travels" might be true if the Big 12's home PAE is any indication: 0.9, the highest of any conference. The league's high-flying offenses -- 33.6 ppg and 454.4 ypg since 2012, both FBS bests -- often pass roughshod over opposing defenses. And with visiting D's generally unable to stop offensive onslaughts, they also fail to quiet those buzzing Big 12 home crowds.
By comparison, every other Power 5 conference hovers around zero points above expectation ... except the Big Ten. Not only does it claim the worst Power 5 advantage at minus-0.7 PAE, four teams -- Maryland (No. 100), Northwestern (No. 109), Rutgers (No. 112) and Purdue (No. 118) -- rank in the triple digits nationally since 2005.
PAE by conference, at home vs. FBS (since 2012*)
*Conference analysis limited to the past five seasons due to realignment.
---
Road warriors
And then there are teams that seek the comfort of ... anywhere else. (See above: The Sun Belt registered minus-3.1 in PAE -- two points worse than any other league.) Still, no team enjoys a road advantage quite like Navy, which is a hefty 5.0 points per game better than expected in away contests since 2005.
So what's the Middies' secret? It may be as simple as X's and O's (or just O's). Over the past 12 years, no team averages more plays per drive than Navy and its triple-option offense (6.1) or bleeds the clock more (257 drives of five-plus minutes). The FBS's other triple-option attacks follow suit: Air Force, Army and Georgia Tech all rank top-11 in the FBS in plays per drive, top-seven in five-minute drives ... and top-30 in road PAE in that span. Road game, set, match.
---
PAE rankings, Teams 1-120
For more from ESPN Analytics, visit the ESPN Analytics Index.