SOUTH BEND, Ind. -- On a perfect October night, Notre Dame players and coaches gather in the northwest corner of Notre Dame to sing the alma mater after their biggest win over rival USC in 40 years. But they aren't the only ones celebrating.
Whether the beloved Irish win or lose, Notre Dame football weekends always bring victory for the region surrounding campus. Restaurants and bars double or triple their business. Hotels up-charge guests who want to be close to the action. Weekend rentals boom, giving local homeowners extra income and visitors comfortable places to stay. The tarmac at South Bend International Airport fills with private and charter planes. The university showcases all it has to offer to crowds of more than 100,000.
Every time the Irish play at home, about $16 million of business is brought into the region.
"This is a very big thing for Notre Dame and the community," said Mike Seamon, Notre Dame's vice president for campus safety and event management.
Thanks to college football, small and midsized cities like South Bend become 48-hour boomtowns. Here's a closer look at the economy of a college football weekend.
---
Getting there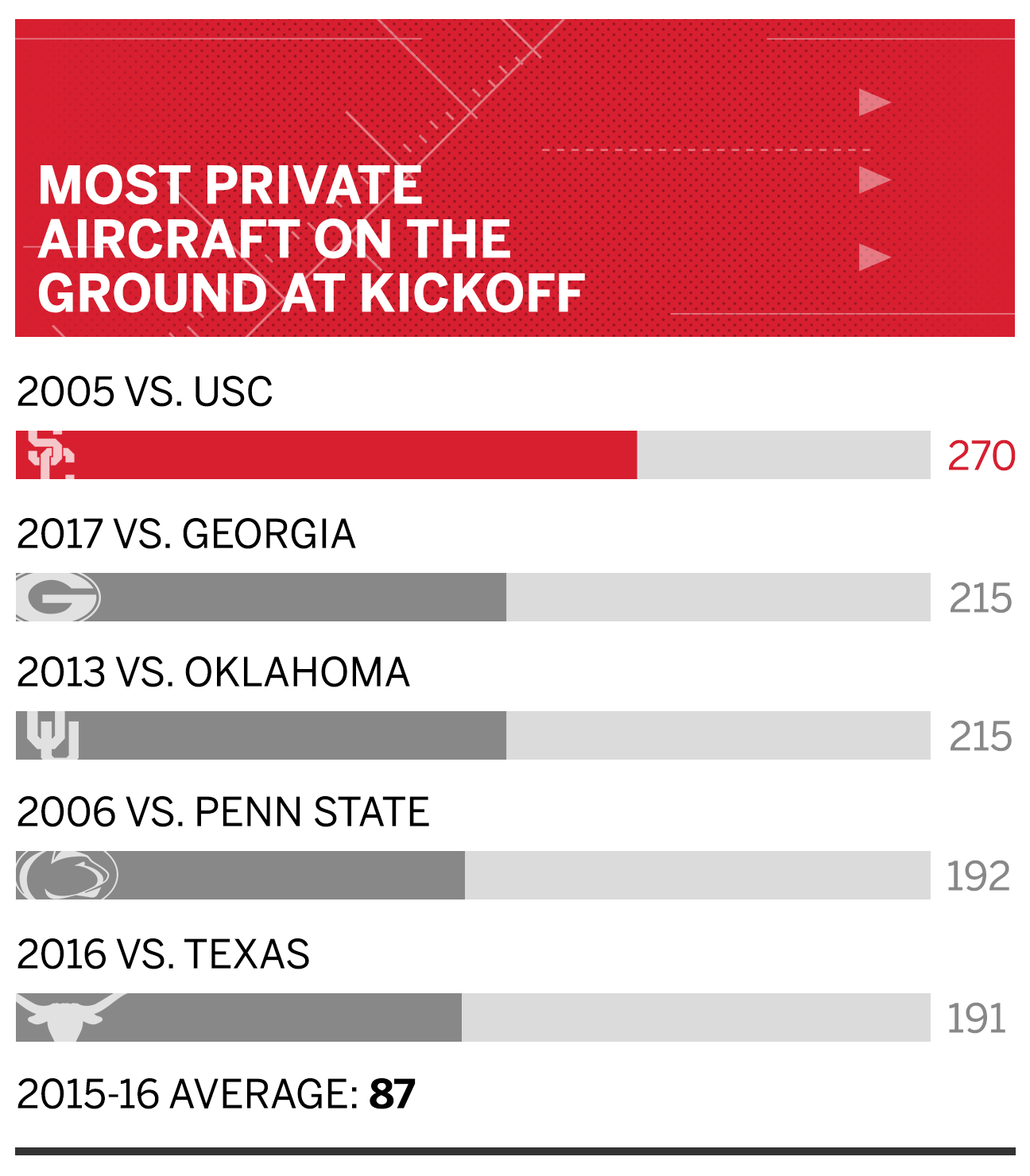 Lacey and Keith Smith met when Lacey told Keith, an avid pilot, how much she loved flying.
"I hated flying," Lacey said. "I saw his [pilot] stuff on Facebook, and that's how we got together. But I lied."
Lacey has warmed to the skies and traveled to her first Notre Dame game with Keith on his four-seater Mooney. For their first wedding anniversary, Lacey got Keith tickets to watch his beloved Irish play USC. They made a 35-minute flight from Danville, Illinois, to South Bend and parked the plane at Corporate Wings, a fixed-base operator that provides airport services.
"I talked her into it because I hadn't been able to fly here for a game," said Keith, who works as a crop duster. "I was like, 'Be on the lookout for the stadium because I want to fly over and get a picture.'"
Because of the short flight and a non-gas-guzzling plane, Keith estimates his total cost to be just $80 (gas is $4.79 per gallon at Corporate Wings).
"It's actually cheaper to fly the plane than drive my truck," Keith said. "A lot faster, too."
Plus, they got a great picture of Notre Dame Stadium.
---
Staying there

When Notre Dame alum John Koeppel (class of 1969) began making annual trips to games with his college roommate and two work buddies, they encountered only one problem: where to stay.
"We'd stay in motels that were two exits away from South Bend," Koeppel said.
"It looked like the one Stephen King wrote about," friend Rick Wilson added. "We had to sleep with one eye open."
Koeppel eventually found RentLikeAChampion.com, a vacation rental company (of "Shark Tank" fame) that targets smaller markets with big-time college teams. For $300 per night, Koeppel and his buddies rent a four-bedroom house on a cul-de-sac about 5 miles from the stadium.
"The owner even makes chocolate chip cookies for us," Koeppel said.
RentLikeAChampion.com had about 150 groups stay in the South Bend area for USC weekend, with hosts earning an average of $1,100. Koeppel's group usually spends three nights in South Bend, attending an Irish hockey game and stopping by Knute Rockne's grave, where they bring cigars, whiskey and even bagpipes to toast the legendary coach.
---
Spending there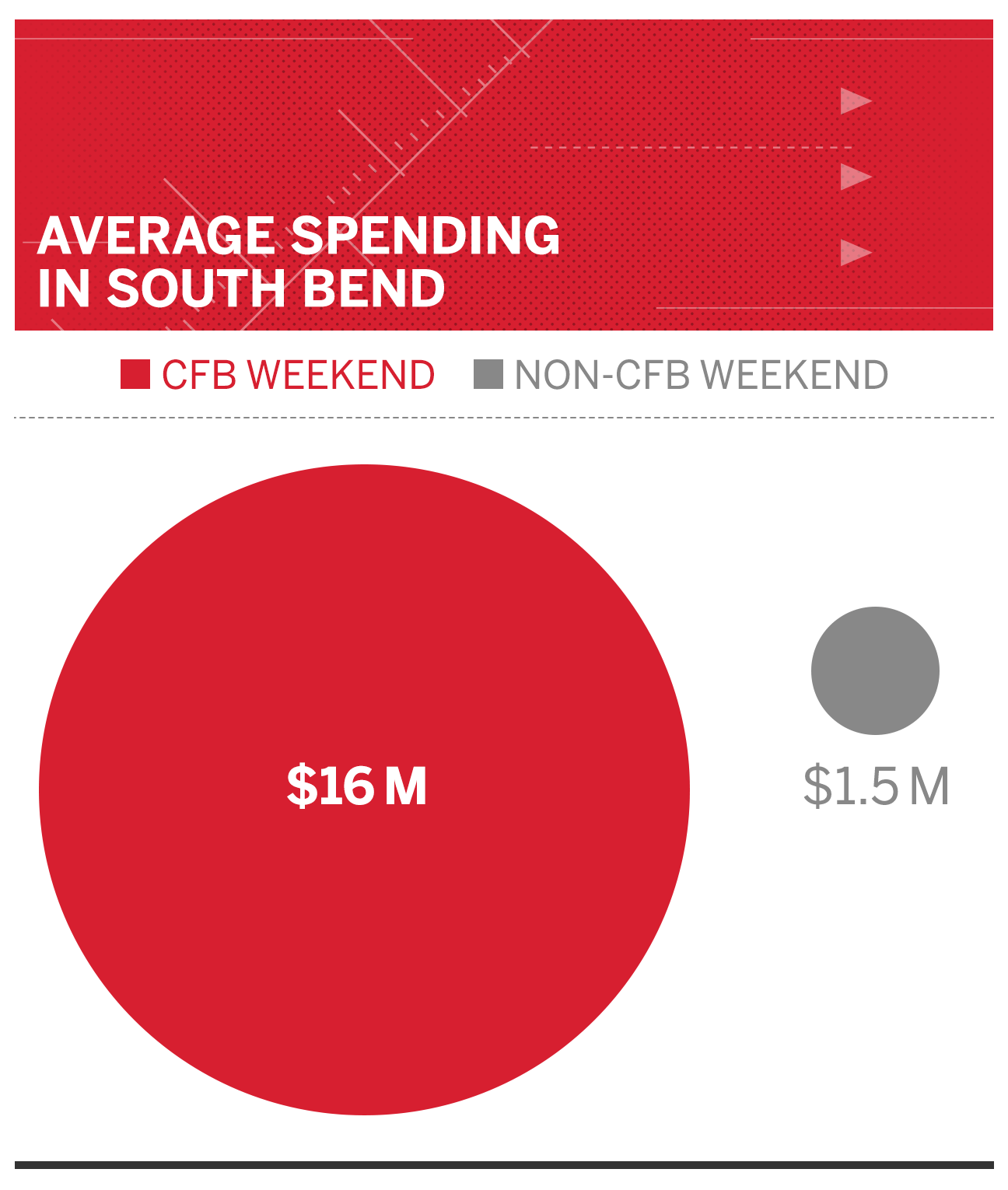 It's 6:30 p.m. on Friday night, and the parking lot at Parisi's Ristorante Italiano is packed. Roberto Parisi opened the restaurant in 1981 and moved to the current location, a few football fields southeast of the stadium, in 1986. Digger Phelps is always around. Muhammad Ali used to eat here. So did Fr. Theodore Hesburgh, the iconic Notre Dame president. The restaurant began with 27 seats (32 on weekends) and now seats more than 400.
Parisi's usually serves 500-550 covers on Fridays and Saturdays of football weekends, three times more than non-football weekends. When Georgia visited in Week 2, Parisi's catered its largest party ever - a tailgate of more than 5,000 hungry Dawgs.
Parisi's usually brings in 8-10 additional staffers, mainly to help on the line. Some longtime servers leave other jobs to work football weekends.
"You see the impact that football does for the community," Parisi said, "whether it's hotels, whether it's restaurants, whether it's memorabilia. Friday night is a great night. Saturday night is great, also."
He smiled.
"Except when it's a 7:40 [p.m.] kickoff."