This week's top 20:
20. The Penn State scandal
There are two sides to every story, but only one truth.
So far we have heard the Pennsylvania attorney general's side of the Jerry Sandusky story and it contains allegations and a grand jury report so detailed, so disturbing and so perverse in its findings that, if true, you root for the existence of a special circle of hell for those who prey on innocents.
Sandusky, the former Penn State assistant who at one time was considered the heir apparent to Joe Paterno, has been charged with 40 counts of sexually abusing eight boys over a 15-year period. He is free on bond and has yet to give his side of the story. But no matter how this eventually plays out in a Pennsylvania courtroom -- innocent or guilty -- his life is over.
You know it. I know it. Sandusky surely knows it.
Of course, the damage done to the victims of Sandusky's alleged acts can't be measured in conventional terms. How do you measure the incomprehensible? Just the very wording of seven of the counts brought against Sandusky -- involuntary deviate sexual intercourse -- send the wrong kind of chills down your spine.
And then there is the collateral damage. Penn State athletic director Tim Curley has asked to be put on administrative leave after being charged with perjury and failing to report suspected child abuse. Gary Schultz, Penn State vice president for finance and business, has resigned in light of similar charges.
Meanwhile, attorney general Linda Kelly hasn't ruled out the possibility that school president Graham Spanier might also be charged for failing to alert authorities of Sandusky's alleged actions.
The only person not implicated so far by Kelly of legal wrongdoing is Paterno, who has spent the last 62 years on the Penn State staff, the last 46 as its head coach. But as the mushroom cloud of this case continues to expand over State College, so do the calls for his resignation and/or dismissal.
I understand the reaction. I don't agree with it right now, but I understand it.
The Joe-Must-Go argument centers around these issues:
Paterno, when first told of an incident involving Sandusky and a child in 2002, should have done more than simply follow the letter of the law and pass along the allegation to his administrative superior, Curley. He should have contacted the police, say his critics, which includes Pennsylvania state police commissioner Frank Noonan.

"I think you have a moral responsibility to call us," Noonan told reporters in a Monday news conference.

Even after the alleged 2002 incident, Sandusky (who retired in 1999) was a frequent visitor to the Penn State football complex.

This happened on Paterno's watch.
And all of it is true.
Paterno should have called the police and let those authorities decide whether they wanted to begin an investigation. He should have insisted that his former longtime assistant stay away from the football facility.
But he didn't and because of it, the Paterno football reign appears to be ending.
19. The Penn State scandal -- Part II
Joe must go?
Joe Paterno is going, according to a New York Times story. Not Tuesday, but very soon.
If so, nobody will be more surprised than his longtime friend, former Florida State coach Bobby Bowden.
"Uh, uh, I don't think he would step away," Bowden said Monday evening from his Tallahassee home. "I think it would make him even more resolved to stay with it. I could never picture Joe running away from the fight. Accuse him, do what you want to, try to run him off, but I can't see him running."
Added Bowden: "I don't picture him making errors. If he's made errors in his life, it's been very few. I still think he's smart enough and wise enough to do the right thing. I just hope they don't use this event as an excuse to get him out."
And then came Tuesday.
It appears Paterno might not have a choice. The iconic coach might not survive this mushrooming child sex-abuse scandal.
Bowden has followed the Jerry Sandusky case as it has unfolded. He coached against Paterno in the early-to-mid-1970s, when Bowden oversaw the West Virginia program. Sandusky was the Nittany Lions linebackers coach at the time.
"It's just hard for me to believe what I'm hearing," said Bowden. "I don't understand it. I don't understand things like that."
18. Heisman Trophy race
Seated in the front row at Best Buy Theater:
Alabama RB Trent Richardson: OK, someone help me do the math: 89 yards of rushing and 80 yards of pass receiving against LSU's defense is worth X amount against any other defense in the country. X = ?. Whatever it is, it's good enough to keep Richardson atop my Heisman list right now.
Stanford QB Andrew Luck: The passing numbers didn't cause goose bumps (20-of-30 for 206 yards, two touchdowns and one interception), but a trap-game win against Oregon State in the crummy weather of Corvallis counts for something. So take that, Phil Simms and Steve Sarkisian.
Houston QB Case Keenum: If the guy passes the salt at the dinner table, he breaks an NCAA record. So far this season he has set NCAA career records for passing yardage, TD throws, total offense and points accounted.
Keep a coat and tie handy: Boise State QB Kellen Moore, Oklahoma State QB Brandon Weeden, Oklahoma QB Landry Jones, Baylor QB Robert Griffin III.
Long shot: Wisconsin QB Russell Wilson.
Thanks for stopping by the booth: No casualties this week.
17. Game not of the century
More than 600 media credentials were issued for the LSU-Alabama game. That number is safe as a kitten when Western Kentucky travels to Tiger Stadium on Saturday evening.
The Hilltoppers, who became fulltime FBS members as recently as 2009, are 41½-point underdogs to No. 1 ranked LSU. They're finger food for the Tigers.
The only reason they're on the LSU schedule is that WKU athletic director Ross Bjork worked a TV trade: if the Big Ten Network and ESPN would help him get the 2010 Western Kentucky-Indiana game on the air, he'd agree to help LSU fill a scheduling hole in 2011.
"Honestly, we'll take the exposure," Bjork said.
And the $900,000 guarantee WKU gets from LSU.
"It was actually pretty smart timing on our part," he said. "We're in the national news all week long, since LSU beat Alabama. … You can't put a price tag on that as you're building a program."
16. Western Kentucky vs. LSU -- Part II
The Hilltoppers began the season 0-4, but have won their last five games, including a 10-9 victory against Florida International. Casey Tinius made a 34-yard field goal as time expired.
So what, right? It's the Sun Belt Conference. Who cares? It's another line on the scoreboard agate page.
Except that Tinius had missed his previous seven field goal attempts this season. He had been banished to the bench. Afterward, he wept with joy.
Pretty cool.
Inside the WKU locker room, said Bjork, is a sign that reads: "We bow down to no man or no program."
Hilltoppers coach Willie Taggart borrowed a version of the phrase from his former boss at Stanford, Jim Harbaugh. In 2007, when the Cardinal were 40-point underdogs to Pete Carroll's mighty USC, Harbaugh told reporters: "We bow to no man. We bow to no program here at Stanford University."
Stanford 24, USC 23.
In the mid-1990s, Taggart was a quarterback at WKU. Working on the Hilltoppers' staff as an unpaid assistant was none other than Jim Harbaugh.
Harbaugh now coaches the San Francisco 49ers, and Haggart has to coach against an LSU team that features lots of NFL-caliber talent.
"It will be fun," Bjork said. "That's all our guys talked about after the game [last Saturday].
"What the heck, right?"
Exactly.
15. BMOP (Big Man On Podium)
"I'll put it like this: Like the head coach at Clemson said, 'We'll worry about here and now and we'll take care of the rest later.'
"Those guys are really good, they're really great, they're a great team. But any comments about next week, two weeks from now, three weeks from now -- I'll worry about it when it gets here. Right now, I'm going to sit back and celebrate this victory."
-- LSU defensive end Sam Montgomery, when asked about the comments of several Alabama players who insisted the Crimson Tide was the better team and would win any rematch.
14. The picks
LSU over Western Kentucky, Alabama over Mississippi State, Stanford over Oregon, Oklahoma State over Texas Tech, Boise State over TCU, Arkansas over Tennessee, Georgia Tech over Virginia Tech, Clemson over Wake Forest, Houston over Tulane, Nebraska over Penn State, Michigan State over Iowa, Wisconsin over Minnesota, Florida over South Carolina, Georgia over Auburn, West Virginia over Cincinnati, Texas over Missouri, Illinois over Michigan, Kansas State over Texas A&M, Southern Miss over Central Florida.
(Last week: 10-7. Pitiful performance. And no, I did not change my email address after picking Bama to beat LSU, only to see the Tigers win 9-6. The good news? There's a finite number of cuss words available to readers.)
13. BMOS (Big Man On Sideline)
Les Miles, LSU
Except for tripping and falling to the turf while running out of the tunnel, Miles could do little wrong last Saturday night.
Miles has beaten Bama's Nick Saban two years in a row, which is no small feat. And this time he did it on the road and in overtime. And for a surprising change of pace, Miles played it straight against the Crimson Tide, trusting his team -- and not trick plays -- to win the game. Impressive.
12. 500 words or less
Utah is gone. BYU is gone. TCU is gone. Boise State and Air Force soon might be gone, too.
Welcome to Mountain West Conference commissioner Craig Thompson's life.
"I have probably spent 16 hours a day for the last month working on literally nothing but membership," Thompson said. "It's kind of like losing your senior quarterback, half of your offensive line, all of your defensive backs. Well, you better start recruiting, because nobody's going to have any sympathy for you."
Thompson's MWC is on the wrong end of conference realignment. His conference has been poached by the Pac-12 and most recently by the Big East, the same league that expressed outrage when Syracuse and Pitt left for the ACC and West Virginia bolted for the Big 12.
So you'll excuse him if he doesn't feel too sorry for Big East commissioner John Marinatto.
"[They say] 'Woe is me, people took our folks,'" Thompson said. "There is an irony there.
"Conferences, what they stood for, have changed completely. There's a lot 'I' now. How many times can we read, 'We're a proud member of whatever conference, but we have to look out for the best interests of our institution?' They're making decisions that aren't supportive of any collective organization."
Boise State president Bob Kustra made a best-interests-of-our-institution statement when discussing a move to the Big East. But think about it: A school in Idaho is seriously considering joining a conference based in Providence, R.I.
"It's all different," Thompson said. "It's a new world. We've got a half-dozen rivalries that have been played for more than 100 years maybe, and they're not going to be played anymore. I guess they don't matter.
"You have an institution [West Virginia] sue a conference [Big East]. Three days later that conference sues the institution. I think that says it all. It's ridiculous, quite frankly, the positions that we're putting people in."
Especially perplexing to Thompson is why his conference remains without BCS automatic qualifying status, while conferences such as, say, the Big East were granted it in the first place.
"When TCU and Utah were winning BCS bowl games, and BYU was in the Top 25, the Mountain West was [deemed] not collectively BCS AQ-worthy," Thompson said. "Now I'm hearing Boise State will help the Big East retain its automatic qualifying. My point is, collectively we have played at a BCS level and won at a BCS level and it didn't mean anything. So wait a minute: It didn't count for the Mountain West, but it counts for another league?
"I think we deserve automatic access. What else do we have to do?"
11. 250 words or less
According to Thompson, there is no real protocol between commissioners when it comes to conference raiding. It has become survival of the fittest. Exit fees are in place as supposed deterrents (the MWC instituted its revenue-based exit fee formula in June), but, said Thompson, "it's a speed bump. It could be $10 million, $20 million, whatever. People are going to make that up."
Meanwhile, the MWC and Conference USA are trying to create a football-only alliance between the two leagues. Representatives from the conferences met in Colorado Springs with consultants on Monday and again today to discuss marketing and branding possibilities. Based on the terms of their memorandum of understanding, the MWC and C-USA have until January to finalize the deal.
"You look at our business and it's all about consolidation," Thompson said. "It's no different than the airlines, grocery stores, gas and oil companies."
Except that United and Continental don't play in the BCS Championship.
Once again Thompson is in repair mode. The new world order waits for no one.
"In the last day or so I got inquiries from four institutions," he said. "They each said, 'Here's why you should take us."'
10. If there were a playoff
BCS spin doctor Bill Hancock is going to love this playoff idea:
Shoulder Pad Bracket:
LSU vs. Arkansas
Boise State vs. Alabama
Chin Strap Bracket:
Oklahoma State vs. Oklahoma
Stanford vs. Oregon
9. BCS Shhhhhhhhh
BCS propaganda minister -- I mean BCS executive director Hancock -- is just doing his job when he sends his press release emails breathlessly applauding a world without a college football playoff.
Check that -- applauding a world without an FBS playoff. Every other NCAA football division has a playoff system, and somehow children, kittens and FCS, D-II and D-III players survive the trauma of postseason brackets.
In fact, every other NCAA sport has some form of a championship playoff system in place. Yet the college athletic system hasn't collapsed. Weird.
Anyway, I get official BCS emails on a semi-regular basis. They range from the self-important (a Hancock comment on the release of the first BCS standings), to the gleeful (a reprint of a Los Angeles Times column pointing out the many inaccuracies of an anti-BCS editorial written by Utah Attorney General Mark L. Shurtleff), to the smug (a reprint of a recent column in The (Columbia, S.C.) State that calls the BCS "the greatest playoff system in all of sports"). But more on that one later.
The BCS prides itself on being proactive, partisan and transparent. It wants you, the college football fan, to understand how it's doing the game a favor by keeping the FBS a playoff-free zone.
Oh, wait, it's not transparent?
8. BCS Shhhhhhhh -- Part II
Turns out it took an open records request by the Associated Press to uncover a February 2010 memo from Hancock assuring a BCS presidential oversight committee that the BCS was probably safe from the Feds. In the same memo, Hancock told school presidents that BCS lawyers had determined that even if the government ruled the BCS violated antitrust law, "any other such arrangement -- including a playoff -- also would be unlawful."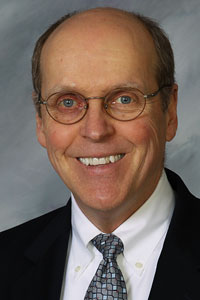 Hancock
Hmmm. I do remember getting a Hancock-approved email five months ago about the Department of Justice requesting a meeting with the BCS executive director. But an email about the February 2010 memo telling school presidents that the BCS was safe because the White House had too many other issues on its plate? Nope, that one didn't ping into my mailbox.
You know why, of course. The BCS wants to placate the Feds, not pique their interest. The last thing it wants is the government shining a flashlight into the BCS's eyes and asking it to step out of the car.
As for possible antitrust issues, I'd love to see how that played out in court. If there were a Vegas spread, I'd make a playoff system a 3½-point favorite over the BCS to survive legal scrutiny.
Look, I don't blame Hancock for trying to protect the BCS. That's his job, to draw smiley faces on a flawed creation.
But if you're going to trumpet the BCS as the greatest thing since Michigan's unis, then why so nervous about what the Department of Justice thinks? And why keep the memo secret?
Just asking.
7. The greatest playoff system in sports
That's what the story said, the one the BCS sent out to assorted media.
And at the top of the release was the BCS motto: Every Game Counts.
First of all, the BCS isn't a playoff system. Nor does it try to be. All it's really concerned about is coming up with a No. 1 versus No. 2 matchup.
Now then, the headline about the BCS doing its job almost every season. Don't we want a system that works every season -- you know, like an actual playoff?
And please -- "every game counts"?
If a one-loss Bama team somehow winds up in the BCS Championship over, say, an unbeaten Stanford or even Boise State team, then how did every game count?
If an undefeated Houston team, which belongs to the non-AQ C-USA, is left out of a BCS bowl, while a lower-ranked Big East team gets an automatic spot, then how did every game count?
And won't it be fun if LSU, Oklahoma State, Stanford, Boise and Houston all finish without a loss?
6. The anti-playoff man
Bowden, who sat in the Bryant-Denny Stadium last Saturday as a spectator for the first time in more than 60 years, has never been in favor of a playoff. But after watching the LSU-Bama game, he is in favor of a rematch.
"Personally, I thought I saw the two best teams in the country," he said.
If LSU and Bama win out, Bowden, who turns 82 today, thinks a rematch is a no-brainer. He'd take a one-loss Crimson Tide over the non-LSU unbeaten.
"I really would," he said. "The reason is, I don't think they can play defense like Alabama."
5. Chiseled Hatter
Why does Nick Saban have a statue outside Bryant-Denny Stadium, but Miles doesn't have one outside Tiger Stadium? Miles has been at LSU longer than Saban has been at Bama, and he has won as many national championships in Baton Rouge as Saban has won at Tuscaloosa -- one apiece.
At the very least, how about a bronzed ballcap?
Said an LSU athletic department official: "There hasn't been any talk of a Les Miles statue. Yet."
If LSU runs the 2011 table, it might be time for Tigers boosters to hire a sculptor.
4. BMOC player of the week
Northwestern backup quarterback Kain Colter
The visiting Wildcats were 17-point dogs to ninth-ranked Nebraska. Starting QB Dan Persa got hurt and missed the entire second half. And the Cornhuskers were feeling good about themselves.
So what happens? Colter ran for two touchdowns and threw for another as Northwestern pulled off its annual stunner, this time beating the Children of the Corn 28-25.
3. Runner-up
LSU punter Brad Wing
Don't let the 38.2 average against Bama fool you. Five of his six kicks forced Bama to begin its drives at the UA 5-, 4-, 11-, 19- and 20-yard lines. A pivotal fourth-quarter punt traveled 73 yards. That's called flipping the field.
2. Two-liners
Six teams -- South Florida, Tennessee, Colorado, Ole Miss, Indiana and Kansas -- still haven't won a BCS conference game. Forget about KU, CU and Ole Miss breaking the streak this season, but Indiana (vs. Purdue Nov. 26), South Florida (Louisville Nov. 25) and Tennessee (Vandy Nov. 19, at Kentucky Nov. 25) at least have a chance to record BCS win No. 1. … That 73-yard punt I was talking about, the one that Bama's Marquis Maze inexplicably let land behind him? Maze said afterward the punt grazed a cable used by a CBS overhead camera, which means there should have been a re-punt instead of Bama starting its drive at the Crimson Tide 19-yard line. … Bill Curry, who left ESPN to build a Georgia State program from scratch, had this to say to the Atlanta Journal-Constitution after his FCS-division Panthers were beaten by NAIA member St. Francis, a program whose starting defense includes just one player weighing more than 255 pounds: "There aren't any words for that. Except to say, for one more embarrassing fourth-quarter performance we apologize to the Georgia State community." … Wouldn't it be interesting if Ole Miss, which will soon have its fourth different head coach in the last seven years (it fired the doomed Houston Nutt on Monday), adopted the hiring techniques of new Chicago Cubs president of baseball operations Theo Epstein? Epstein and his executive staff require managerial interviewees to address videotaped game scenarios in real time, as well as meet with the media after their interviews. … West Virginia had more first downs, rushing yards, passing yards, pass completions, return yards and the game's leading receiver in its game against unranked Louisville -- and lost. Consider it the Curse of Big East commish Marinatto. … Now that Ryan Broyles is gone for the season because of a torn ACL (another brutal injury loss for Oklahoma), keep an eye on the stats of sophomore wide receiver Jaz Reynolds. … From our ESPN Stats & Information folks: For the first time since 2000, no Big Ten team has reached the top five in any of the first four BCS standings this season (Penn State is the highest-ranked Big Ten team at No. 12). The Big Ten was also 0-for-2010 when it came to appearances in the BCS standings top five. … Man vs. Machine: the coaches and Harris poll voters love Stanford at 2 and 3, respectively, while the computers have the Cardinal at No. 7 (and as low as 10th in one of the six computer programs). And Bama dropped to sixth in one of the computer rankings. … Things you don't see every day: Georgia QB Aaron Murray throwing five touchdown passes in the second quarter of UGA's blowout against New Mexico State and UGA tight end Aron White accidentally wedging himself in the hedges of Sanford Stadium after catching Murray's fifth scoring pass. Teammates had to pull White from the thick English privet bushes. … Boise blowouts have kept Moore on the sideline for 73 minutes and 6 seconds of potential playing time this season.
1. The BMOC top 10
10. Clemson
An LSU player, Sam Montgomery, actually quoted Dabo Swinney after win against Bama. Maybe he had his Tigers coaches mixed up.
9. Houston
Superdome officials installing triple-digit scoreboard for Cougars' Thursday night game against Tulane's 111th-ranked scoring defense.
8. Arkansas
Razorbacks had slight case of the dropsies and kicking game was inconsistent against South Carolina. The good news? They won convincingly, and, for a nice change, they put together an impressive first half.
7. Oklahoma
Sooners have lost their best running back and best wide receiver to season-ending injuries. QB Landry Jones now in protective custody until Nov. 19 game at Baylor.
6. Oregon
Ducks face the Cardinal at The Farm (sounds like a children's book). Game of the Half-Century?
5. Boise State
The winningest quarterback in the FBS (Kellen Moore) vs. a TCU team that has won 21 consecutive MWC games and is a road warrior. Will Horned Frogs be this year's Wolfpack for Boise?
4. Alabama
Does Bama suffer a post-LSU letdown at Mississippi State, or does it take out all if its we-should-have-beaten-LSU frustration out on Bulldogs? I'll choose Option 2.
3. Stanford
There are a dozen different reasons Luck returned to Stanford this season instead of going to the NFL. Games such as Saturday's matchup against Oregon, with all of its national championship and Heisman ramifications, is one of those reasons.
2. Oklahoma State
Memo to Cowboys: OU thought it was going to beat Texas Tech, too, and look what happened.
1. LSU
LeBron James was at the LSU-Bama game. Wonder if he'll be there for the Western Kentucky matchup.
Gene Wojciechowski is the senior national columnist for ESPN.com. You can contact him at gene.wojciechowski@espn.com. Hear Gene's podcasts and ESPN Radio appearances by clicking here. And don't forget to follow him on Twitter @GenoEspn.