The Bottom 10 inspirational thought of the week: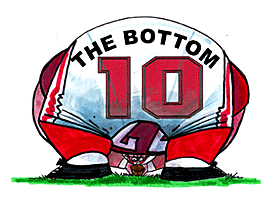 "Did you find the files?"
"I don't even know what they look like...what do they look like?"
"They're in the computer."
"They're in the computer?"
"Yeah, they're definitely in there. I just don't know how he labeled them!"
"I got it."
"You gotta figure it out. We're running out of time, Hansel. You've got to find them and meet me at the show."
"Roger...IN THE COMPUTER..."
-- Matilda Jeffries and Hansel, Zoolander
It's all too rare we see such raw emotion in a game with so much at stake so early in a college football season. But we saw one Saturday night.
No, not Oregon at Michigan State. No, not LSU at Mississippi State. No, not even Boise State at BYU.
I'm talking about Georgia State at New Mexico State, the Panthers and the Aggies, doing battle in the rectangular octagon that is Aggie Memorial Stadium in Las Cruces. Yes, I know a rectangular octagon isn't a thing, but it should be. It wasn't just the Pillow Fight Of the Week (PFOW!), it was the Pillow Fight Of the Week of the Year (PFOWY!).
The clock wound down as the Aggies desperately drove, trailing the defending Bottom 10 champions 34-32. A record crowd of 27,201 came to their feet. And here at Bottom 10 headquarters, located in the storage room where Joey Galloway keeps his free weights, we went scrambling for data to help provide some historical perspective.
Was this the earliest-ever showdown between the top two bottom teams?
ESPN Stats & Info stopped returning our phone calls months ago, so we dug up the Bottom 10 Media Guide. Unfortunately, that media guide is kept on a 1984 floppy disk, and we couldn't get the Commodore 64 booted up in time. OK, actually we did, but instead of doing our research, we stayed up all night playing Lode Runner.
So, what happened at NMSU? And what impact did it have on our standings? Plug a joystick into Control Port 2 and read ahead.
With apologies to Mugatu, Jack Tramiel and Steve Harvey, here's this week's Bottom 10.
Spoiler alert: the Other Aggies lost. It was heartbreaking. It was hard to watch (and I did). But, Other Aggies Nation can find hope in the fact there will be a chance for Bottom 10 redemption this weekend. More on that coming up...
On the flipside, I could hear Bob Uecker as Harry Doyle in my mind, screaming, "The Panthers win it! The Panthers win it! Oh my gawd, the Panthers win it!" Then my psychiatrist asked me why I thought I keep hearing Bob Uecker as Harry Doyle in my head. Then he asked me if I thought Georgia State Not Southern really deserved to jump out of the top two merely because the Panthers won by two points over the No. 2 team. Then he asked me why I thought I kept referring to Georgia State as Georgia State Not Southern. Then I punched him in the nose. Speaking of punches in the nose, Georgia State travels to Oregon this weekend.

The Jayhawks followed up their loss to South Dakota State singing the blues during a 55-23 drubbing by former Bottom 10 regular resident Memphis. After a Week 3 matchup with the Fighting Byes of Open Date U., KU travels to RU, as in Rutgers, who just choked, er, lost at home to Washington State, a team that was in the Bottom 10 one week ago after losing to Portland State.
The Cowboys lost at Notre Dame in Week 1, so no shame there. But they were hammered by the Boys from Oops-ilanti in Week 2, so some shame there. Wait...my producer is speaking into my earpiece...I'm sorry, that "ND" listed on their schedule for Week 1 isn't for Notre Dame, it's for North Dakota. So, this is getting worse. Let's move on.
Life's funny, ain't it, coach? One day you're ripping people for playing the teams on this list. The next day you're one of the teams on this list.
Dear Golden Hot Flashes, we see you now have a win. Awesome. But we also see that win came against Delaware State. So, that's less awesome. Like Baylor trying to sell the College Football Playoff committee on wins over Texas schools named after Texans, you can't fool us with wins over States named after states.
Like Kent State, Texas State was also a winner. Like Kent State, Texas State earned that win against an FCS team. So, like Kent State, Texas State remains here among the Bottom 10. Wait...I just received a text saying "DONT U QUSTN THE HONOR OF BEATNG FCS SKOOLZ!" I don't know this number, but it's from a 334 area code. Where is that? Oh yeah...Auburn.
The Vandals have surrendered 104 points over their first two games. I'm writing this while helping my fifth-grade daughter with her math homework. Using the Common Core break-apart new math formulas they teach kids these days, I have figured out Idaho's average points per game allowed on defense is either 52 or eleventy point six.
9. UTEP (0-2)
Remember when I told you New Mexico State was being handed a shot at Bottom 10 redemption? Well, here it is. Paydirt Pete and his merry band of Miners travel to Las Cruces this weekend for PFOWY 2: Electric Boogaloo.
The Owls opened the year with a 47-44 loss to Tulsa and last week fell to Miami by a score of 44-20. My advice this week? Avoid any score that includes the number 44. And make the guys who use number 44 (there were two on their preseason roster) wear different digits. And avoid those two Italian places over off 44th Street in Boca Raton. But you'd better hurry up and win because the ricotta cheesecake at La Villetta is too crazy good to keep avoiding. But it's also crazy rich. Actually, send Buffalo over there for dinner Friday night. Maybe that'll slow them down Saturday. Great, now I'm hungry. I gotta go.
Waiting list: Tulane (0-2), UC (not s) F (0-2), Van-duh-bilt (0-2), Army Black Nots (0-2), R-O-C-K in the UTSA (0-2), Tennessee in the 4th quarter, throat-slash gestures, taking a knee