The Bottom 10 inspirational thought of the week: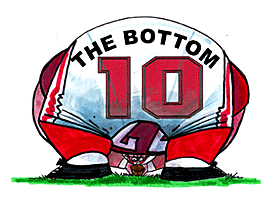 "What's your name, little girl?
What's your name?
Shootin' you straight, little girl?
Won't you do the same?"
-- "What's Your Name," Lynyrd Skynyrd
It wasn't 8 o'clock in Boise, I-da-ho, but kickoff was at 8 o'clock in Happy Valley. A few hours later, actually not long after 8 o'clock in Boise, I-da-ho, Rutgers interim head coach Norries Wilson took a seat for his first-ever postgame news conference with the Scarlet Knights.
Norries, having just lost 28-3 to old archrival and still-new Big Ten conference mate Penn State, was to act as the face of a program with a suspended head coach, an academic scandal, a disciplinary scandal and now a record of 1-2. This is what happened. Click on it. Trust me. It's the best minute you'll spend today that doesn't involve microwaving mac and cheese.
Coach Wilson brings up a fair question. What is your name? More accurately, what's your identity? Who exactly are you? It's a mystery way up there at the top of the college football pyramid, where even the great teams don't look so great (I wrote a column about it Monday). And it's even more of a question down here beneath the pyramid, amid the earthworms and a copy of "How To Be A College Head Coach" by Charlie Weis.
Teams that were supposed to be good are bad. Teams that were supposed to be bad are good. The College Football Playoff committee is going to have their hands full come November. Here at Bottom 10 headquarters, located in the closet where Danny Kanell keeps all his "I HEART THE SEC" shirts, we're already at a loss. And the teams we're watching have their hands full with losses. So, what's your name, Bottom 10? We need to know. Because back at the hotel, lord, we got such a mess ... oooh, yes. With apologies to Ronnie Van Zant and Steve Harvey, here's this week's Bottom 10.
The Other Aggies lost in another track meet with a fellow Bottom 10 team, surrendering a 14-point lead to UTEP over the final few minutes and falling 50-47 in OT. We pulled out the Bottom 10 media guide to see if this was indeed the first time that a team had started a season with two Pillow Fight of the Week losses over the first three games, but we couldn't read the page with the desired information on it because it was covered in Texas Pete hot sauce and what we think might be stale paprika.

The Jayhawks also blew a big lead Saturday, fumbling away a 10-point lead to the Fightin' Byes of Open Date U. Speaking of the Pillow Fight of the Week, Kansas travels to Rutgers this Saturday. I will be very disappointed if Coach Wilson doesn't walk through the KU pregame warm-ups asking, "What's your name? What's your name?"
In two consecutive weeks Wyoming has boosted an opponent out of the Bottom 10, first Eastern Michigan and then Washington State. Who's next? Hey, New Mexico State! Great news! You might be stepping into the leather-gloved hands of the Cowboys to be hoisted over the Bottom 10 retaining wall! Wait ... my producer is speaking into my earpiece ... OK ... sorry, they're playing New Mexico, not New Mexico State.
In the final 1:20 against Temple, UMass scored a touchdown to go up 23-20, had the PAT blocked and returned to make the score 23-22, and then gave up a 10-play, 50-yard drive that resulted in a field goal that made the score 25-23 with seven seconds remaining. That's taking being a Minuteman entirely too literally.
The Hogs have done what's rarely accomplished, locking up the Highly Coveted Number Five in consecutive weeks. I received an email from someone at HandsomeHeadCoach16@texastech.edu offering to write this entry for me because "I've got some more stuff I need to say to Bret," but I told him I felt like he'd already said enough.
This is how the conversation about these guys went in my house on Saturday night. Me: "Florida Atlantic got beat pretty bad by Buffalo." My wife: "Well, it doesn't seem fair that a college team would have to play the Buffalo Bills." Me: "Actually, it was the Buffalo Bulls." My daughter: "What's the Florida team's mascot?" Me: "The Owls." Daughter: "Well then, you shouldn't be surprised. An owl would never beat a bull." Me: "Where's the Tylenol?"
Losing to FI(not A)U in a close one? I totally understand. Losing on the road at Stanford? I get it, man. Losing at home to Furman? I'm officially out of reasons to not do this.
Last week the Scarlet Knights were the lead story on Outside The Lines three times. That's also the same number of points they scored against Penn State. Oh, and Coach Wilson, that guy's name is Bob Ley.
The Vandals won! The Vandals won! They came from behind to beat Wofford, the team picked to finish fourth in the FCS Southern Conference, but they won! Up next, one of college football's most history-rich rivalries, that classic Sun Belt throwdown against old and oh-so-regional rival Georgia Southern Not State.
Georgia State Not Southern won at New Mexico State, scored 28 at Oregon, and they've been sitting atop the Sun Belt standings for two weeks now. (Yeah, yeah, no one else has played a conference game yet, but still ...) So, there's a pretty good case here for them to no longer be ranked. But I've never written a Bottom 10 that didn't include at least one of the two GSUs. So ... sorry, Panthers, but I can't quit you!
Waiting list: UTEP (1-2), Tejas State (1-2), Van-duh-bilt (1-2), Army Black Nots (0-3), R-O-C-K in the UTSA (0-3), Loo-uh-vulle (0-3), UNLV (0-3), UConn's fake whatever that was play, all special teams ... like, for real, all of them.