The Bottom 10 inspirational thought of the week: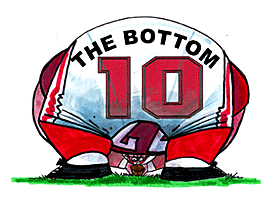 It's fun to stay at the Y-M-C-A

It's fun to stay at the Y-M-C-A
You can get yourself clean, you can have a good meal

You can do whatever you feel
Young man, are you listening to me?

I said: Young man, what do you want to be?

I said: Young man, you can make real your dreams

But you got to know this one thing!
No man does it all by himself

I said, young man, put your pride on the shelf

And just go there, to the Y-M-C-A

I'm sure they can help you today
It's fun to stay at the Y-M-C-A

It's fun to stay at the Y-M-C-A

-- "YMCA," The Village People
Oregon State coach Mike Riley might be headed to the local YMCA for reinforcements this week.
The Beavers, who were depleted by injuries during preseason camp, were embarrassed by FCS foe Sacramento State 29-28 in overtime at home in last week's opener. (If you're new to the Bottom 10 party, No. 5 is reserved for the top BCS blunder of the week.) But give the Hornets a lot of credit for winning. Quarterback Jeff Fleming connected with Brandyn Reed on a touchdown pass and two-point conversion in overtime as Sacramento State beat an FBS foe for the first time in 11 tries.
The victory had to make Sacramento State alumnus David Hodo feel good. Hodo was an original member of the Village People as the construction worker. Before putting on his sunglasses and a hard hat, Hodo was a roller-skating fire-eater. In fact, he retired from that job after nearly burning his face off, which earned him the moniker "Scar."
Riley can only hope his team's season doesn't go up in flames after such a dreadful loss. But the Beavers weren't alone in their humiliation against an FCS foe. Duke lost to Richmond 23-21, its third straight loss to the Spiders. UTEP needed overtime to defeat Stony Brook 31-24, and Wyoming needed a touchdown pass with 22 seconds left to beat Weber State 35-32. Elsewhere, Iowa State narrowly defeated Northern Iowa 20-19; Washington escaped with a 30-27 win over Eastern Washington; and Kansas State barely beat Eastern Kentucky, 10-7.
With apologies to Steve Harvey and the Village People, here's this week's Bottom 10:
Waiting list: North Texas (0-1), Georgia's uniforms, Maryland's uniforms, SMU's onside kick, TCU's defense, bad weather, Kent State (0-1), Oregon's punt returns, Louisiana-Monroe (0-1), Florida Atlantic (0-1), Auburn's defense, Kentucky's offense, Idaho (0-1), Akron's complaining, Derek Dooley's pants, Boise State's shoes, Purdue's home crowd, Arkansas State (0-1), Ole Miss' play calling, Indiana (0-1), Notre Dame's turnovers, Rice (0-1).
Mark Schlabach covers college football for ESPN.com.