The Bottom 10 inspirational thought of the week: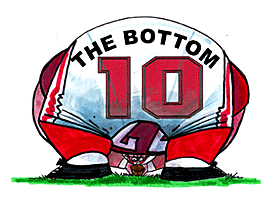 Are you tired of losing, Ole Miss fans?

A cloud hangs over us. We're told we'll never compete in the SEC.

That we lack the talent. The fan support. And the funding.

We respectfully disagree.

We believe that Ole Miss can compete in the SEC. And win championships.

We believe that our coaches are not the problem. Or our athletes. Or our fans.

The Ole Miss Administration is the problem.

Our leadership has failed us. And our leadership must be held accountable.

Our coaches and athletes deserve it. Ole Miss supporters deserve it.

We've waited long enough. We're tired of losing.

It's time for a change.

-- Forward Rebels
Those words weren't included in some fairy tale the Bottom 10 read to its children earlier this week, in which Ole Miss actually competed for and won SEC titles and where Bulldogs, Crimson Tide, Razorbacks and Tigers didn't really exist.
Those words were actually the contents of a full-page advertisement a group of Ole Miss boosters, who call themselves "Forward Rebels," paid to have published earlier this week in five newspapers in Mississippi and one in Tennessee.
The Rebels were thoroughly embarrassed in a 30-7 loss at Vanderbilt last week, which was the Commodores' largest margin of victory in an SEC game since 1971. The Rebels narrowly avoided being shut out by the Commodores for the first time since 1946, scoring a touchdown with just over two minutes to play.
After leading the Rebels to back-to-back Cotton Bowl appearances in his first two seasons at Ole Miss in 2008 and '09, Houston Nutt's team limped to a 4-8 mark in 2010, including a woeful 1-7 record in SEC play. Ole Miss is 1-2 this season, with its only victory coming against FCS foe Southern Illinois.
Ole Miss fans are tired of losing, and Nutt knows it.
"It's a bad vibe right now," he told reporters earlier this week.
It won't get any easier for Ole Miss, which earned the not-so-coveted No. 5 spot in this week's Bottom 10 (if you're new to the Bottom 10, No. 5 is reserved for the top BCS blunder of the week). The Rebels host Georgia on Saturday and play No. 3 Alabama and No. 14 Arkansas in consecutive weeks in October.
Nutt could really use a creative ad man to swing public support back in his direction.
With apologies to Steve Harvey and Forward Rebels, here's this week's Bottom 10, along with some of the best ad slogans of all time:
Waiting list: Arizona State's offensive line, Auburn's defense, Buffalo (1-2), BYU's turnovers, Connecticut (1-2), Duke (1-2), East Carolina (0-2), Indiana (1-2), Kansas' run defense, Marshall (1-2), Maryland's suspensions, Memphis (1-2), Miami, Ohio (0-2), Middle Tennessee State (0-2), Minnesota (1-2), Ohio State's offense, Pittsburgh's collapse, South Carolina's extended stays, Tulsa's late-night football, UNLV (1-2), Washington's special teams.
Mark Schlabach covers college football for ESPN.com.