The Bottom 10 inspirational thought of the week: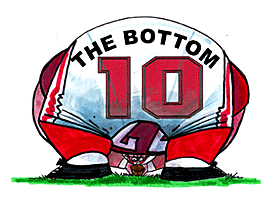 That's great, it starts with an earthquake, birds and snakes, an aeroplane,

Lenny Bruce is not afraid.

Eye of a hurricane, listen to yourself churn -- world serves its own needs, regardless of your own needs.

Feed it up a knock, speed, grunt no, strength no.

Ladder structure clatter with fear of height, down height.

Wire in a fire, represent the seven games in a government for hire and a combat site.

Left of West and coming in a hurry with the furies breathing down your neck.

Team by team reporters baffled, trump, tethered crop.

Look at that low plane! Fine then. Uh oh, overflow, population, common group, but it'll do.

Save yourself, serve yourself. World serves its own needs, listen to your heart bleed.

Tell me with the rapture and the reverent in the right -- right.

You vitriolic, patriotic, slam, fight, bright light, feeling pretty psyched.

It's the end of the world as we know it.

It's the end of the world as we know it.

It's the end of the world as we know it and I feel fine.
-- "It's the End of the World As We Know It (And I Feel Fine)" -- R.E.M.
You know it's the end of the world if Temple is beating anybody by 31 points, let alone a team from a BCS conference.
And Maryland certainly can't feel fine after getting taken to the woodshed by a Steve Addazio-coached team.
The Owls blasted the Terrapins 38-7 on the road Saturday, their first victory over an ACC team and first road win over a team from an AQ conference since 2002.
Maybe the Terrapins need to start spending less time choosing their wardrobe and more time studying X's and O's. The embarrassing home loss earned Maryland the not-so-coveted spot in this week's Bottom 10 (if you're new to the Bottom 10, No. 5 is reserved for the top BCS blunder of the week).
An important part of the Bottom 10's world ended last week, when R.E.M. announced it was breaking up after 31 years together. The Athens, Ga.-based band will release three more new songs on a greatest hits album, which will be released in November. The Bottom 10 can't wait to hear "A Month of Saturdays." Until then, the Bottom 10 house band makes a rare encore and final appearance.
It's been a month of Saturdays to forget for the Bottom 10, especially the Bottom 10 all-time coach of the year, former New Mexico coach Mike Locksley. Locksley's head-coaching career ended, almost mercifully, on Sunday, after his teams compiled a 2-26 record in two-plus seasons. The Lobos will still pay Locksley $500,000 over the next three years for accomplishing absolutely nothing during the previous three years. Go figure.
With apologies to Steve Harvey and Michael Stipe, here's this week's Bottom 10:
Waiting list: ACC's weekend, Akron (1-3), Big East replay officials, Boston College (1-3), Buffalo (1-3), Central Michigan (1-3), Dragonfly swarms in Miami, Elevators in Buffalo, Free flights to Tennessee, Idaho (1-3), Indiana (1-3), Kent State (1-3), Louisiana-Monroe (1-3), Marshall (1-3), Miami (Ohio) (0-3), North Texas (1-3), Ole Miss (1-3), Rice (1-2), San Jose State (1-3), Scooter rides in Tallahassee, South Carolina's passing game, Star Wars references, Texas A&M's turnovers, Utah State's finishes, Western Kentucky (0-3).
Mark Schlabach covers college football for ESPN.com.