The Bottom 10 inspirational thought of the week: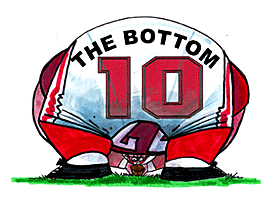 Alan: Hey, everybody, here's some fun facts: The population of Thailand is 63 million people. It is twice the size of Wyoming. Its chief exports are textiles, footwear and rice. Each year, approximately 13,000 people are killed in car accidents in Thailand. The climate in Thailand …

Doug: Alan, why don't you skip to the last card?

Alan: None of you know Stu like I do. Not you. Not you. Not you. Not nobody knows Stu like I do. I can't even tell you what we've been through because we made a pact, more important than blood. What I can tell you is this: This is not Stu's first marriage.

-- "The Hangover Part II," Zach Galifianakis and Justin Bartha
This isn't Texas A&M's first marriage.
And Lord knows the Aggies have had a helluva hangover the last two weeks.
After four games, Texas A&M might feel like a bit of a loner this season, as it plays its last season in the Big 12 before moving to the SEC in 2012. At least the Aggies know there will always be room for them in the Bottom 10's wolf pack of woebegone programs.
A week after blowing a 17-point lead in the second half of a 30-29 loss to Oklahoma State, the Aggies did it again against Arkansas at Jerry's World on Saturday. After taking a 35-17 lead at the half over the Hogs at Cowboys Stadium, the Aggies managed only a field goal in the second half of a 42-38 loss.
"We'll have some heart-to-hearts this week, particularly on Monday, about which direction we're going to go and make sure that what happened today doesn't happen again," Texas A&M coach Mike Sherman said after the Aggies' second straight deflating loss.
Here's hoping Sherman didn't deliver the same speech the week before. The Aggies' back-to-back collapses earned them the not-so-coveted No. 5 spot in this week's Bottom 10.
With apologies to Steve Harvey and Zach Galifianakis, here's this week's Bottom 10:
Waiting list: Boston College (1-4), Buffalo (1-4), Georgia's Speed Racer, Idaho (1-4), Indiana (1-4), Kent State (1-4), Kneeing at Illinois, Louisiana-Monroe (1-3), Louisiana Tech (1-4), "Marking" your territory between the hedges, North Texas (1-4), Not-so-excessive celebrations at Navy, Ohio State's internal investigations (guaranteed in 30 days or less), Oregon State (0-4), Rice (1-3), SMU/TCU mixers, South Carolina's beardless quarterback, Utah State's two-minute drill.
Mark Schlabach covers college football for ESPN.com.