The Bottom 10 inspirational thought of the week: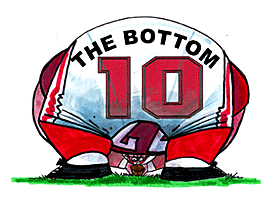 Randy Meeks: "And No. 3: Never, ever, ever under any circumstances say, 'I'll be right back.' Cause you won't be back."
Stu Macher: "I'm getting another beer. You want one?"
Meeks: "Yeah, sure."
Macher: "I'll be right baaack!"
Meeks: "See? You push the laws and you end up dead. OK, I'll see you in a kitchen with a knife."
-- Jamie Kennedy and Matthew Lillard, "Scream"
The Bottom 10 loves Halloween, especially scary movies. No matter how many times you see them, even when you know the ending, it still makes the hairs on the back of your neck stand up.
Kind of like college football. Just as Jamie Kennedy laid out the ground rules governing a good scary movie in Wes Craven's "Scream," college football fans know a gory ending when they see one. Which is why they shouldn't have been surprised to see Illinois go down for the second week in a row, this time to Purdue.
Florida fans, especially, have seen how this movie ends, so Illini fans are forgiven for covering their eyes.
After winning their first six games, their best start in 60 years, the Illini have lost consecutive games to struggling Ohio State (17-7) at home and at Purdue (21-14) last week. A third consecutive loss might be just around the corner when Illinois plays at No. 19 Penn State on Saturday.
Ron Zook has apparently ditched the costume he wore during the first six games of the season. You know, the one that made him look like a really good coach. Gators fans will tell you Zook has been masquerading as a head coach for years.
"You just don't get bad," Zook told reporters Tuesday. "You just don't become a bad coach. It just doesn't happen."
Of course, former New Mexico coach Mike Locksley, a one-time Zook assistant, proved some guys are actually born that way.
Some Bottom 10 teams are starting to turn the corner, shedding their frightening costumes of ineptitude and incompetence. UAB won its first game, upsetting Central Florida 26-24 in Birmingham, Ala. Memphis won its second game, 33-17 at Tulane. And Oregon State, which has played dead for much of the season, defeated Washington State 44-21 after spending the night in a Seattle hotel, which was also hosting something called zomBcon 2011.
The rest of the Bottom 10 will still be masquerading as football teams this weekend, despite much evidence to the contrary. College football fans have seen plenty of unsightly uniforms this season, but Bottom 10 teams might want to wear costumes to hide their true identities when they take the field this weekend.
As for Illinois, Zook is confident his team will respond well in Happy Valley. Dare he say that the Illini will be back? A frightening thought. He might want to freshen up on his scary movie rules.
With apologies to Steve Harvey, Jamie Kennedy and Wes Craven, here's this week's Bottom 10:
Waiting list: Arizona's poseur ref, Army (2-5), Boston College (1-6), Buffalo (2-6), Central Michigan (2-6), Houston Nutt's rant, Kansas (2-5), LSU's Spice Boys, Maryland (2-5), Memphis (2-6), Miami (Ohio) (2-5), Navy (2-5), Oregon's pregame penalty, Paul Rhoads' Pete Townshend impersonation, Rice (2-5), Tulane (2-6), Tulsa's helmets, USC's trash talk, Washington's run defense.
Mark Schlabach covers college football for ESPN.com.