The Bottom 10 inspirational thought of the week: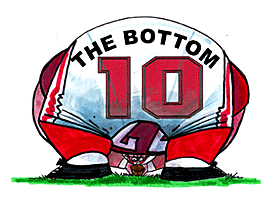 "In 1930, the Republican-controlled House of Representatives, in an effort to alleviate the effects of the …
Anyone? Anyone?
The Great Depression. Passed the …
Anyone? Anyone?
The tariff bill? The Hawley-Smoot Tariff Act, which, anyone?
Raised or lowered?
Raised tariffs, in an effort to collect more revenue for the federal government. Did it work?
Anyone? Anyone know the effects?
It did not work, and the United States sank deeper into the Great Depression. Today we have a similar debate over this. Anyone know what this is?
Class? Anyone? Anyone? Anyone seen this before?
The Laffer Curve. Anyone know what this says? It says that at this point on the revenue curve, you will get exactly the same amount of revenue as at this point. This is very controversial.
Does anyone know what Vice President Bush called this in 1980?
Anyone?
Something-d-o-o economics. 'Voodoo' economics."

-- Ben Stein, "Ferris Bueller's Day Off."
The Bottom 10 has always believed in something called the Laugher Curve.
It explains how New Mexico can get its first win of the season. Or how Boise State can be knocked out of the national championship race by a missed field goal -- in consecutive seasons.
The Bottom 10 also loved "Ferris Bueller's Day Off" and filmmaker John Hughes' other iconic hits of the 1980s. Hughes' films brought us "Brat Pack" stars, Matthew Broderick, Macaulay Culkin and some righteous soundtracks.
In Hughes' films like "Weird Science" and "Sixteen Candles," losers and underdogs always found a way to win.
Hughes, who died of a heart attack in 2009, must still be writing scripts from above. How else can the Bottom 10 explain the lowly Lobos beating UNLV 21-14 on Saturday night for their first victory of the season? New Mexico recovered a fumble in the final two minutes and then won the game on Demarcus Rogers' 1-yard run with 1:15 to go.
The Lobos' victory leaves Florida Atlantic as the only remaining winless FBS team.
The Laugher Curve must also explain why Arizona State keeps getting the same results over and over again. With a chance to take control of the Pac-12 South, the Sun Devils lost at Washington State 37-27 on Saturday. Even Hughes, an Arizona State dropout who left school to become a professional joke writer, couldn't have written this script. The Sun Devils allowed Cougars freshman Connor Halliday to throw for 494 yards with four touchdowns at snowy, wet Martin Stadium in Pullman, Wash.
That performance earned the Sun Devils the not-so-coveted No. 5 spot in this week's Bottom 10.
With apologies to Steve Harvey, Ben Stein and John Hughes, here's this week's Bottom 10, along with some of Hughes' memorable movies:
Waiting list: Arizona (2-8), Army (3-7), Buffalo (2-8), Central Michigan (3-8), Colorado State (3-6), Duke (3-7), Fresno State (3-7), Georgia Tech's puncher's chance, Idaho (2-8), Louisville's sore thumbs, Middle Tennessee (2-7), Minnesota (2-8), Oregon State (2-8), Rice (3-7), Ron Zook's exit, San Jose State (3-7), Texas A&M in the second half, Texas Tech in all four quarters, Troy (2-7).
Mark Schlabach covers college football for ESPN.com.