The Bottom 10 inspirational thought of the week: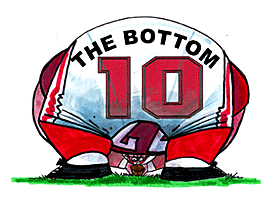 When I feel that chill, smell that fresh cut grass

I'm back in my helmet, cleats and shoulder pads

Standing in the huddle listening to the call

Fans going crazy for the boys of fall

They didn't let just anybody in that club

Took every ounce of heart and sweat and blood

To get to wear those game day jerseys down the hall

Kings of the school man, we're the boys of fall
Well it's turn and face the Stars and Stripes

It's fighting back them butterflies

It's call it in the air, alright yes sir we want the ball

And it's knocking heads and talking trash

It's slinging mud and dirt and grass

It's I got your number, I got your back when your back's against the wall

You mess with one man you got us all

The boys of fall

-- Kenny Chesney, "The Boys of Fall"
Bottom 10 teams were again the boys of fall.
Over the last three months, the Bottom 10 did what it does better than anyone else, falling to superior opponents.
It was a rough weekend for the Bottom 10, as coaches at Akron, Kansas, Memphis and UAB were fired. Houston Nutt coached his final game at Ole Miss after he was fired earlier this month, and Tulane's Bob Toledo didn't even last that long before getting a pink slip.
Florida Atlantic's Howard Schnellenberger, who guided his team to its first victory with a 38-35 win over UAB, will coach one more game Saturday, against Louisiana-Monroe in this week's Pillow Fight of the Week.
Perhaps no coach had a worse week than Tennessee's Derek Dooley, who watched the Volunteers fall to Kentucky 10-7. The loss not only ended the Volunteers' 26-game winning streak over the Wildcats, it also knocked UT out of bowl consideration. Kentucky won the game despite playing receiver Matt Roark at quarterback, a position he hadn't played since high school.
As poorly as the Volunteers played, they might have been better off with Chesney under center. A lifelong UT fan, Chesney idolized former Volunteers quarterback Condredge Holloway and remains close to former Vols All-American Peyton Manning.
With apologies to Steve Harvey and Kenny Chesney, here's this week's Bottom 10, along with some of Chesney's biggest hits:
Waiting list: ACC vs. SEC, Bobby Petrino's postgame handshake, Buffalo (3-9), Central Michigan (3-9), Colorado State (3-8), Duke (3-9), Florida's offense, Idaho (2-9), Middle Tennessee (2-9), Oregon State (3-9), Texas Tech's finish, Troy (3-8), UCLA in a championship game, UNLV (2-9), Wake Forest's effort.
Mark Schlabach covers college football for ESPN.com.