The Bottom 10 inspirational thought of the week: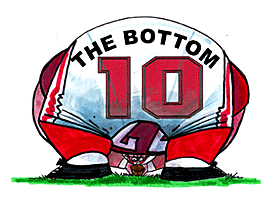 I'm singing in the rain

Just singing in the rain

What a glorious feelin'

I'm happy again

I'm laughing at clouds

So dark up above

The sun's in my heart

And I'm ready for love

Let the stormy clouds chase

Everyone from the place

Come on with the rain

I've a smile on my face

I walk down the lane

With a happy refrain

Just singin'

Singin' in the rain

-- "Singin' in the Rain," Gene Kelly
The Bottom 10 was ready to fall in love again and that moment finally arrived. It was hard to resist the temptation to break out in song and dance after the anticipation and excitement finally gave way to the 2012 season's opening ceremonies.
There was plenty of pomp and pompoms, but less in the way of circumstance and substance during Week 1. We were treated to the usual fare of cartoonishly lopsided scorelines, directional school doormats and declarations of SEC superiority (both self-proclaimed and self-evident).
Another trend caught the Bottom 10's attention, one that would seem an anathema to ordained college football tradition, but is nonetheless alive and well in 2012.
New York City Fashion Week begins today, but college football pre-empted the party with its own unveiling of the latest fall trends. Who needs the runways of New York, Paris and Milan when you've got the hashmarks of Eugene, Ore., to make bold style choices?
Traditional and buttoned-up Alabama even got in on the action … well, AJ McCarron did, at least. The Crimson Tide QB sported a pregame purple bow tie ahead of the Tide's dismantling of Michigan, presumably from the 2012 collection of Things Nick Saban Would Never Wear.
Georgia Tech drew inspiration from honeycombs for the geometric patterns adorning its jerseys. Yellow Jackets AD Dan Radakovich explained the style choice thusly: "Uniform design is a very hot topic among student-athletes. College football players today want to feel they have the most modern, cutting-edge designs in which to perform."
Who knew? At least the Bottom 10 learned something in Week 1.
Bottom 10 favorite Gene Kelly is no stranger to style (and grace), but the same can't be said of his alma mater, Pittsburgh, after Week 1. The Panthers have changed coaches like Oregon changes wardrobes in recent years, and the latest outfit, led by Paul Chryst, didn't debut very well.
Stormy weather delayed the start of Pitt's home opener against Youngstown State, and Panthers fans probably wish the rain washed away the game -- and their sorrows -- after seeing the Penguins pick up their first win over a BCS school with a 31-17 victory over the Panthers.
Youngstown State is no slouch and counts college football fashion icon Jim "The Vest" Tressel among its former coaches, but a loss to an FCS foe in a home opener earns the Panthers the coveted No. 5 spot this week.
This week's Pillowfight of the Week pits Middle Tennessee, which fell to FCS program McNeese State, against Florida Atlantic, which needed a fourth-quarter touchdown to beat Wagner 7-3.
With apologies to Steve Harvey and Gene Kelly, here is this week's Bottom 10.
Waiting list: "buy games"; Kent State's sense of direction; Grand reopenings at Cal; Conference USA West; Oklahoma special-teams protection; Marshall pass defense; Maryland home-field advantage.
Conor Nevins is a college football editor for ESPN.com.