The Bottom 10 inspirational thought of the week: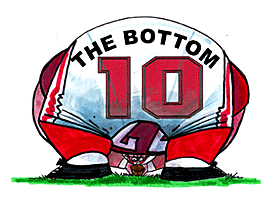 I tried so hard to pretend, dear

That losing you meant nothing to me

But 'til you're mine once again, dear

Make believe is all my life will be

Ah-ah, ah-ah, ah-ah
The joker, though he seems happy

Because you have found someone new

But somewhere deep inside beneath his strange disguise

The joker is crying over you

-- "The Joker," The Hilltoppers
Kentucky head coach Joker Phillips put on a brave face, and his demeanor betrayed no hint of desperation, but even he can't deny what the Bottom 10 can see clear as day: the inexorable crawl toward antipathy creeping up on the Commonwealth after the Wildcats' 32-31 overtime loss to Western Kentucky on Saturday.
Through sheer tenacity, and with a bit of trickery, the Hilltoppers secured a triumph for directional schools, who are so often dismissed as little more than a Homecoming Weekend garnish to satiate the appetite of State U.
With a game-winning 2-point conversion -- on a trick play, no less! -- WKU turned the tables on its tormentors, earning the Wildcats the coveted No. 5 spot in this week's Bottom 10.
"WKU red is the new blue," proclaimed Hilltoppers head coach Willie Taggart. The Bottom 10 is willing to indulge in such hyperbole, if only this one time. After all, we're talking about a program that endured a 26-game losing streak during its FBS transition.
Surviving growing pains such as those entitles Western Kentucky to enjoy a little taunt while toasting its newfound success. Heck, the Hilltoppers ought to sing songs to commemorate their Lexington achievement, just as the pop band of the same name did in Bowling Green 60 years ago.
If there's a silver lining for Kentucky fans, it's that there are only 23 days until the first official basketball practice! That's right, it's never too early for college basketball in Lexington, a hoops oasis in SEC country. Tickets for Big Blue Madness are available on Saturday, which is probably a good time for Wildcats fans to start diverting their attention away from the gridiron. UK's upcoming schedule is as follows: at Florida, vs. South Carolina, vs. Mississippi State … well, you get the idea.
Phillips knows better than most that legacies in Lexington are built from bricks made of orange rubber and nets. He played football at UK when men's basketball coach Joe B. Hall was undertaking, quite successfully, the unenviable task of succeeding the legendary Adolph Rupp. The Wildcats named the building after the latter; on Tuesday, they unveiled a statue to honor the former.
Given that precedent of idolatry, there's no telling what's in store for current coach John Calipari at the rate he's going. A statue might not be enough. They may as well name the place after him (eat your heart out, Nick Saban).
In the meantime, get in line, because tickets for Big Blue Madness will go fast. And dream no more dreams of football futility, UK fans, a new season on the hardwood will be here soon enough.
The Pillowfight of the Week is Wyoming at Idaho.
With apologies to Steve Harvey and The Hilltoppers, here is this week's Bottom 10.
Waiting list: Kicking; Hollywood besting Silicon Valley; Utah field rush I; Utah field rush II; Arkansas capitulation; Ole Miss tackling; Virginia Tech fundamentals; USF turnovers; Louisville's fourth-quarter focus; Wisconsin's field goal fortune.
Conor Nevins is a college football editor for ESPN.com.