The Bottom 10 inspirational thought of the week: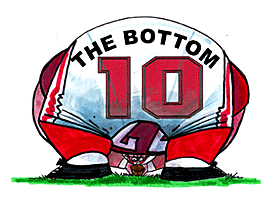 Will you love me even though I'm throwing up on stage?"

-- Justin Bieber
There is no entry for "Bieber Fever" on WebMD and there is no known cure.
Symptoms include rabid Twitter fan accounts, high-pierced shrieking, occasional bouts of hysterical crying -- any type of irrationally exuberant behavior characteristic of teenage girls.
The cause of this affliction, Justin Bieber, was struck with a bout of sickness Saturday as he kicked off his world tour, excusing himself not once, but twice, after throwing up on stage. He later blamed the sickness on a case of bad milk, which, apparently, does not do a body good.
Bieber asked his adoring fans if they still loved him despite having lost his lunch. They responded enthusiastically in the affirmative. If only defensive coordinators had such a forgiving audience.
A different type of fever swept across college football this weekend, infecting teams across the country. Symptoms included blown coverage assignments, missed tackles and general defensive disarray.
Idaho came down with the worst case. The Vandals allowed 371 yards and 45 points in the first half of a 66-0 loss to North Carolina, enough to earn them the top spot in this week's Bottom 10.
Georgia Tech fans might have reached for the vomit bag after seeing the Yellow Jackets give up more than 500 yards to Middle Tennessee in a 49-28 loss. A week ago, they squandered a 17-point second-half lead in a loss to Miami, allowing more than 600 yards. It was enough to earn the Yellow Jackets the coveted No. 5 spot.
Eight teams remain winless this season. Eastern Michigan and Memphis earn a reprieve this week after being off in Week 5. The rest will spend this week in quarantine, treated to the heartfelt crooning of the Bottom 10's favorite Canadian teenage pop star.
A cure might even be forthcoming for Idaho. The Vandals host New Mexico State in the Pillow Fight of the Week.
With apologies to Steve Harvey and Justin Bieber, here is this week's Bottom 10:
Waiting list: Akron (1-4); Cal (1-4); Colorado (1-4); Colorado State (1-4); Hawaii (1-3); Kentucky (1-4); Navy (1-3); Norm Chow: QB guru; Ohio State video return policy; Rice (1-4); South Alabama (1-4); Stanford's rush attack vs. Washington; Tackling; Tennessee turnovers; UTEP (1-4); Virginia Tech prevent defense.
Conor Nevins is a college football editor for ESPN.com.