The Bottom 10 inspirational thought of the week: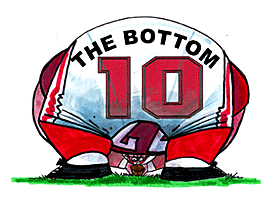 Love, I don't like to see so much pain

So much wasted and this moment keeps slipping away

I get so tired of working so hard for our survival

I look to the time with you to keep me awake and alive

And all my instincts, they return

And the grand facade, so soon will burn

Without a noise, without my pride

I reach out from the inside

-- Peter Gabriel, "In Your Eyes"
Auburn coach Gene Chizik swallowed his pride and apologized Saturday.
"The Auburn fans and the Auburn family, they did not deserve this today, and I apologize to anybody who came to the game to watch it," said Chizik.
There was plenty to be sorry for. Hosting an Arkansas team that had lost by a combined 110-10 through its first two league games, Auburn looked disheveled and disorganized on offense in a 24-7 loss to the woebegone Razorbacks, dropping the Tigers to 1-4 overall, 0-3 in SEC play, and earning them our coveted No. 5 spot.
Short of an apology (and better on-field results), what can be done to repair the relationship between Chizik and Tigers fans? The Bottom 10 suggests Chizik channel his inner Lloyd Dobler from "Say Anything," ditch his leather jacket for a trenchcoat, and stand at the 50-yard line of Jordan-Hare Stadium with a boom box over his head, blasting Peter Gabriel's "In Your Eyes."
John Cusack and Gabriel recreated the iconic scene from the 1989 movie at the latter's concert in Los Angeles on Saturday night, evoking memories of the kind of whimsical romance that made the movie such a cult classic.
If only Auburn fans could return to those nostalgic days of the 2010-11 season, when they saw Chizik hoist the BCS crystal trophy. The Tigers have an opportunity for redemption -- and a first league win -- at fellow SEC-winless Ole Miss on Saturday. The Bottom 10 is going to call it a special SEC edition of the Pillow Fight of the Week.
Southern Miss is another team yearning for the not-so-distant past. At this time last season, the Golden Eagles were in the midst of building a 12-win season. This season, they're one of four remaining winless FBS teams, joining Tulane, Eastern Michigan and UMass. The Minutemen replace Idaho at No. 1; the Vandals were joined by UAB, Memphis and Army in picking up their first wins of the season last week.
With apologies to Steve Harvey and Peter Gabriel, here is this week's Bottom 10:
Waiting list: Buffalo (1-4); Boston College (1-4); Colorado State (1-5); Hawaii (1-4); Illinois (2-4); Kentucky (1-5); South Florida (2-4); UNLV (1-5); UTEP (1-5); Wyoming (1-4).
Conor Nevins is a college football editor for ESPN.com.