The Bottom 10 inspirational thought of the week: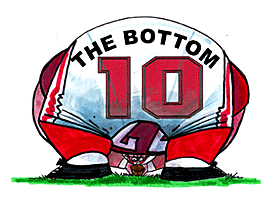 "We know that some of the ideas we try are, frankly, ridiculous. I'll put it this way: Sometimes, you have to try things that are completely wrongheaded than be overly cautious. That's one of the problems with programming -- that people try and remake past success."

-- Mike Lazzo, senior executive VP of Cartoon Network's Adult Swim, as told to Variety
Cartoon Network celebrated its 20th anniversary this month. It was a bold experiment: a cable network dedicated entirely to animated programming, challenging industry assumptions that cartoons were the domain of the Saturday morning cereal crowd.
The network thought differently, empowering creative minds to think outside the box. The Bottom 10, a lover of all animation from Looney Tunes to Adult Swim, is sure glad it did.
A bold experiment in college football, the spread offense, attracts its own brand of unorthodox thinkers, intent on redrawing established lines of play calling and game management.
As Cartoon Network was blowing out the candles in celebration of its sustained success, the spread offense, rarely taken seriously as a championship-winning formula, was toasting its newest champion.
After six weeks, West Virginia had added its name to the list of national championship contenders. Coach Dana Holgorsen's spread had the potency of a creation cooked up in Dexter's Laboratory with the beefed-up bravado of Johnny Bravo.
The Mountaineers were putting up numbers that were, frankly, cartoonish, and many wondered if they could ride their offensive animation to the BCS title game.
In Week 7, West Virginia met the villain that would prove to be its undoing: the Masked Rider. It's an episode the Bottom 10 (and Texas fans) have seen before. Texas Tech stymied the Mountaineers' offense and, with no defense to fall back on, they fell 49-14 in Lubbock, earning the coveted No. 5 spot.
Southern Miss would probably prefer to spend Saturdays watching cartoons these days; the Golden Eagles' season is providing gallows humor at best. As one of the three remaining winless FBS teams, they take their turn at No. 1 in the Bottom 10 this week.
The Pillow fight of the week is Eastern Michigan versus Army.
With apologies to Steve Harvey and cartoon enthusiasts everywhere, here is this week's Bottom 10:
Waiting list: Army (1-5); Auburn (1-5); Beating the traffic in Shreveport, La.; Buffalo (1-5); Boston College (1-5); Colorado (1-5); Colorado State (1-6); Hawaii (1-5); Illinois' offense; Kansas media relations; Kentucky (1-6); Memphis (1-5); South Alabama (1-5); Texas defense; Texas offense; Texas special teams; UAB (1-5); UTEP (1-6); Wyoming-Air Force exchange of pleasantries.
Conor Nevins is a college football editor for ESPN.com.