The Bottom 10 inspirational thought of the week: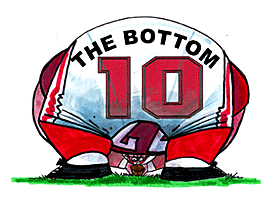 Woody: "All right, that's enough! Look, we're all very impressed with Andy's new toy."

Buzz Lightyear: "Toy?"

Woody: "T-O-Y, toy!"

Buzz Lightyear: "Excuse me, I believe the word you're searching for is 'Space Ranger.'"

Woody: "The word I'm searching for I can't say because there's preschool toys present."

-- Tom Hanks and Tim Allen, "Toy Story"
The Bottom 10 may be home to the Toilet Bowl but it is no place for potty mouths.
Think of the children and the preschool toys, for goodness' sake!
Woody had the decency to refrain himself. The same cannot be said of the Academy Award-winning actor who provided Woody's voice. Nor can it be said of college football coaches.
Tom Hanks' F-bomb faux pas on "Good Morning America" Tuesday earns the Bottom 10's forgiveness for being a case of putting his foot in his mouth.
Wyoming coach Dave Christensen needs to put a bar of soap in his.
The Cowboys suspended Christensen for one game and fined him $50,000 after video of his foul-mouthed tirade during a postgame handshake with Air Force coach Troy Calhoun went viral.
The Mountain West reprimanded Christensen after the incident, which took place after Air Force's 28-27 win on Oct. 13, but the Cowboys waited until Monday to announce his suspension and fine.
Christensen took exception to what he viewed as time-wasting tactics by the Falcons, accusing an Air Force player of faking an injury to stop the clock right before the play that produced the game-winning touchdown.
The Bottom 10 took exception to Christensen's affront on coaching decorum and his inappropriate invocation of Howdy Doody's name.
Cincinnati was headed to infinity and beyond until Toledo's Rockets shot the Bearcats out of the sky. Toledo is a fine team, but anytime hopes of an unbeaten season come undone at the hands of a MAC opponent, it's worthy of No. 5 distinction.
Southern Miss faces Rice in the Pillow Fight of the Week.
With apologies to Steve Harvey and Tom Hanks, here is this week's Bottom 10:
Waiting list: Army (1-6); Auburn (1-6); Buffalo (1-6); Boston College (1-6); Colorado (1-6); Colorado State (1-6); Hawaii (1-5); Kentucky (1-7); Memphis (1-6); Tulane (1-6); UAB (1-6); West Virginia; and South Carolina's title hopes.
Conor Nevins is a college football editor for ESPN.com.