The Bottom 10 inspirational thoughts of the week: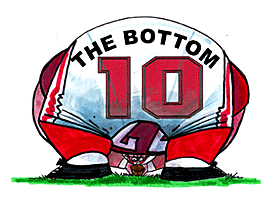 "You can't always get what you want

You can't always get what you want

You can't always get what you want

But if you try sometimes, well, you just might find

You get what you need"

-- Mick Jagger and Keith Richards, The Rolling Stones
Not every team in the SEC can have moves like Jagger.
For every championship contender, there's a team left to eke out a living in the league's trash heap. There's just not enough glory and grandeur to go around.
Auburn, Tennessee and Kentucky know the feeling. Each team needs a league win in the worst way.
Heck, they'd take any win at this point.
Perhaps what they might want most of all is mercy, mercy from the blowouts, the shutouts and being the butt of the league's jokes. It's hard being a punching bag in a league that hits so hard.
Joker Phillips won't return as head coach next season. Derek Dooley's and Gene Chizik's days may be numbered as well, which is all the more shocking considering the latter is less than two years removed from winning a national championship.
But that's life in a league where longevity is a luxury few can afford, and you can't rely on past successes to keep fans happy and entertained.
The Rolling Stones have no such problem. Jagger, Richards and Co. are set to embark on a 50th anniversary tour, relying on a catalog of hits that will be sure to sell out arenas and keep their fans happy and coming back for more.
The Stones played their first gig in 1962. Ten years prior, Auburn endured its first winless SEC season. It's not the kind of anniversary folks want to commemorate on the Plains.
"You can't get away from that number," Richards told The New York Times.
Neither can Kentucky, Auburn or Tennessee, who can't escape their combined 0-20 in SEC play, earning them this week's coveted No. 5 spot.
The Bottom 10 has sympathy for the Wildcats, Tigers, Vols and all of its creatures. They're beasts of burden, every one of them, and time is most certainly not on their side with only two weeks remaining.
You'd have to have a heart of stone not to smile at UMass' win over Akron last week, giving the Minutemen their first win as a FBS member. It leaves Southern Miss as the Bottom 10's undisputed champion (and only remaining winless FBS team).
The Golden Eagles will have to find satisfaction with that distinction, because they can't get it anywhere else.
UTEP visits the Golden Eagles in the Pillow Fight of the Week.
With apologies to Steve Harvey and the Rolling Stones, here is this week's Bottom 10:
Waiting list: Boston College (2-8); Coaching anger management; Illinois (2-8); Louisville's Orange crush; South Alabama (2-8); Tulane (2-8); UNLV (2-9); UTEP (2-8); West Virginia's free fall.
Conor Nevins is a college football editor for ESPN.com.