The Bottom 10 inspirational thought of the week: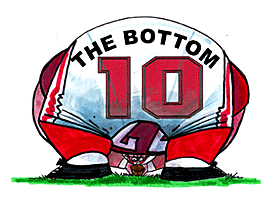 Howard Payne: "You think I wouldn't have been prepared? Two years I spent setting up that elevator job, two years I invested in it. You couldn't understand the kind of commitment that I have. You ruined a man's life's work and you think you can walk away? You got blinders on to the world! But I got your attention now, didn't I Jack?"
Jack Traven: "Why didn't you just come after me?"
Howard Payne: "No, this is about me! This is about my money. This is about money due me, which I will collect! 3.7 million dollars! It's my nest egg, Jack. At my age you have to think ahead."
Jack Traven: "When I find you..."
Howard Payne: "Pop quiz, hotshot. There's a bomb on a bus. Once the bus goes 50 miles an hour, the bomb is armed. If it drops below 50, it blows up. What do you do? What do you do?"
-- Dennis Hopper and Keanu Reeves, "Speed"
In the 1994 movie "Speed," Keanu Reeves and Sandra Bullock spent most of the film's two hours trying to get off a commuter bus in Los Angeles that was rigged with a bomb.
Pop quiz, hotshots: Who wanted to get off a bus more than Reeves and Bullock?
South Florida Bulls fans.
After new coach Willie Taggart spent the summer urging USF fans to "get on the bus," its wheels came off in Saturday night's opener against FCS foe McNeese State. The Cowboys scored 40 consecutive points, causing USF fans to boo their team midway through the second quarter. The Bulls snapped the ball over the punter's head, lost a fumble at their own 5-yard line, and threw a pick-six.
During a weekend in which FCS opponents upset defending Big 12 champion Kansas State, UConn, Iowa State and San Diego State, the Bulls' 53-21 loss might have been the most embarrassing.
No. 25 Oregon State wasn't far behind, losing to Eastern Washington and earning the Beavers the coveted No. 5 spot in our rankings.
Taggart will try to right USF's bus before Saturday's road trip to Michigan State. If the Bulls can turn things around, they might work their way out of the Bottom 10. Miami (Ohio) plays at Kentucky in this week's Pillow Fight of the Week, and the loser can expect to occupy a spot next week.
With apologies to Steve Harvey and Keanu Reeves, here's the first Bottom 10 of the 2013 season:
Waiting list: UMass (0-1), Kansas State (0-1), New Mexico (0-1), going for two (twice) against Buffalo, Purdue (0-1), Iowa State (0-1), scoring 70 points against Elon, scoring 73 against Indiana State, scoring six points against Bowling Green, South Alabama (0-1), Hawaii (0-1), Boise State's offense, Nebraska's defense, Virginia Tech's special teams, Georgia State (0-1), Notre Dame stadium cups, Central Michigan (0-1), big brother tweets, Temple (0-1) and Miami, Ohio (0-1).