The Bottom 10 inspirational thought of the week: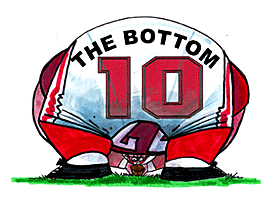 "Guess who's back, back again
Shady's back, tell a friend
Guess who's back,
Guess who's back,
Guess who's back,
Guess who's back,
Guess who's back,
Guess who's back..."
-- "Without Me," Eminem
Guess who's back in the Bottom 10?
Guess who's back?
Guess who's back?
The Texas Longhorns.
About the only person who looked more dazed and confused on TV Saturday night than Marshall Mathers, aka Eminem, was Texas defensive coordinator Manny Diaz. For UT fans, it might have seemed as if BYU ran for eight miles in its 40-21 victory in Provo, Utah. The Cougars ran 72 times for 550 yards, the highest total ever surrendered by a Texas defense.
On Sunday, coach Mack Brown reassigned Diaz and replaced him with former Syracuse coach Greg Robinson. While Mathers' alter ego, Slim Shady, seemed to make an appearance in ESPN's booth at halftime of the Michigan-Notre Dame game, Texas fans can only hope Robinson's alter ego -- bad Michigan defensive coordinator -- doesn't show up in Austin.
With apologies to Steve Harvey and Marshall Mathers III, here's this week's Bottom 10:
Waiting list: Arkansas State's fashion faux pas, Buffalo (0-2), Connecticut (0-1), Florida's ball security, Hawaii (0-2), Iowa State (0-1), Memphis (0-1), Michigan State's passing game, New Mexico State (0-2), Old Dominion (0-2), quarterback injuries, San Diego State (0-2), South Carolina's coaches fighting on the sideline, South Florida (0-2), Syracuse (0-2), Temple (0-2), UAB (0-2), Western Michigan (0-2).