The Bottom 10 inspirational thought of the week: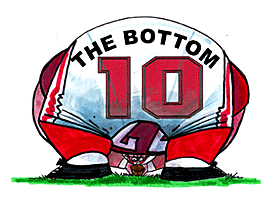 I came in like a wrecking ball
Yeah, I just closed my eyes and swung
Left me crashing in a blazing fall
All you ever did was break me
Yeah, you wreck me
-- Miley Cyrus
This week, Miley celebrated a record-breaking moment, as "Wrecking Ball" -- you know, the video in which she swings around in her underpants on a ball and chain and licks a sledgehammer -- garnered more than 100 million views in just six days on VEVO, the music-video hosting site's fastest climb ever to that mark.
Meanwhile, in a decidedly different part of the country, also watched by millions of fans, the Big Ten was as exposed as Miley, swinging right into the coveted No. 5 spot in our rankings. Clearly, they've got some twerk to do.
It wasn't all bad: Ohio State rolled Cal with backup quarterback Kenny Guiton. Northwestern, Indiana, Minnesota and Michigan State won against lesser foes. And Iowa beat Iowa State! But then it had to carry this thing around.
Meanwhile, a few marquee stars had their own breakdowns.
Penn State lost to UCF, but Michigan beat Akron! Yet even in victory, Wolverines offensive lineman Taylor Lewan said the result was "truly embarrassing for Michigan."
Wisconsin suffered through a bizarre loss to Arizona State, as officials bungled the ending. But the Bottom 10 doesn't think it's speaking out of school when we say that it's time to work on that whole set-the-ball-on-the-ground-and-walk-away-and-let-a-large-man-lie-on-it thing.
And then ... Nebraska. Bo Pelini got blown out in a big game -- again. He followed that up by brushing off a Huskers legend and finished off the trifecta of turmoil when a recording surfaced in which Pelini profanely rips the "fair-weather" Huskers fans who have sold out 328 consecutive games.
"I never meant to start a war. I just wanted you to let me in."
You know what they say, Bo: Watch that potty mouth or start licking some sledgehammers.
With apologies to Steve Harvey and Billy Ray Cyrus, here's the Bottom 10:
Waiting list: South Florida (0-3), San Diego State (0-2), Pac-12 officiating, Western Michigan (0-3), Maryland's striped pants, Miami (Ohio) (0-2), Idaho (0-3), Boise State pickle juice, Western Kentucky (1-2), Georgia State (0-3), Hawaii (0-2), Texas A&M's defense, Wake Forest (1-2), the Lubbock fox.