The Bottom 10 inspirational thought of the week: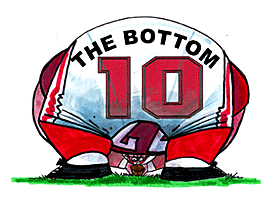 "One minute you're on top of the world, the next minute some secretary's running you over with a lawn mower." -- Joan Holloway, "Mad Men"
One year ago, West Virginia was on top of college football's creative world.
Under spread offense guru Dana Holgorsen, the Mountaineers scored 260 points in their first five games of 2012, including 70 against Baylor and 48 against Texas. Quarterback Geno Smith threw 24 touchdown passes in the first five games, and voters across the country were ready to hand him the Heisman Trophy only one month into the season.
But after a 5-0 start, the Mountaineers lost their magic and creativity, dropping six of their last eight games to finish 7-6. With Smith playing in the NFL, it hasn't been any better through the first month of the 2013 season. West Virginia was shut out 37-0 by Maryland on Saturday, the first time a Holgorsen-coached team has been kept out of the end zone in a game. It was the Mountaineers' first shutout loss since a 35-0 defeat against Virginia Tech in 2001.
With his spread offense stuck in neutral, Holgorsen only looks like a mad scientist now.
The cast of AMC's 1960s-set drama "Mad Men" can certainly relate. After winning best drama series for four straight years from 2008 to 2011, "Mad Men" has been shut out at the Emmys in back-to-back years. After setting a dubious record by going 0-for-17 in nominations in 2012, "Mad Men" went 0-for-12 on Sunday night. Ouch.
With apologies to Steve Harvey and Christina Hendricks, here's this week's Bottom 10:
Waiting list: Akron (1-3), Buffalo (1-2), coaches' wives fighting on Twitter, Hawaii (0-3), Iowa State (0-2), Kent State (1-3), Kentucky (1-2), Louisiana Tech (1-3), Michigan State's play calling, Purdue (1-3), running up the score on FCS schools, running the clock at Louisville, San Diego State (0-3), South Florida (0-3), storming the field after beating Louisiana Tech, throwing trash at officials at BYU, UAB (1-2), UConn (0-3).