The Bottom 10 inspirational thought of the week: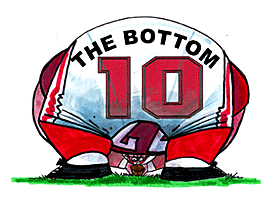 "Wake up momma, turn your lamp down low. Wake up momma, turn your lamp down low. You got no nerve baby, to turn Uncle John from your door.
I woke up this morning, I had them Statesboro Blues. I woke up this morning, had them Statesboro Blues. Well, I looked over in the corner, and Grandpa seemed to have them too."
-- Allman Brothers Band, "Statesboro Blues"
The Florida Gators know all about the Statesboro blues.
The Gators' forgettable season hit an all-time low on Saturday, as they lost to Georgia Southern 26-20 at the "Swamp," their first-ever loss to an FCS opponent. Worse, the Eagles upset Florida without even completing a pass in the game.
Florida's sixth consecutive defeat ensures it will finish with a losing record for the first time since its winless season in 1979. And the Gators will miss a bowl game for the first time since 1990, ending what was the longest postseason streak among FBS teams at 22 consecutive seasons.
Florida also pulled off the unenviable feat of twice occupying the not-so-coveted No. 5 spot in the Bottom 10 this season. The Gators were also No. 5 after a 34-17 loss to Vanderbilt on Nov. 9, which was their first home defeat against the Commodores since 1945.
We're guessing Georgia Southern fans played the Allman Brothers Band's classic cover of Blind Willie McTell's blues tune more than a few times in Statesboro, Ga., on Saturday night. It seems only fitting, as Duane Allman, who was killed in a motorcycle accident in 1971, would have celebrated his 67th birthday last week.
With apologies to Steve Harvey and Duane Allman, here's this week's Bottom 10:
Waiting list: California (1-11), Purdon't (1-10), Cupcake Saturday, Western Michigan (1-10), Eastern Michigan (2-9), Pooh-poohing the Rose Bowl, Air Force (2-9), Kentucky (2-9), Oregon State's defense, UTEP (2-9), UAB (2-9), South Florida (2-8), Tennessee's in-state bragging rights, Virginia (2-9), NC State (3-8), Baylor's offense, Kansas (3-8), Army (3-7), Arkansas (3-8).