The Bottom 10 inspirational thought of the week: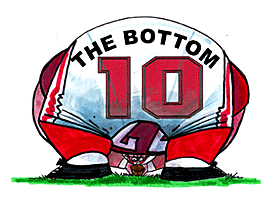 Don't get me started, it's getting kinda crowded in here.
Back up off me, I'm feeling like I'm suffocating ...
Back off 'cause you're crowding my space,
You need to get out of my face.
-- Jeannie Ortega, "Crowded"
I'm not sure what the official age is when your brain looks into a packed, sweaty nightclub and says, "Aw, hail no, let's go to Waffle House instead," but I passed it long ago. If I'm going to be smothered, covered and chunked at 2 a.m., then it better come with syrup and grits, not a bunch of guys in Ed Hardy tank tops.
That's how it's starting to feel here in the ballroom that it is the Bottom 10. In the words of Miss Ortega, it's crowded. And well beyond the fire code. This week, a roster of longtime one-win teams picked up their elusive second victory and immediately bum-rushed the exit, only to find it blocked by a herd of newly-birthed five- and six-loss squads trying to scrum their way in.
The only job left for us here at Bottom 10 HQ, located behind Lou Holtz's file cabinet of motivational speeches, is to be like those Tokyo subway stuffers, immaculately dressed as we grab two handfuls of backside and mash one and all onto the B10 train. Next stop: somewhere in the Sun Belt.
With apologies to Steve Harvey and Papoose, here's this week's Bottom 10.
1. Kent State (0-6)
Sometimes the Pillow Fight of the Week ends in a fun-filled cloud of feathers. Sometimes it ends with a team being overwhelmed like Lieutenant Frank Drebin. The State of Kent was puffed in the face by the Commonwealth of Massachusetts, as the Minutemen let loose a season's worth of heartbreaking losses in a 40-17 romp. This weekend northeast Ohio will be invaded by Army, but the Golden Flashes' clash with the Black Knights is merely garnish for their Oct. 25 trip to My Hammy of Ohio for the next installment of the MAC East Round Robin of Pain.
2. SMU (0-5)
SMU escaped Week 7 without a loss to Open Date, though sources tell me the Fighting Byes did return the opening kickoff for a touchdown.
3. Appy State (1-5)
Troy vacates its traditional No. 3 spot, thanks to an upset victory over New Mexico State in the first leg of their Sun Burn, er, Sun Belt Octobermest, er, Octoberfest. Who's up next for the Trojans? The Mountaineers, who lost what was supposed to be a surefire win against an old FCS foe and fell in overtime to the Liberty University Fighting Falwells. Immediately after the game, the Liberty QB said it proved the Flames belong in FBS and, specifically, the Sun Belt. Perhaps it should be pointed out to him how many Sun Belt teams are on our list. Including ...
4. Georgia State (not Southern) (1-5)
The Panthers make their first Bottom 10 appearance after being edged by Arkansas State 52-10. It's rare a team would jump from unranked to fourth, but GSU fans can thank a grassroots effort by GS without the U, Georgia Southern. The Hail Southern crowd has filled my inbox all season, but what started as pure rage for once including them on the Waiting List has morphed into pure motivation to underline how bad the team their team is constantly confused with is. In two weeks, they will settle it on the field at the Georgia Dome.
5. Mizz-oof (4-2)
Occupying the coveted No. 5 spot is the team that came within a quarter of winning the SEC one year ago. The only feeling I can think of that might be worse than getting housed by a team missing its best player would be if I were said player and I'm going to lose the Heisman Trophy over a handful of Benjamins for signing stuff. Actually, an even worse feeling would be sitting next to the only empty seat on a plane and looking up to see Comic Book Guy from "The Simpsons" coming down the aisle anxious to peddle his secret dirt on Todd Gurley.
6. Vanderbilt (2-5)
Yeah, OK, Vandy fans, keep your shirts on. Yes, you won a game ... by one point ... over an FCS team (granted, it's a good FCS team). And yes, I realize I'm too late telling that one guy from Week 2 to keep his shirt on.
7. UConn (1-5)
The Huskies fell to Tulane in a Battle of the Beatens. On Sunday, I printed out the conference standings and left them in the kitchen. When my wife saw them, she said, "I didn't think these two teams were in ACC." I explained to her that she was correct. She had misread it, and they are in AAC, not the ACC, or for that matter the CCA, CIAA, SAC, MSCAC, NESCAC or NASCAR.
8. Idaho (0-6)
The Vandals made that annual October trip that's so drenched in gridiron tradition and paid a visit to Statesboro, Georgia, to battle for the Golden Vandal Trophy, which features an eagle's head spray-painted with graffiti. OK, I made that up. But if the Sun Belt Conference wants to roll with that, I'm in. Speaking of the Sun Belt, this completes their trifecta for the week.
9. Tulsa (1-5)
We're joined this week by a second member of the American Athletic Conference of American Athletics. The Golden Hurricane made landfall in Philly but were eventually blown away from Temple and suffered their fifth consecutive loss. Their lone win came opening weekend via two OT's against their hey-our-name-sounds-the-same-as-yours friends from Tulane. If you're scoring at home, TU beat the other TU in OT but fell to the third TU in OCT.
10. UMass (1-6)
The UMass faithful probably thought their win over Kent State would allow them to run out of the Bottom 10 like the Minutemen scampering over the Old North Bridge. But a win over the then-second-ranked Bottom 10 team can only get you so far. Plus, I've become a little emotionally attached. I can't quit U, Mass.
Waiting List: Southern Missed (2-4), My Hammy of Ohio (1-6), Bald State (1-5), Texas Blech (2-4), Mississippi State's fake punt, throwing fades on fourth down.