The Bottom 10 inspirational thought of the week: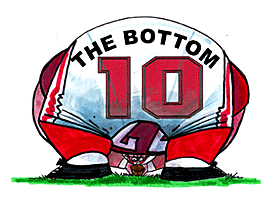 Oh no
It go
It gone
Bye-Bye (Bye!)
Do I
I think
I sink
and I die
If you want to destroy my sweater
Hold this thread as I walk away (as I walk away)
Watch me unravel I'll soon be naked
Lying on the floor, lying on the floor
I've come undone
"Undone -- The Sweater Song," Weezer
It took more than a loose thread to undo former Ohio State coach Jim Tressel, who resigned in shame this summer, after he admitted covering up allegations of NCAA rules violations by his players.
For the first time in a decade, the Buckeyes will open a college football season without Tressel stalking the sideline in a sweater vest. Interim coach Luke Fickell coaches his first game Saturday when the No. 18 Buckeyes host Akron at the Horseshoe.
Ohio State wasn't alone in its shame this summer. From Georgia Tech to Miami to North Carolina, the offseason was filled with bad headlines and bad behavior. The Tar Heels fired coach Butch Davis in late July, more than a year after allegations of improper agent contact and a cheating scandal surfaced in Chapel Hill, N.C.
But those scandals almost seem like back-page news now, after Nevin Shapiro, the mastermind of a $930 million ponzi scheme, told Yahoo! Sports that he showered Miami players with thousands of dollars in improper benefits for nearly a decade. The Hurricanes even named their football locker room for Shapiro after he made a $150,000 donation to the athletic department with stolen money.
With apologies to Weezer and Steve Harvey, here's the opening Bottom 10 of the 2011 college football season:
Waiting list: Baton Rouge bar fights, West Virginia football politics, coach-in-waiting, Vanderbilt (2-10), Washington State (2-10), Wyoming (3-9), UNLV (2-11), Oregon's Speed Racer, Willie Lyles' recruiting services, 7-on-7 football, Central Michigan (3-9), Bowling Green (2-10), UNC's timing, Minnesota (3-9), Five strikes in South Carolina, Duke (3-9), Danny Sheridan, Wake Forest (3-9), Kansas (3-9).
Mark Schlabach covers college football for ESPN.com.