Somebody's goin' down.
This is when it happens -- when your eyes glaze over as you look at the schedule. When there's only one game featuring two ranked teams. When ESPN's College GameDay crew heads to ... an FCS game.
Those are the weeks tailor-made for upsets.
According to ESPN's Stats & Information Group, the last time there was exactly one ranked matchup this late in the regular season was Week 13 in 2009 (November 22-28). That week, six unranked teams beat AP-ranked opponents, including four in the top 15 and two in the top 10.
And so we welcome Week 8, preparing to expect the unexpected and bracing for the inevitable: the College Football Playoff upset watch.
Here are the top Week 8 games most likely to feature an upset that will derail everything you thought you knew about how this playoff race is going to shake out. You ready? Of course not. That's why it's called an upset ...
1. No. 3 Utah at USC: The Trojans are favored in this game, but in the eyes of anyone following the College Football Playoff, if Utah loses, that's the upset. The Utes are the top team in the Pac-12 South and the only undefeated team remaining in the conference. Utah now has an FBS-high five wins against teams currently ranked in the top half of the Football Power Index and have made a strong case for the top four. A loss to USC and Stanford would stand alone as the Pac-12's top playoff contender.

2. Tennessee at No. 8 Alabama: The Vols had a bye week to prepare, and Alabama can't afford another home loss after falling to Ole Miss. It's going to take a herculean effort to derail the Tide, though, who have looked remarkably better since the loss. The last time an unranked Tennessee team beat a ranked Alabama team was 1983. The Vols are 0-9 in such games since. Overall, Alabama has won eight straight in the series, the past five by at least 14 points.

3. No. 9 Florida State at Georgia Tech: True, the Jackets have been one of biggest busts of the first half of the season, but they've also played the ACC's most difficult schedule. Georgia Tech's past five opponents are a combined 27-4, and the Seminoles will be their third top-10 opponent. The Jackets have lost three games by eight points or less, and they gave FSU fits in last season's ACC title game. This could be a tricky out for the Noles, who can't afford a trap game with a road trip to Clemson still looming.

4. Western Kentucky at No. 5 LSU: The Tigers will face one of the nation's top quarterbacks in WKU senior Brandon Doughty, who is third in the nation with 39 completions of 20-plus yards. That doesn't bode well for a Tigers secondary that has surrendered 11 such plays in the past three games. LSU has won an FBS-record 51 straight regular-season nonconference games, including a 41-0 mark under Les Miles (since 2005). LSU is the only undefeated team remaining in the SEC, but a defeat would put the Tigers in the same category as Ole Miss, which is going to have a tough time overcoming the nonconference loss to Memphis. LSU could lose this game and still win the SEC, but it would likely stumble again along the way with Alabama, Ole Miss and Texas A&M still ahead.


5. Indiana at No. 7 Michigan State: Ohio State can vouch for the grittiness of the Hoosiers, but they haven't beaten a top-10 team on the road since 1987 at ... well, No. 9 Ohio State (17 consecutive losses since). After opening the season 4-0, IU has been consistent in finding ways to lose, but Michigan State is banged up and coming off a magical moment in the program's history. Can the Spartans avoid a letdown? They have to in order to remain in the playoff conversation.
---
Thursday Thought
Why is everyone so quick to write off Michigan? If you think Ohio State will beat Michigan State, then you must reconsider Michigan. If Michigan State loses, it opens the door for Michigan, and the Wolverines get Ohio State in the Big House. If the Wolverines can run the table, they would force a three-way tie for the Big Ten East Division. Here's the problem with that scenario: Would the CFP selection committee really take a two-loss Big Ten champ in the top four? It's easier to write off Michigan's playoff hopes than its shot at winning the Big Ten.
---
Superlatives
Player in the spotlight: Tennessee QB Joshua Dobbs. He's going against an opportunistic Alabama defense that just snagged three pick-sixes against Texas A&M. Dobbs has only thrown two interceptions this season, but the Aggies' Kyle Allen also only had two before facing the Tide.
Don't forget about: No. 20 Cal at UCLA. The Golden Bears had a bye week to prepare for this trip, and are right in the heart of the Pac-12 race, even though Stanford and Utah have stolen the spotlight. Cal's only loss was a road trip to Utah. The toughest part of the schedule remains, but November is hardly a cakewalk for Stanford, either.
Under the radar: No. 22 Temple at East Carolina. Temple has earned its first 6-0 start since 1976, and ESPN's Football Power Index gives the Owls a 70 percent chance to reach 10 wins, but they can't get caught looking ahead to Notre Dame. ECU would be in control of American East if it wins this game, and it's coming off an impressive win over Tulsa.
Cupcake game: Wagner at BYU. The 0-6 FCS Seahawks have scored a whopping 23 total points in their past three games against Robert Morris, Columbia and Saint Francis of Pennsylvania. BYU's only losses have been to UCLA and Michigan.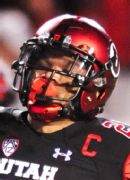 Matchup to watch: Utah RB Devontae Booker against the USC rushing defense. Booker is 13th in the nation with 783 rushing yards and eight rushing touchdowns, and the Trojans have rolled out the red carpet for opposing running backs. Last week, Notre Dame's C.J. Prosise ran for 143 yards -- the fourth 100-yard rusher USC has allowed in four consecutive weeks.
Can't-miss game: No. 15 Texas A&M at No. 24 Ole Miss. This is it. This is the only game this week featuring two Top 25 teams, and if you haven't written the Rebels off yet, it will happen if they lose this one at home. The Aggies' defense was atrocious last week against Alabama. Both teams have only one league loss, though, so the SEC West race is still at stake.
---
Games of the week
Tennessee at No. 8 Alabama (CBS, 3:30 p.m. ET)
Pregame matchup quality: 92.7
• Alabama: 67 percent predicted win percentage (6.2 predicted point differential)
• Tennessee: Has had on average a 70 percent chance to win across all of its plays this season, a better percentage than four undefeated teams
No. 15 Texas A&M at No. 24 Ole Miss (ESPN, 7 p.m. ET)
Pregame matchup quality: 90.2
• Ole Miss: 65 percent predicted win percentage (5.4 predicted point differential)
• Ole Miss: FPI favorite in each of its remaining games
No. 3 Utah at USC (Fox, 7:30 p.m. ET)
Pregame matchup quality: 88.8
• USC: 72 percent predicted win percentage (8.0 predicted point differential)
• Despite three fewer wins, USC has the exact same scoring margin (plus-17 PPG) as Utah
Texas Tech at No. 17 Oklahoma (ABC/ESPN2, 3:30 p.m. ET)
Pregame matchup quality: 83.2
• Oklahoma: 84 percent predicted win percentage (13.8 predicted point differential)
• Texas Tech: Third in offensive efficiency and 107th in defensive efficiency, second-largest disparity in ranks in the FBS behind Boston College
No. 9 Florida State at Georgia Tech (ESPN2, 7 p.m. ET)
Pregame matchup quality: 81.9
• Florida State: 56 percent predicted win percentage (2.1 predicted point differential)
• Justin Thomas: Largest decline in Total QBR (41 points) from 2014 to 2015 among qualified QBs
-- ESPN Stats & Information