Let's just cut out all the drumroll surrounding who the best player in the country has been after eight weeks -- the answer is Lamar Jackson, just as it was after four weeks.
We asked 10 writers to grade players from across the country on a scale of 1 to 10, with 10 being the best performance possible. Jackson's total: 10 perfect scores.
After the Louisville quarterback, though, things got interesting ... and very Alabama-heavy. Here are our experts' top 50 players after eight weeks.
---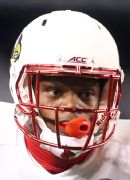 Lamar Jackson
Louisville Cardinals
Sophomore | Quarterback
Score: 10.0
Previous rank: 1
Jackson has scored 34 total touchdowns and has done nothing to tamp down the Heisman hype surrounding him. He is averaging over 100 yards rushing and over 300 yards passing per game, and he ranks No. 2 in the nation in total offense (438.4 yards per game). -- Andrea Adelson
---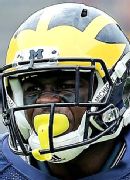 Jabrill Peppers
Michigan Wolverines
Junior | Linebacker
Score: 9.6
Previous rank: 4
Not only can Michigan's do-it-all redshirt sophomore affect a game from almost anywhere on the field, he can do it on almost any play. On offense, defense and special teams, the linebacker keeps opponents on edge by consistently being one spin move or quick burst from scoring. -- Dan Murphy
---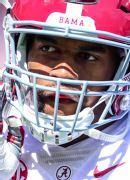 Jonathan Allen
Alabama Crimson Tide
Senior | Defensive lineman
Score: 9.5
Previous rank: 6
Given his size and ability to play inside, he's not just a pass-rusher. But since the beginning of last season, he ranks in the top five nationally in sacks with 18. -- Alex Scarborough
---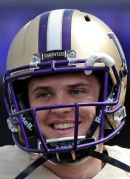 Jake Browning
Washington Huskies
Sophomore | Quarterback
Score: 9.45
Previous rank: 43
The sophomore leads Power 5 quarterbacks in passer efficiency (199.6) and has kept the offense running smoothly this season. Browning has completed 68.6 percent of his passes and thrown for 26 touchdowns against just two interceptions. -- Chantel Jennings
---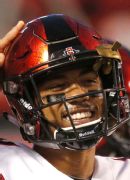 Donnel Pumphrey
San Diego State Aztecs
Senior | Running back
Score: 9.4
Previous rank: 27
Pumphrey leads all FBS running backs with 1,246 rushing yards, 13 rushing touchdowns, 191 carries and 34 rushes of 10-plus yards. He has converted 71.4 percent of his third-down rushes. -- Chantel Jennings
---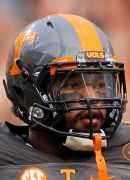 Derek Barnett
Tennessee Volunteers
Junior | Defensive end
Score: 9.35
Previous rank: 10
Barnett has been one of the SEC's best overall players with six sacks (all in SEC play), 11.5 tackles for loss, five quarterback hurries, three passes defended, one interception and two forced fumbles. Both of those forced fumbles led to Tennessee touchdowns. -- Edward Aschoff
---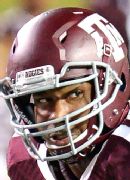 Myles Garrett
Texas A&M Aggies
Junior | Defensive lineman
Score: 9.3
Previous rank: 3
A lower leg injury suffered in late September has slowed the elite defensive end down some, but Garrett remains productive, leading the Aggies in both sacks (four) and tackles for loss (9.5) to go with seven quarterback hurries, a forced fumble and a fumble recovery. -- Sam Khan Jr.
---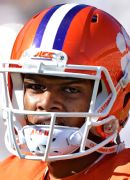 Deshaun Watson
Clemson Tigers
Junior | Quarterback
Score: 9.25
Previous rank: 23
Entering the year, Watson was the odds-on pick for the Heisman, and while some of that luster has worn off, he still has his Tigers at the top of the ACC and eyeing a playoff berth. And while the offense hasn't always been sharp, Watson is actually ahead of last year's pace as a passer, throwing for 1,950 yards and 20 touchdowns through seven games. -- David M. Hale
---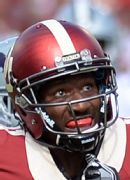 Dede Westbrook
Oklahoma Sooners
Senior | Wide receiver
Score: 9.2
Previous: Unranked
Westbrook has rolled up 776 receiving yards and 10 touchdowns over OU's last four games, shattering school records in both categories over such a span. He's now one of only two Sooners ever to record multiple 200-yard receiving games. And despite playing only a season and a half in Norman, he's already 12th in OU history in career receiving yards. -- Jake Trotter
---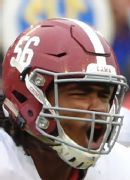 Tim Williams
Alabama Crimson Tide
Senior | Linebacker
Score: 9.15
Previous: Unranked
You're not going to find a more dangerous pass-rusher off the edge. On third down, with his ears pinned back, Williams is an absolute blur. Mixing speed with strength, the senior leads Alabama with 6.5 sacks. -- Alex Scarborough
---

Reuben Foster
Alabama Crimson Tide
Senior | Linebacker
Score: 9.1
Previous: Unranked
The quarterback of one of the best defenses in the country, the ultra-athletic senior leads Alabama with 53 total tackles. -- Alex Scarborough
---

Raekwon McMillan
Ohio State Buckeyes
Junior | Linebacker
Score: 9.05
Previous rank: 14
The junior's numbers may be down a bit, but he remains the linchpin for one of the nation's best defenses. McMillan rarely misses a tackle, and his leadership with so many first-time starters around him is invaluable. -- Austin Ward
---

Teez Tabor
Florida Gators
Junior | Defensive back
Score: 9.0
Previous rank: 22
It's a shame he isn't a semifinalist for the Jim Thorpe Award. Tabor has taken full advantage of the few passes thrown his way, defending five passes with four interceptions, including one going back for a touchdown against Missouri. -- Edward Aschoff
---

Minkah Fitzpatrick
Alabama Crimson Tide
Sophomore | Defensive back
Score: 8.95
Previous: Unranked
He's still just a sophomore, but Fitzpatrick is arguably the most versatile Alabama defensive back given his ability to play both cornerback and nickel back. He leads the team with three interceptions and five pass breakups. -- Alex Scarborough
---

Dalvin Cook
Florida State Seminoles
Junior | Running back
Score: 8.9
Previous rank: 19
A slow start and the criticisms that followed fueled Cook to the best four-game stretch over his career. The past four games, he's rushed for 672 yards and totaled five touchdowns. No Power 5 running back has more than his 900 rushing yards. An improved receiver, he leads all Power 5 players with 1,256 scrimmage yards. -- Jared Shanker
---

Christian Wilkins
Clemson Tigers
Sophomore | Defensive lineman
Score: 8.85
Previous rank: 30
It's not often a 300-pounder gets labeled an all-around athlete, but that's been Wilkins this year. He's played tight end and fullback, caught a TD pass and run for a first down on a fake punt. He stars on special teams and has blocked a field goal. And when Clemson needed a pass-rusher following an injury to starter Austin Bryant in camp, Wilkins slid from tackle to end. He's racked up a team-high 8.5 tackles for loss since. -- David M. Hale
---

Jourdan Lewis
Michigan Wolverines
Senior | Cornerback
Score: 8.8
Previous: Unranked
Michigan's top cover corner is back to top form after missing the first few weeks of the season with nagging injuries. His Jumpman-mimicking interception against Wisconsin may be his only major highlight so far this year, but his suffocating defense on every snap has helped the Wolverines hold opposing quarterbacks to six combined completions in their past two games. -- Dan Murphy
---

Eddie Jackson
Alabama Crimson Tide
Senior | Defensive back
Score: 8.75
Previous rank: 18
He was arguably Alabama's best playmaker until a fractured leg ended his season. Alabama's 12 non-offensive touchdowns have been the buzz of 2016, and Jackson had three of them -- two via punt return and one on a pick-six. -- Alex Scarborough
---

Arden Key
LSU Tigers
Sophomore | Defensive end
Score: 8.7
Previous rank: 7
In a conference loaded with dynamic pass-rushers, Key arguably has been the SEC's best. He leads the league and is tied for third nationally with eight sacks in seven games. -- David Ching
---

Malik Hooker
Ohio State Buckeyes
Sophomore | Defensive back
Score: 8.65
Previous rank: 21
One of the biggest mysteries coming into the season, the redshirt sophomore safety has rapidly emerged as one of the nation's most dynamic playmakers. With as many interceptions as tackles for loss (four), Hooker has been a factor all over the field for the Buckeyes. -- Austin Ward
---

Zach Cunningham
Vanderbilt Commodores
Junior | Linebacker
Score: 8.6
Previous: Unranked
As we hit the homestretch, Cunningham leads the SEC with 85 tackles and 13.5 tackles for loss. His signature moment came against Georgia when he made a game-clinching tackle on fourth down. -- Greg Ostendorf
---
---

Patrick Mahomes II
Texas Tech
Junior | Quarterback
Score: 8.55
Previous rank: 28
The nation's most prolific passer is up to 3,550 total yards and 35 total touchdowns after his jaw-dropping 819-yard performance against Oklahoma. He'd be firmly in the Heisman Trophy conversation right now if Tech were winning more games. -- Max Olson
---
---

Ejuan Price
Pittsburgh Panthers
Senior | Defensive lineman
Score: 8.5
Previous: Unranked
Price is making the most of his sixth year at Pitt, as he leads the nation in sacks (nine) and is fourth nationally in tackles for loss (13), in addition to forcing three fumbles. These numbers are all the more impressive considering all of the double-teams Price has seen in light of a season-ending injury to fellow end Dewayne Hendrix. -- Matt Fortuna
---

Desmond King
Iowa Hawkeyes
Senior | Defensive back
Score: 8.45
Previous rank: 15
The reigning Thorpe Award winner for nation's best defensive back remains a force, even as fewer teams throw in his direction. Two weeks ago, he returned an interception against Purdue 41 yards for a touchdown, proving once again why it's a mistake to test him. -- Jesse Temple
---

J.T. Barrett
Ohio State Buckeyes
Junior | Quarterback
Score: 8.4
Previous rank: 5
Records continue to fall for him, but lately the Buckeyes have hit a rut on offense thanks to some issues at wide receiver and with pass protection. Still, nobody seems to make more out of tough situations than Barrett, who already has accounted for 23 touchdowns. -- Austin Ward
---

Jalen Hurts
Alabama Crimson Tide
Freshman | Quarterback
Score: 8.35
Previous: Unranked
Give the frosh some Heisman love, as he's perfected the zone-read at Alabama with 2,070 total yards of offense and 20 touchdowns. He's completed 62.7 percent of his passes against ranked opponents and is averaging 65.1 rushing yards per game this season. -- Edward Aschoff
---

DeMarcus Walker
Florida State Seminoles
Senior | Defensive end
Score: 8.3
Previous rank: 11
The decision to come back for his senior season is paying dividends for Walker, who nearly opted to declare for the draft after a junior season with 10.5 sacks. Through seven games this year, Walker has 8.5 sacks, which ranks second nationally. He had 4.5 sacks against Ole Miss alone, which put him in a category with the likes of Jadeveon Clowney and Ndamukong Suh. -- Jared Shanker
---

Budda Baker
Washington Huskies
Junior | Defensive back
Score: 8.25
Previous: Unranked
The junior has been a leader for the tough Washington defense, contributing all over the field -- 31 tackles, 3.5 tackles for a loss, one interception, one forced fumble. --Chantel Jennings
---

Carl Lawson
Auburn Tigers
Junior | Defensive lineman
Score: 8.2
Previous rank: 20
For the first time since 2013, Lawson has yet to miss a game. It should come as no surprise, then, that fully healthy he's among the SEC leaders with eight tackles for loss, 6.5 sacks and 18 quarterback hurries. -- Greg Ostendorf
---

Baker Mayfield
Oklahoma Sooners
Junior | Quarterback
Score: 8.15
Previous: Unranked
After a slow start -- by his standards -- that all but derailed his Heisman candidacy, the junior has outperformed all quarterbacks nationally over the past four weeks. In Big 12 play, he leads the nation in passing yardage, touchdown passes and QBR. -- Mitch Sherman
---

Jamal Adams
LSU Tigers
Junior | Defensive back
Score: 8.1
Previous: Unranked
Adams continues to play a Tyrann Mathieu-like role for LSU's defense, frequently making big plays that turn games in the Tigers' favor. Second-half disruptive plays by Adams helped LSU slam the door on each of their past two opponents. -- David Ching
---

Pat Elflein
Ohio State Buckeyes
Senior | Offensive lineman
Score: 8.05
Previous rank: 12
The decision to return for another season and move to center was a wise one for Elflein. He's shown few problems handling snapping duties while continuing to be a physical blocker, boosting his draft stock and providing leadership for three new starters on the line. -- Austin Ward
---

Amba Etta-Tawo
Syracuse Orange
Senior | Wide receiver
Score: 8.0
Previous: Unranked
Etta-Tawo has taken the ACC by storm in his one and only year after moving over as a graduate transfer from Maryland. Etta-Tawo is second nationally in receiving yards (1,074), tied for fourth in receptions (66) and leads the ACC with seven touchdown receptions. His six 100-yard games this season place him fifth on Syracuse's career list. -- Matt Fortuna
---

Evan Engram
Ole Miss Rebels
Senior | Tight end
Score: 7.95
Previous rank: 16
Before Saturday's clunker against LSU, Engram was averaging six catches for 98 yards per game. Even after Saturday, he still leads all SEC players -- both wide receivers and tight ends -- with 605 receiving yards on the season. -- Greg Ostendorf
---

Ben Boulware
Clemson Tigers
Senior | Linebacker
Score: 7.9
Previous rank: 25
Boulware has come to be known for his relentless play throughout the course of his career, and this season is no different. He ranks No. 3 in the ACC in tackles per game (9.5), while adding six pressures and two forced fumbles. -- Andrea Adelson
---

T.J. Watt
Wisconsin Badgers
Junior | Linebacker
Score: 7.85
Previous: Unranked
Watt's ascension has been remarkable for a guy who has played only linebacker for about 15 months after moving over from tight end. He ranks second in the Big Ten in sacks, fourth in tackles for loss and continues to improve every game. Scary. -- Jesse Temple
---

Ethan Pocic
LSU Tigers
Senior | Offensive lineman
Score: 7.8
Previous: Unranked
Pocic is back at center after temporarily shifting to tackle to help LSU cope with injury issues. The senior's mental acuity is extremely valuable to the Tigers, as are his versatility and impressive agility for a 6-foot-7 center. -- David Ching
---

Chad Hansen
California Golden Bears
Junior | Wide receiver
Score: 7.75
Previous rank: 44
Hansen sat out last week against Oregon with an injury, but he still ranks in the top 15 in FBS in receptions (ninth, 59 catches), touchdowns (12th, eight touchdowns) and receiving yards (15th, 770 yards). -- Chantel Jennings
---

Leonard Fournette
LSU Tigers
Junior | Running back
Score: 7.7
Previous rank: 24
The man misses a month and then immediately shatters LSU's single-game rushing record with 284 yards in his return. And get this: Fournette says his ankle was not fully healthy and that he was out of shape against Ole Miss. -- David Ching
---

Calvin Ridley
Alabama Crimson Tide
Sophomore | Wide receiver
Score: 7.65
Previous rank: 29
For four games this season, he's essentially been a decoy with less than 30 yards receiving per contest. And still, despite that, he ranks fourth in the SEC in receiving yards with 504. As true freshman quarterback Jalen Hurts becomes more comfortable as a passer, Ridley's numbers should improve. -- Alex Scarborough
---

Adoree' Jackson
USC Trojans
Junior | Defensive back
Score: 7.6
Preseason rank: 31
Jackson continues to be one of the most dynamic players in the country. His stat line is a testament to that: 34 tackles, two interceptions, two fumble recoveries, 11 punt returns (171 yards, one touchdown) and 11 kick returns (349 yards, one touchdown). -- Chantel Jennings
---

Cam Robinson
Alabama Crimson Tide
Junior | Offensive lineman
Score: 7.55
Previous: Unranked
Robinson probably would admit that he hasn't been as consistent as he'd like, but Robinson still projects as a top-20 draft pick. He's helped Alabama average an SEC-high 108.8 rushing yards to the left side per game against Power 5 opponents. -- Edward Aschoff
---

James Washington
Oklahoma State Cowboys
Junior | Wide receiver
Score: 7.5
Previous rank: 41
Few receivers are more explosive. Just ask Pitt, against which Washington caught six passes for 228 yards -- all in the first half. With 740 receiving yards on 37 catches this fall as a junior, he has etched a spot among the OSU pass-catching greats. -- Mitch Sherman
---

Carlos Watkins
Clemson Tigers
Senior | Defensive line
Score: 7.45
Previous: Unranked
Few interior linemen are as disruptive as Watkins, who ranks second among ACC defensive tackles with 4.5 sacks and has been an anchor on a defensive line that has allowed just 2.01 yards per rush between the tackles this season, the fifth-best rate in the Power 5. More than his on-field performance, however, Clemson's coaches have raved about Watkins' leadership role on a line playing numerous inexperienced players. -- David M. Hale
---

Trayveon Williams
Texas A&M Aggies
Freshman | Running back
Score: 7.4
Previous: Unranked
The true freshman has been one of the SEC's surprise players, emerging as one of the conference's most productive backs. He's second in the conference in rushing yards per game (103.9), third in yards per carry (7.99) and is third in total rushing yards (727) despite averaging only 13 carries per game. -- Sam Khan
---

Saquon Barkley
Penn State Nittany Lions
Sophomore | Running back
Score: 7.35
Previous: Unranked
Despite running behind one of the worst offensive lines in the Big Ten, Barkley remains one of the conference's best. Only three backs in the Power 5 have rushed for more than Barkley's eight touchdowns. -- Josh Moyer
---

Luke Falk
Washington State Cougars
Junior | Quarterback
Score: 7.3
Previous: Unranked
Falk leads the nation in pass completion percentage (72.7), which is tough to do when considering that he has attempted 348 passes. He has thrown for 19 touchdowns and 24 passes of 20-plus yards. -- Chantel Jennings
---

Montravius Adams
Auburn Tigers
Senior | Defensive lineman
Score: 7.25
Previous: Unranked
Carl Lawson might get more attention on Auburn's defensive line, but don't forget about Adams. The senior defensive tackle has 44 tackles, including three for loss. Plus, he's also forced two fumbles and returned another for a touchdown. -- Greg Ostendorf
---

Seth Russell
Baylor Bears
Senior | Quarterback
Score: 7.2
Previous rank: 34
Russell is flying under the radar a little this season despite an undefeated start and solid numbers (1,772 total yards, 21 touchdowns), but that should change soon now that Baylor has some huge ballgames coming up. -- Max Olson
---

Greg Ward Jr.
Houston Cougars
Senior | Quarterback
Score: 7.1
Previous rank: 8
The senior is having his best season as a passer with a career-high 69.3 percent completion rate (seventh best in the FBS), 2,179 yards and 13 touchdown passes, both of which are on pace to surpass his career bests. He's still one of the nation's best rushing quarterbacks, averaging 59.6 yards per game on the ground (12th best nationally). -- Sam Khan