Spence's spectacular outing sends ASU to Omaha
June, 8, 2009
06/08/09
12:30
AM ET
TEMPE, Ariz. -- Arizona State pitcher Josh Spence's hand isn't bothering him, and that should worry the other teams in Omaha next week.
Spence, an easygoing Australian, baffled Clemson on Sunday night. He hurled a four-hitter as the Sun Devils romped 8-2 and earned a two-game sweep in the Tempe Super Regional. They are headed to Rosenblatt Stadium for their 21st College World Series.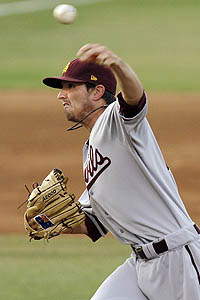 AP Photo/Ross D. FranklinJosh Spence went the distance for Arizona State, allowing four hits, two runs and one walk while striking out 10.
Spence had pitched only seven innings since April 26 and gave up 14 earned runs in his previous four appearances. He had been battling a hand injury that almost ended his season a month ago.
He stuck out 10 Tigers Sunday and walked just one, and he looked a lot like the guy who started the season 7-0 with a 1.01 ERA through April 11.
"He made it look almost easy tonight," Arizona State skipper Pat Murphy said.
Spence gave up a solo home run to Jeff Schaus in the fourth inning, but his teammates responded with five runs in the top of the fifth. The Sun Devils ended any mystery about the evening's outcome with three more runs in the ninth.
Jason Kipnis, Kole Calhoun and Matt Newman each had two RBIs for the Sun Devils, who improved to 49-12. They have won 16 of their past 17 games.
Spence (9-1) required a heat pad in the early going for a back strain he suffered in last week's regionals, but the Clemson hitters were doing the most wincing while trying to solve the savvy and unpredictable lefty.
"I don't think he started anybody off with the same pitch back-to-back," noted Tigers first baseman Ben Paulsen, who fanned twice.
Spence said his go-to pitch was his slider, adding that his hand isn't bothering him any more.
Arizona State, which allowed only six runs in two games against Clemson, entered the super regionals leading the nation in team ERA. With Spence and All-American Mike Leake (16-1), the nation's leader in victories, the Sun Devils will bring a potent one-two punch to Omaha.
"When they are right, they are as good as anybody," Murphy said.
And Spence looked plenty right against the Tigers.
ASU will play North Carolina (47-16), the No. 4 seed, either Saturday or Sunday. The Tar Heels swept East Carolina in their super regional earlier Sunday.