SEC in play for four national seeds
May, 14, 2012
05/14/12
1:42
PM ET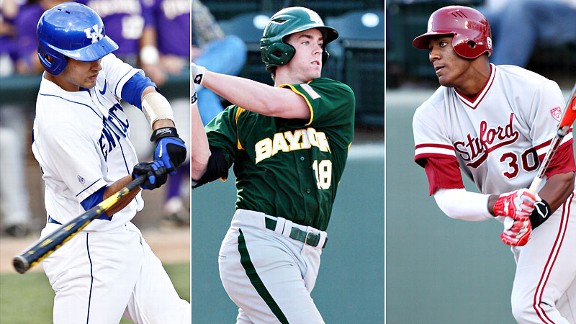 Getty Images/AP PhotoThe race for the eight national seeds is just as intriguing as the at-large discussion.
There are some changes in seeding but no changes among the eight teams earning national seeds this week. This weekend's results could be end up being the perfect storm that ends in four national seeds for the SEC.
Kentucky moved back into first place in the SEC with its sweep of last-place Alabama, but despite head-to-head series wins over South Carolina and LSU, the Wildcats have the weakest overall résumé of the four national seed contenders in the SEC due to a weaker nonconference schedule. Kentucky has 15 wins against the bottom 100 in RPI; none of the projected national seeds have more than five against the same RPI range.
Despite its gaudy record, Baylor has the weakest overall résumé of the top eight national seeds. The Bears have the fewest wins against the RPI top 50 among contenders, posting a 9-7 record so far with a regular-season series remaining against Texas. In their favor, they clinched the Big 12 regular-season title with two weeks left and are 16-1 against teams ranked 51-100 in RPI.
Besides Kentucky, which other teams could play their way into a national seed over the final two weeks of the season? NC State finishes the regular season against Florida State; a recent 12-game winning streak has the Wolfpack just outside the RPI top 10. Rice plays for the regular-season C-USA crown at UCF this weekend, and capturing both the regular-season and tournament title would give the Owls a shot. In the Pac-12, Arizona could get a national seed with a conference title, while Stanford has the RPI to compete for one. With a Big West title, Cal State Fullerton will be in the conversation even with an RPI outside the top 10 (see UC Irvine in 2009).
Blind résumés

| | | | |
| --- | --- | --- | --- |
| | Team A | Team B | Team C |
| Overall | 39-11 | 38-10 | 41-11 |
| vs. RPI top 50 | 9-7 | 8-6 | 13-10 |
| vs. RPI top 100 | 25-8 | 21-8 | 14-10 |
| Road record | 11-8 | 20-6 | 11-6 |
With a 21-8 record against the top 100 in RPI and 20-6 record on the road, don't count out Purdue, whose schedule isn't as weak as most people think. To prove that point, consider these blind résumés:
There's not a whole lot to separate the teams. Team C is the best against the RPI top 50 but has only one game against RPI 51-100. Teams A and B are similar against the Top 100, with Team A having a few more opportunities. Team B trails by a bit in both RPI categories but has done most of its damage away from home (6-1 in neutral site games in addition to 26 true road games).
Team A is Big 12 leader and current national seed Baylor. Team B is Purdue. Team C is SEC leader Kentucky.
Elsewhere, there's one shift in hosting responsibilities this week to keep with the likely result of four teams hosting from the West Coast. Regionals in Los Angeles and Eugene, Ore., seem to be secure. That leaves Arizona, Cal State Fullerton and Stanford jostling for the final two home spots. Fullerton gets the nod as a probable conference champion. In the Pac-12, Arizona is one game out of first place and won the season series against fourth-place Stanford. That trumps the Cardinal's better RPI and lands a regional in Tucson.
Tallahassee Regional
No. 1 Florida State
UCF
Mississippi State
Bethune-Cookman
Tucson Regional
Arizona
Clemson
New Mexico State
Utah Valley
Baton Rouge Regional
No. 8 LSU
Georgia Tech
Tulane
Southern
College Station Regional
Texas A&M
Arkansas
Southeastern Louisiana
Manhattan
Gainesville Regional
No. 5 Florida
Miami
Washington
Florida Atlantic
Charlottesville Regional
Virginia
Oregon State
St. John's
Kent State
Waco Regional
No. 4 Baylor
TCU
Sam Houston State
Oral Roberts
Houston Regional
Rice
Dallas Baptist
Texas
Cornell
Eugene Regional
No. 2 Oregon
Ole Miss
Michigan State
Saint Louis
Gary Regional
Purdue
Indiana State
Oklahoma
Wright State
Chapel Hill Regional
No. 7 North Carolina
Appalachian State
East Carolina
UNC Wilmington
Lexington Regional
Kentucky
Louisville
Virginia Tech
Austin Peay
Los Angeles Regional
No. 6 UCLA
San Diego
Missouri State
Army
Fullerton Regional
Cal State Fullerton
Stanford
Pepperdine
Stony Brook
Columbia Regional
No. 3 South Carolina
Coastal Carolina
Elon
South Carolina-Upstate
Raleigh Regional
NC State
Georgia
College of Charleston
Monmouth
Last five in: Southeastern Louisiana, Washington, Oklahoma, Tulane, Utah Valley
First nine out: Maryland, Long Beach State, Vanderbilt, Wichita State, Auburn, Wake Forest, Oklahoma State, Stetson, Gonzaga
While there weren't many changes at the top of the bracket, it was a wild week on the bubble.
Auburn and Vanderbilt both won road series against teams in the RPI top 20, clinching spots in the SEC tournament and bolstering their résumés. Vanderbilt got its record above .500 for the first time this season, a requirement for an at-large bid. With a home series against Ole Miss remaining plus the SEC tournament, the Commodores' overall strength of schedule should get them into the NCAA tournament if they can stay above .500. Auburn is outside the RPI top 50, but a good two weeks against Florida and at the SEC tournament could land the SEC 10 bids.
The ACC also has a case for 10 bids this year. Maryland and Wake Forest are currently on the outside looking in despite top-40 RPIs and double-digit wins over the RPI top 50. History favors the eight teams that make the ACC tournament, but it is possible that at least one team that misses out on the conference tournament in Greensboro, N.C., could make a regional.
It's usually better to remain unemotional when crafting a bracket, especially since the goal is to predict what the committee will do rather than what I would like to see. I bent that rule this week and included Utah Valley as the final at-large team. I'm still not sure they'll be able to overcome playing only 13 games against the RPI top 100 and playing in a conference without an automatic bid, but it has a chance based on two assumptions: First, the Wolverines need to win their final nine games and finish the season on a Division I record 41-game winning streak. They also need help on the bubble, most notably by avoiding bid stealers from what would otherwise be one-bid leagues. So while Utah Valley hosts the Great West tournament, it will also be pulling for teams such as Coastal Carolina, New Mexico State and TCU to win their conference championships.
Jeremy Mills is a researcher for ESPN and is a contributor to ESPN.com's college baseball coverage.