Virginia Tech hosts in final projection
May, 26, 2013
05/26/13
5:57
PM ET
The regional sites have been announced, and the automatic bids have been secured. So what will the field look like when it's announced Monday at noon on ESPNU?
The last 10 days opened the door for the ACC to become the first conference to earn four national seeds. Oregon's series loss to Oregon State last week and Louisville's 0-2 showing at the Big East tournament hurt their cases. NC State's near run to the ACC title game strengthened its cause. And Kansas State and Mississippi State missed the chance to grab the brass ring when they fell short in their respective conference tournaments.
Conference tournament results also shook up the last couple of hosting spots. Arkansas saw its RPI jump 20 spots with a win over LSU in Hoover. Virginia Tech played its way into the ACC title game. On the opposite side, South Carolina and Clemson were both winless in their tournaments. In the end, Virginia Tech's hot finish and South Carolina's pedigree won out, and they'll be hosting regionals
[+] Enlarge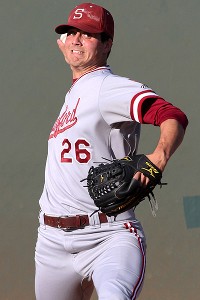 Larry Goren/AP PhotoWe might not have seen the last of Stanford's Mark Appel after all.
The biggest impact was on the bubble, which saw five spots go away with upsets in conference tournaments. Central Arkansas (Southland), East Tennessee (Atlantic Sun), Liberty (Big South), San Diego State (Mountain West) and Towson (Colonial) all won tournaments to steal bids, as the regular-season champions in all five conferences should remain in the field.
It's also possible that Stanford stole a bid by winning its series against UCLA. The Cardinal got a big jump in RPI, and it will be hard to deny the fifth-place team from the third-ranked conference in RPI.
As the week progressed, several teams slipped off the bubble either due to their play or the loss of spots to upset winners in conference tournaments.
Some of the losses were limited to the conferences where the upsets were. It looks like North Florida, William & Mary and Western Carolina could be on the wrong side of the bubble after strong seasons after they were eliminated by upstarts.
But other conferences also felt the sting. With the upsets, the SEC is likely to lose one or two bids compared with the 10 that it might have received if other favorites had won.
With that, here is my final projection of the 2013 NCAA tournament field:
Nashville Regional
No. 1 Vanderbilt
Austin Peay
Bryant
East Tennessee
Bloomington Regional
Indiana
Oklahoma
Stanford
Valparaiso
Tallahassee Regional
No. 8 Florida State
Troy
Florida
Savannah State
Starkville Regional
Mississippi State
South Alabama
Georgia Tech
Jackson State
Charlottesville Regional
No. 5 Virginia
Mercer
Alabama
Towson
Louisville Regional
Louisville
Florida Atlantic
Oklahoma State
Bowling Green
Corvallis Regional
No. 4 Oregon State
Rice
Miami (FL)
South Dakota State
Manhattan Regional
Kansas State
Arkansas
Illinois
Wichita State
Chapel Hill Regional
No. 2 North Carolina
UNC-Wilmington
Elon
Canisius
Eugene Regional
Oregon
Cal Poly
Sam Houston State
Saint Louis
Raleigh Regional
No. 7 North Crolina State
Campbell
Seton Hall
Binghamton
Columbia Regional
South Carolina
Clemson
Coastal Carolina
Connecticut
Fullerton Regional
No. 6 Cal State Fullerton
Arizona State
New Mexico
Army
Los Angeles Regional
UCLA
San Diego
UC Santa Barbara
San Diego State
Baton Rouge Regional
No. 3 LSU
Louisiana-Lafayette
Central Arkansas
UTSA
Blacksburg Regional
Virginia Tech
Ole Miss
Liberty
Columbia
Last five in: Illinois, Coastal Carolina, UC Santa Barbara, Stanford, Seton Hall
First nine out: San Francisco, North Florida, Texas A&M, Auburn, William & Mary, Western Carolina, BYU, Pittsburgh, Arizona
Jeremy Mills is a researcher for ESPN and a contributor to ESPN.com's college baseball coverage.